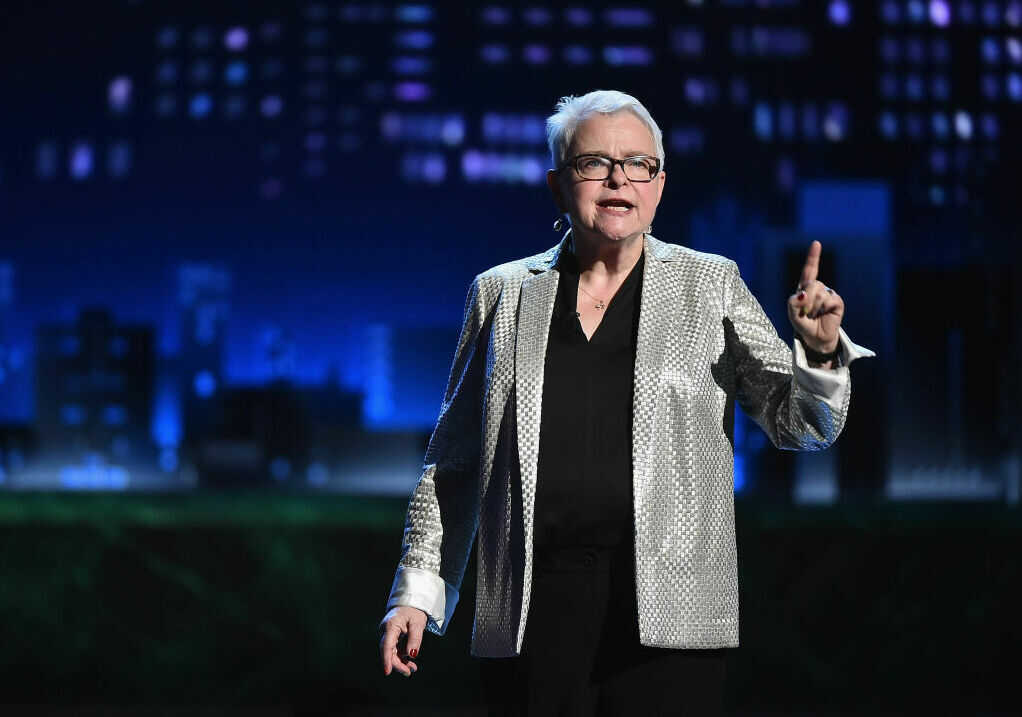 Theo Wargo/Getty Images for Tony Awards Productions
PEN America and two other free speech groups are drawing national attention to Florida county school officials' decision to cancel a play that is itself about censorship.
Last week, Duval County Public School officials canceled a production of Paula Vogel's Indecent at Douglas Anderson School of the Arts. Officials said the play about a play about a love affair between two women is "inappropriate," as reported by WJCT.
PEN America, along with The National Coalition Against Censorship and the Dramatists Legal Defense Fund released a statement condemning the decision and "urged school officials to rescind their decision and work with students to stage the play as planned."
Indecent is about the controversy surrounding a 1923 Broadway production of God of Vengeance, a Yiddish play by Sholem Asch. In the story, the daughter of a Jewish brothel owner falls in love with one of her father's prostitutes. Asch's script includes a love scene between the two women. The play was a hit in Europe and New York's downtown theater scene. But once it was translated into English and performed on Broadway, the entire cast was arrested and charged with obscenity.
The free speech organizations wrote that Indecent explores "LGBTQ+ rights, immigration, censorship, and antisemitism in the early 20th Century — themes which have striking relevance to the issues facing society today." They pointed out that Douglas Anderson's recent productions include RENT and Chicago, shows with, "as much, if not more, 'sexual dialogue' as is conveyed in Indecent."
"If vaguely-defined adult sexual dialogue' is reason enough to ban plays from school productions," the statement continued, "these, and many other canonical productions would be banned from student theaters — Romeo and Juliet for depicting sexually active teens, Oedipus Rex for its incestual themes, and other works that have serious literary and artistic value for students and community members."
Paula Vogel herself has also taken up the cause of her play's cancelation. The Pulitzer Prize winner released a statement and, according to an interview with PEN America, offered to meet with the school board. She also recorded a podcast with the student actors.
"What does surprise me is the courage of this high school student for speaking out and the courage of the students in that cast," she told PEN America. "The faculty and the administration have principally been silenced. I am fearing for their jobs. … censorship of the arts is always the first step towards totalitarianism, and ultimately, towards genocide."
She goes on to say that other high schools have performed Indecent without incident: "It's up to the director and the students. If they don't want to kiss on stage, then let them hug. I don't police stage directions. I don't police my script. And if a high school wants to produce one of my plays and change the F word to 'fudge,' I don't care."
NPR reached out to Douglas Anderson School of the Arts and Duval County Public Schools for comment, but has not yet received a response.
According to WJCT's Brendan Rivers, Douglas Anderson Principal Tina Wilson informed cast members that Indecent would be replaced by the Chekhov play The Seagull.
In an email to students, she wrote, "Although students were required to provide parental consent to appear in the original selection, a closer review of the mature content of 'Indecent' led us to the conclusion that 'Seagull' is better suited for a school production."
Rivers reported that a statement from district officials, "said the decision has no relevance to new Florida laws restricting discussion of race and gender topics. Instead, it was 'a function of our responsibilities to ensure students engage in educational activities appropriate for their age.'"
Vogel's play is, "about the purity of love, the strength within a community and the shallowness of those who try to silence identity," said Madeline Scotti, a member of the Douglas Anderson cast of Indecent in an Instagram post. She urged people to read Indecent and God of Vengeance, "and have conversations we are being banned from having."

free tiktok coins generator 2023 colaboratory google colab
FREE TIKTOK COINS APP GENERATOR HACK IOS 2023 NO VERIFICATION [2DZXHQ]
CODASHOP MALAYSIA TOP UP GAMES APP VOUCHERS [UUKMKA]
HOW TO BUY TIKTOK COINS IN 2023 BOOSTHILL [37POY3]
PDF FREE TIKTOK COINS GENERATOR V 83 [BW7OAF]
HOW TO GET FREE TIKTOK COINS IN 2023 EARTHWEB [NF1AMM]
HOW I GET TIKTOK FREE COINS HACK 2023 IOS ANDRIOD YOUTUBE [BMAG9B]
HOW TO BUY TIKTOK COINS IN 2023 BOOSTHILL [7KHS4B]
FREE ENTRY TO RIVER HONGBAO 2023 AT GARDENS BY THE BAY FROM JAN 20 [RY4ULR]
STEP 3 ENTER KEYWORDS LIKE TIKTOK FOLLOWERS TIKTOK FOLLOWERS AND [59LNZF]
FREE TIKTOK COINS GENERATOR NO HUMAN VERIFICATION [IDEQLD]
HOW DO I GET FREE TIKTOK COINS QUORA [2F26NM]
HOW TO GET COINS ON TIKTOK FOR FREE SOLVED 2022 HOW TO S GURU [RIZPK4]
FREE TIKTOK COINS GENERATOR 2020 FREE TIKTOK NO HUMAN [Z2US20]
TIKTOK COIN GENERATOR IS IT WORTH IT ONLINE HELP GUIDE [927X92]
HOW TO WITHDRAW COINS FROM TIKTOK NOTES READ [K5AORY]
HOW DO I GET FREE TIKTOK COINS QUORA [820GZW]
HOW TO GET COINS ON TIKTOK FOR FREE SOLVED 2022 HOW TO S GURU [O182QR]
HOW MUCH MONEY DO YOU GET FOR 100 FOLLOWERS ON TIKTOK THE AMOUNT [QVEGGW]
TOP 4 WAYS TO GET FREE TIKTOK COINS ONLINE TECH TIPS [Y20SX5]
FREE TIKTOK COINS APP GENERATOR HACK IOS 2023 NO VERIFICATION [FWNBW3]
TIKTOK COINS HACK 2022 IOS ANDR GUIDE WORDS FREE FOLLOWERS [XK73QI]
FREE TIKTOK COINS APP GENERATOR 2023 NO DOWNLOADING APPS IOS [WYLX8Q]
FREE TIKTOK COIN GENERATOR 2023 NO HUMAN VERIFICATION [WUJNJV]
FREE TIKTOK COIN GENERATOR 2023 NO HUMAN VERIFICATION CL P1Y [554O7Q]
how to get free tiktok coins techcult
free tiktok followers instantly update
here s how to purchase tiktok coins and how to use them
Genuine Free Tiktok Coins Generator Generator 2022
tiktok coins how to get free coins latest guide 2023