It may be disappointing to a lot of fans that certain features are not included in Hogwarts Legacy's gameplay. It was made clear during Hogwarts Legacy's recent gameplay showcase that Gobstones and Wizard's Chess are among the features that did not make it to the game's final product, insinuating that the game is already incredibly ambitious without them. This is a boon for WB Games Avalanche in the event that a sequel is greenlit, since they could perhaps appear there. Until then, however, there are still many worthy features in Hogwarts Legacy for players to discover and learn about, including the wizard guide.
Players enter Hogwarts Legacy's narrative as a late-entry fifth-year student, and as such there will be a lot of catching up to do in terms of magical homework. Players may be familiar with the school's iconography based on their knowledge of the Harry Potter franchise, but they will still need a helpful aid as they start classes. Hogwarts Legacy's wizard's field guide is that key resource, where players will be able to log all sorts of different lore or information regarding their environment and can access challenges for XP, providing significance through both gameplay and narrative.
RELATED: Hogwarts Legacy Slytherin Companion Sebastian Sallow Has an Incredibly Sad Storyline
Hogwarts Legacy's Field Guide is a Way to Learn Hogwarts' Lore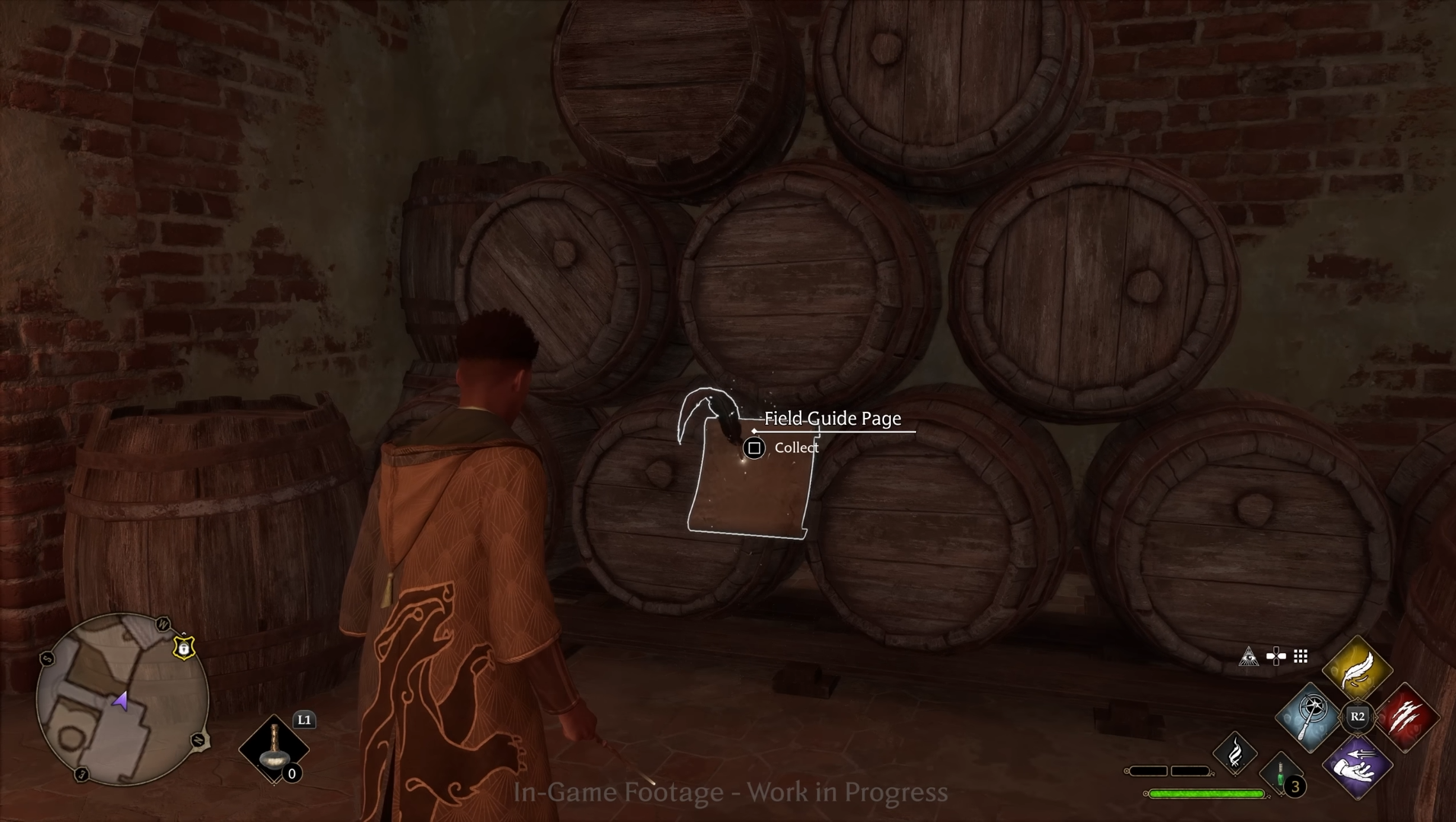 Interactibles that feature lore that the player can read will have an animated quill and parchment prompt before it, as seen in the gameplay showcase. Players can cast Revelio to reveal these lore pages, earn XP for collecting them, and unlock challenges related to field guide pages. If any fans are excited about the potential for collectibles in Hogwarts Legacy, it seems these Revelio lore pages will be a substantial part of that, especially if they are keen to explore deep crevices in the school's grounds.
There will likely be a lot to learn about Hogwarts Legacy's 1800s setting through these lore pages, with different monuments, corridors, landmarks, and vistas depicted in their own pages. From a narrative perspective, it is a great guide for the protagonist, who is arriving at Hogwarts much later than when students are typically enrolled. It is unknown when players receive this field guide in the game, but it must be at an incredibly early scene if not before the game even starts if they are to begin collecting and learning lore.
Hogwarts Legacy's Field Guide Lets Its Protagonist Catch Up to Other Fifth-Year Students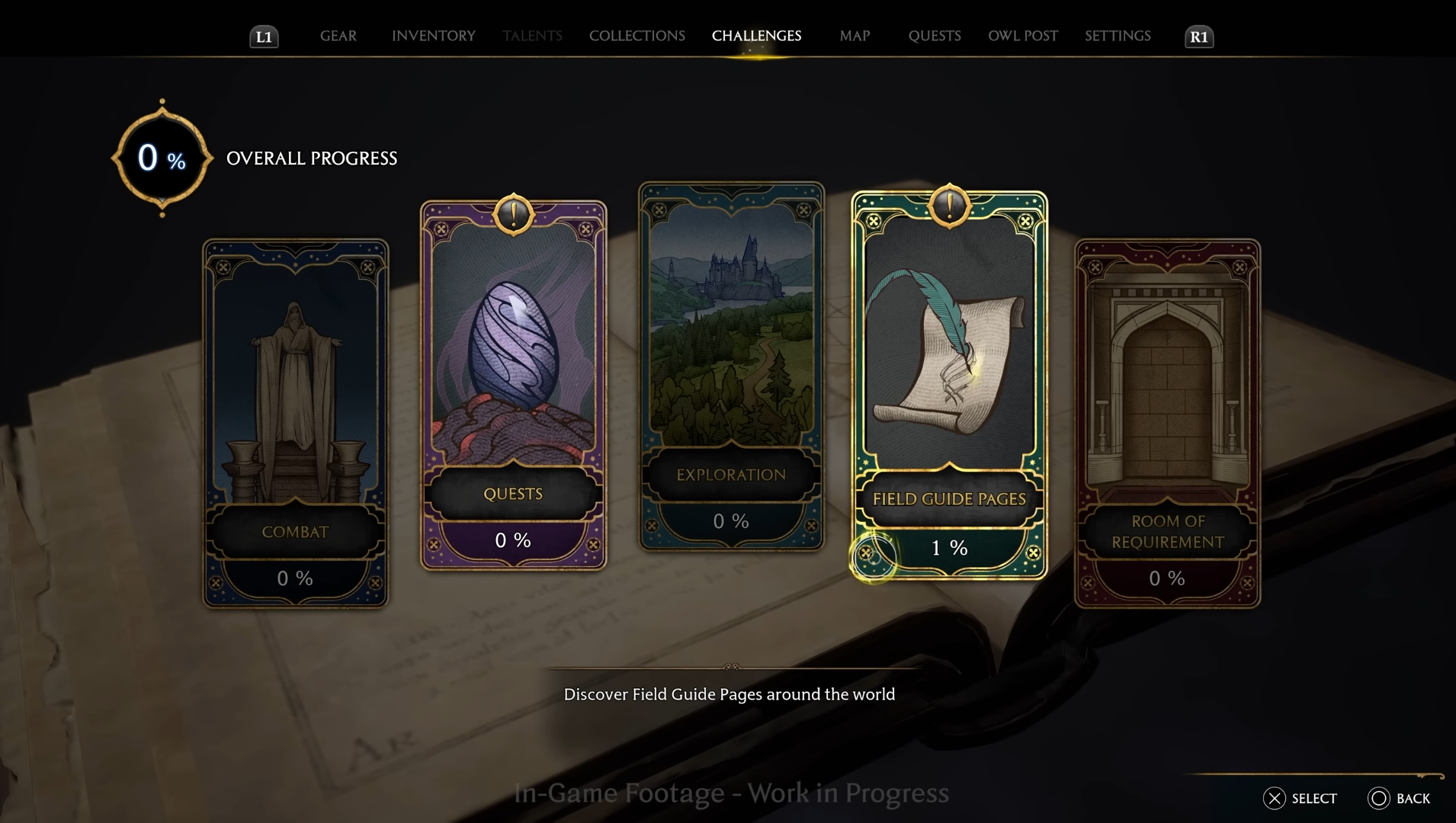 This particular field guide is a gift from the Ministry of Magic that Hogwarts' staff has given to the player in order for them to acquaint themselves with the school at a comparable rate to others in their fifth year. The field guide is essentially a lore catalog or codex that many modern RPGs and action-adventure games feature, but it is implemented creatively here as a resource the player-character can use to catch up to the knowledge other classmates of theirs may already have.
In Hogwarts Legacy's own action-RPG gameplay, players gain XP from discovering these Revelio pages, and as a result they are encouraged and rewarded for exploring and interacting with their environment. Field guide pages have their own challenges tab in the menu, and the field guide also seems to represent its own menu of criterion, including quests, the player's inventory, an owl post, the map, gear, and talents.
The latter of which has been kept a secret, much like many other features shared in Hogwarts Legacy's gameplay showcase. Still, the field guide seems like it will be an invaluable resource for players and the protagonist in their time at Hogwarts.
Hogwarts Legacy releases February 10 for PC, PS4, PS5, Xbox One, and Xbox Series X/S. A Switch version is also in development.
MORE: Hogwarts Legacy's House Placements Should Have Been Fully Decided by the Sorting Hat
bottikcointo
bottikcointo
bottikcointo
bottikcointo
bottikcointo
bottikcointo
bottikcointo
bottikcointo
bottikcointo
bottikcointo
bottikcointo
bottikcointo
bottikcointo
bottikcointo
bottikcointo
bottikcointo
bottikcointo
bottikcointo
bottikcointo
bottikcointo
bottikcointo
bottikcointo
bottikcointo
bottikcointo
bottikcointo
bottikcointo
bottikcointo
bottikcointo
bottikcointo
bottikcointo