Gungrave. A two-part third-person shooter released on the Playstation 2 in the early 2000s gets a new coat of fresh paint in the newly released Gungrave G.O.R.E. Developed by the South Korean studio IGGYMOB, the player will take on the role of Grave, an anti-hero with a penchant for not staying dead and steamrolling his enemies with his dual-wielded guns and a coffin he wields on his back. Yes…a coffin.
The titular gunslinger will explore many areas in Southeast Asia that are twisted to fit the world's gritty, gory, and flashy aesthetic. As with the original games, the style is over substance, with the audience having mixed reviews. The awkwardness of the PS2 era does not really fly these days with the modern spectacles in the gaming arena, however, it harkens back to a time when things were simpler and the ballet of bullets was enough to earn a standing ovation.
RELATED: Weirdest Video Game Sequels
In addition to Grave, the player will meet a cast of unique characters along the way. Their designs (as with Grave's) take a page out of the Japanese manga (think Nightow) and Korean manhwa that inspired the art style. There is an exaggeration of violence in all 31 missions throughout the single-player story campaign. So, with the game set in the player's sights, where to start?
4/4

It's A Long Shot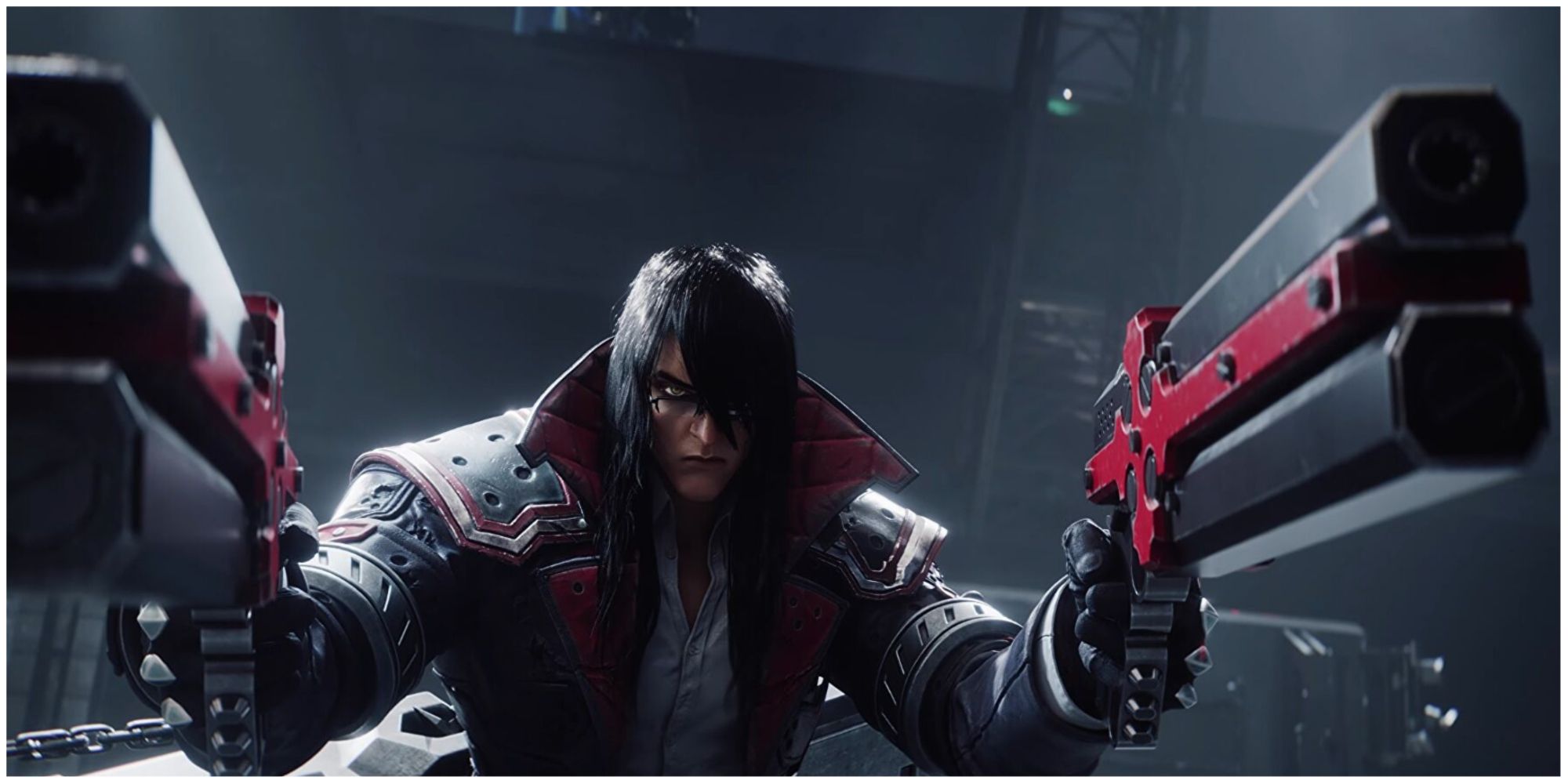 Grave carries around guns and a coffin-killing machine for a reason, combining both hack 'n slash and bullet-hell combat styles. The player may find that even though encroaching enemies are unavoidable, it is best to try and keep everything at long range as that is where the weapons really shine. Even though there is some melee combat, gun kata, and casket chopping, the gun is in his name for the reason.
RELATED: Every PlatinumGames Game Ever Made, Ranked
Shooting is generally faster than melee attacks and usually packs a bigger punch as well as providing better movement options and freedom to strafe from incoming fire. Close coffin combat should only be used in situations where it is necessary such as being surrounded by a mob or in the trenches of a boss battle.
3/4

Another One For The Arsenal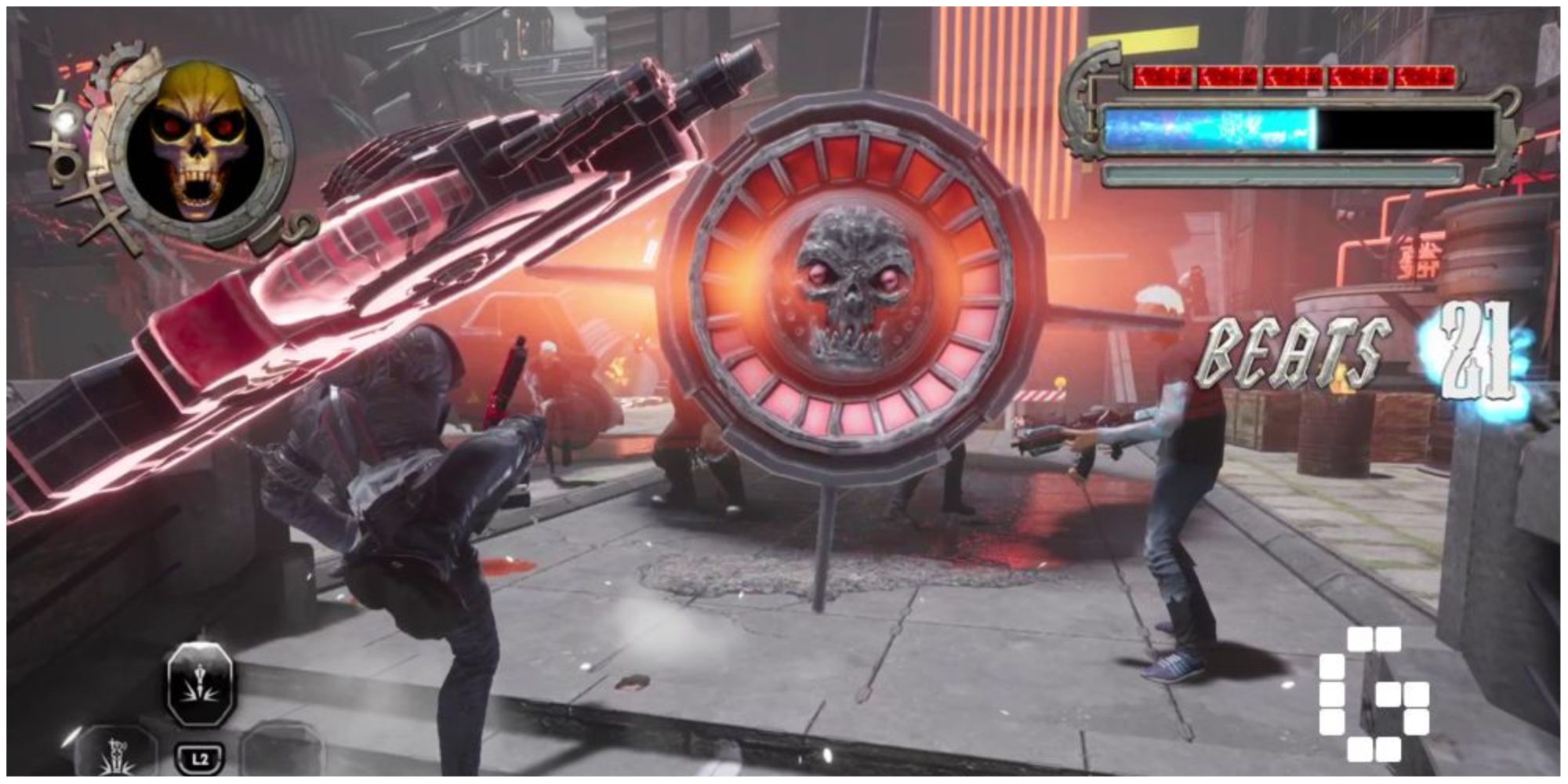 Enemies come in all shapes and sizes, but luckily so do the protagonist's abilities. Gungrave G.O.R.E incentivizes players often to use Grave's special abilities when tackling enemies as some are outfitted with new weapons or defenses that might tank a normal round. There is a knack for dealing death, however, the most basic special abilities are far more potent than normal attacks.
RELATED: Dark & Edgy Video Game Reboots That Are Actually Great
Some abilities require filling up the beat meter, which works similarly to Devil May Cry's and Bayonetta's combo meter. By connecting multiple skills, the beat meter increases and some abilities Grave becomes able to perform. Some examples of special abilities the payer will unlock include:
Burst mode –
Grave becomes stationary, allowing him to attack faster, however, be mindful of taking big hits as this will disable the mode.

Storm barrage –
Once the players hit 50 beats (combo), Grave can perform an area-of-effect attack for some handy crowd control.

Death spear –
A single powerful, flaming concussive shot that can destroy the riot shield grunts

Demolition Shots –
Grave's ultimate abilities come in a varying range of highly impactful attacks. The more powerful the attack the more demolition points that need to be expended.
When unlocking abilities for the first time, the player may become stuck as the build they have created may be improperly matched against a horde of enemies or a boss fight. The game employs a handy system whereby a player can refund the abilities for the purchase price and respec Grave to take on a new challenging fight.
2/4

Jack Of All Trades, Master Of Gun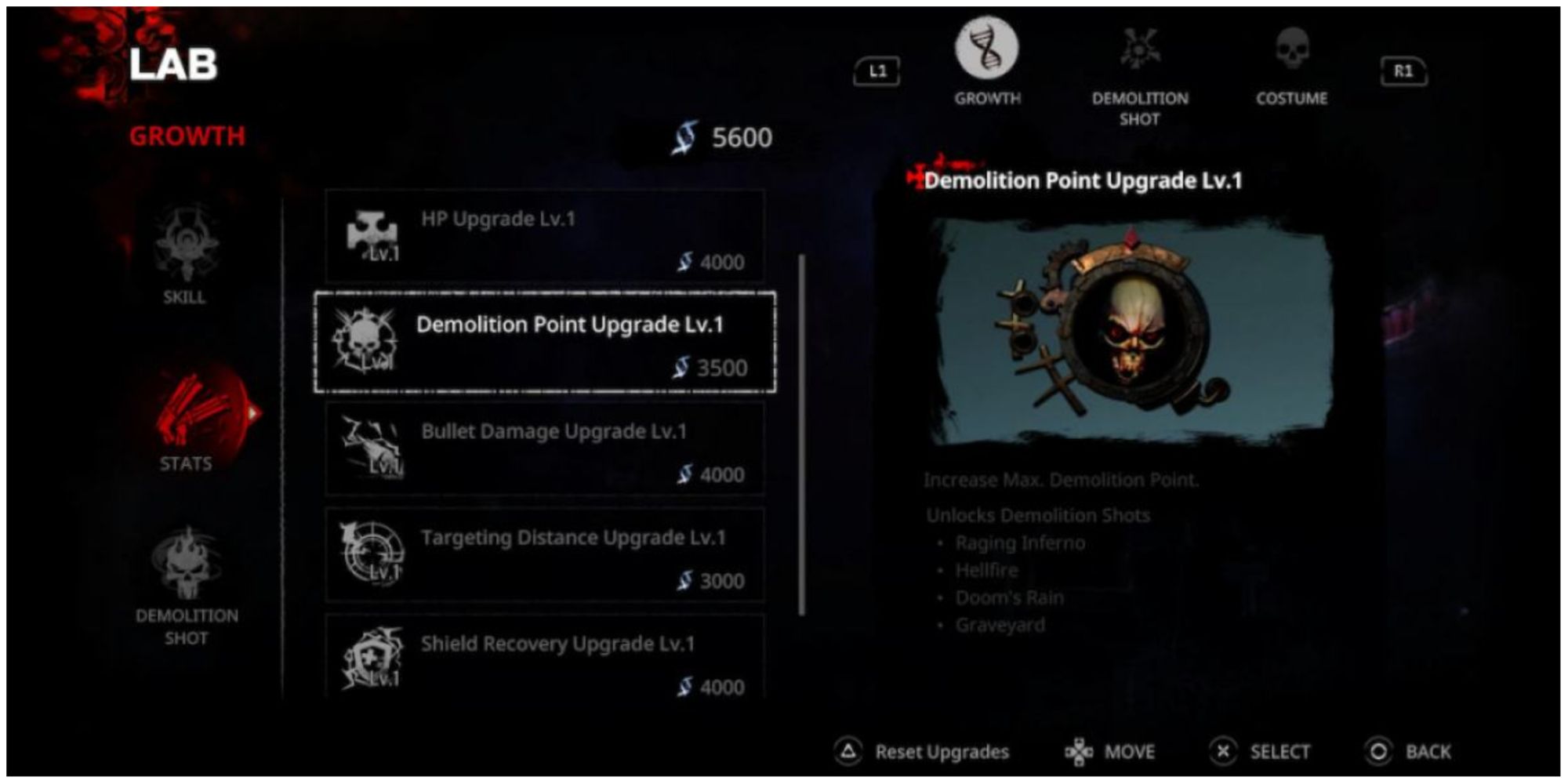 As levels are completed, players will gradually earn points. Points are a key resource for spending in The Lab (the in-game store), however, they are limited and skills need to be chosen, and upgraded, wisely when progressing through the game.
RELATED: Best Guns In Gaming For Destroying Everything In Your General Direction
Points can be spent on three main categories: skills, stats (health, demolition, shield etc.), and demolitions. Gungrave G.O.R.E is a conventionally aggressive game that urges the player to kill enemies faster rather than boosting Grave's defenses. The mentality: the best defense is a good offense is how players should approach the game. Skills that boast area-of-effect or higher killing power should be focused on first.
1/4

A Blaze Of G.O.R.E.Y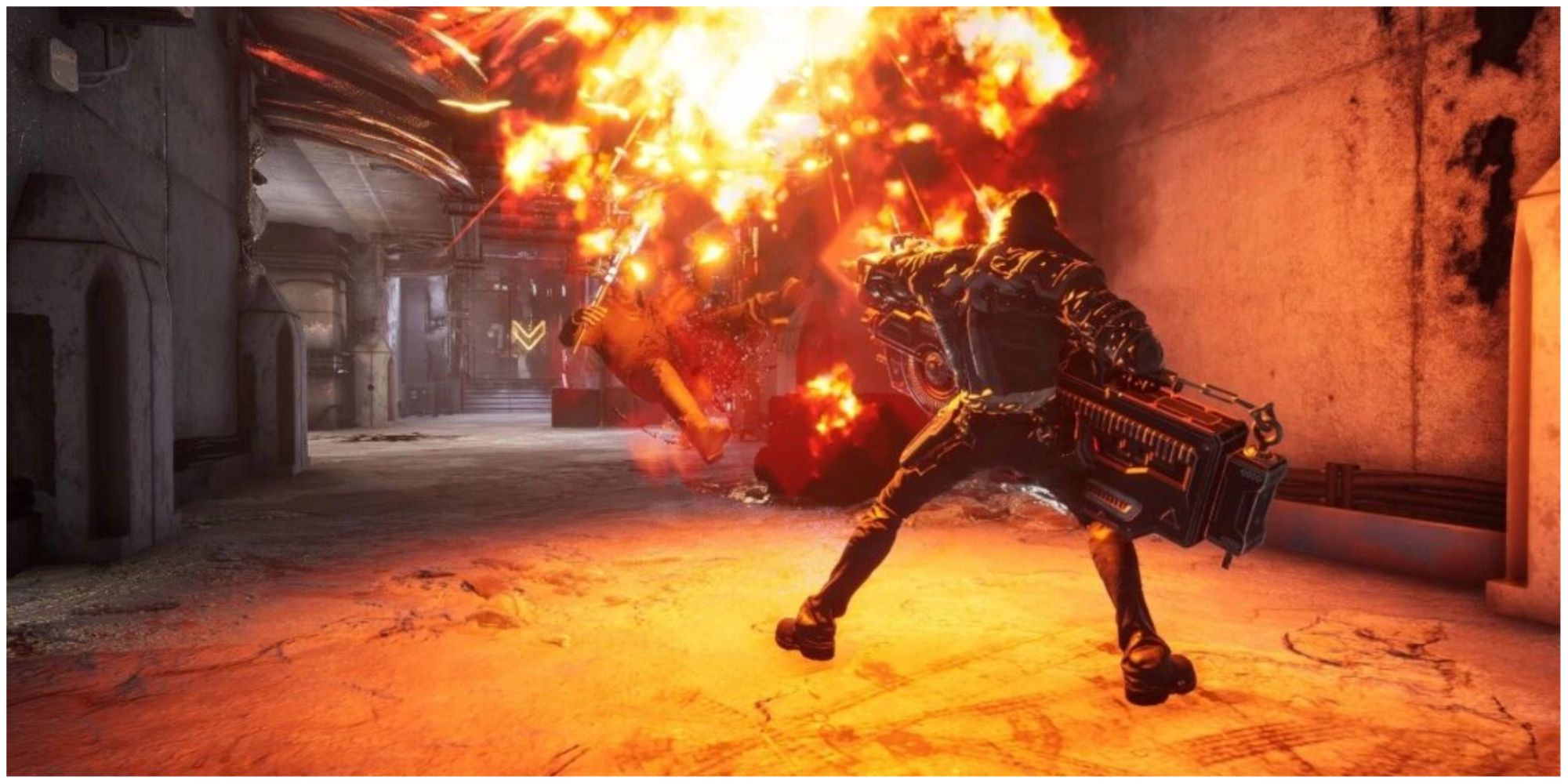 Seeing red may sound to some like flying into a rage. However, to a gamer, it's almost instinctual to think about explosives in the environment. Gungrave G.O.R.E is no exception. Flammable materials are littered throughout each stage and can be attacked, and subsequently ignited, to deal masses amounts of damage to enemies.
Nevertheless, there are explosives in the levels that can sometimes be hard to find. Too much can fill the screen at once and bullet-blasting action can distract players from seeing these environmental weapons. It also doesn't help that the game can, at times, be dark. When players reach the arrow dictating the next part of the stage, it would be helpful to familiarize themselves with their surroundings. It might be easier to spot a potential explosion to set off when Grave isn't making Swiss cheese of his foes.
Gungrave G.O.R.E is out now on PC, PS4, PS5, Xbox One, and Xbox Series S/X.
bottikcointo
bottikcointo
bottikcointo
bottikcointo
bottikcointo
bottikcointo
bottikcointo
bottikcointo
bottikcointo
bottikcointo
bottikcointo
bottikcointo
bottikcointo
bottikcointo
bottikcointo
bottikcointo
bottikcointo
bottikcointo
bottikcointo
bottikcointo
bottikcointo
bottikcointo
bottikcointo
bottikcointo
bottikcointo
bottikcointo
bottikcointo
bottikcointo
bottikcointo
bottikcointo