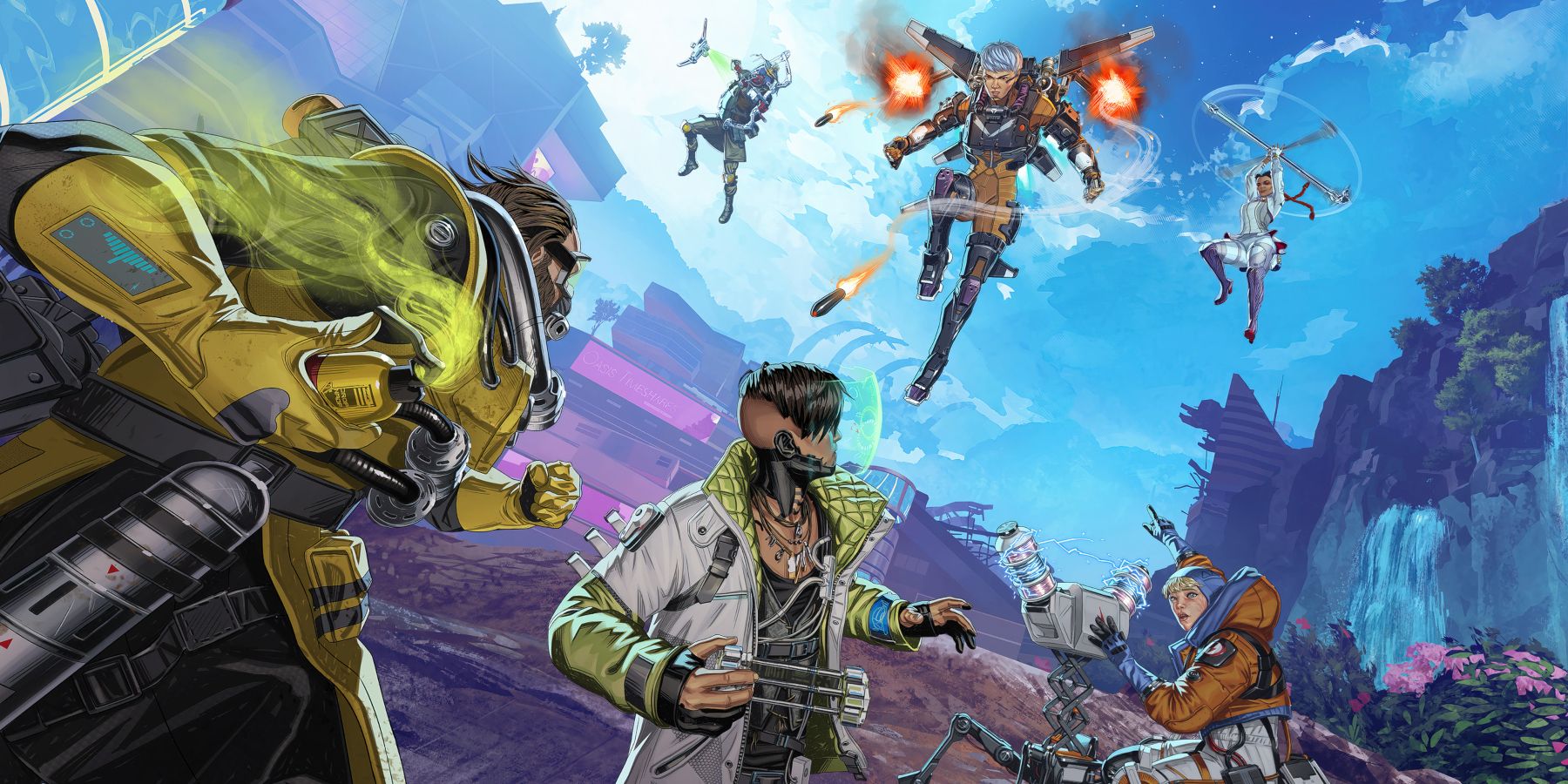 An old exploit believed to have been fixed is back in Apex Legends, which enables players to "break" the queue system and play Ranked matches with lower-skilled players. Ranked queues in online multiplayer games are driven by the idea that players are matches against those of a similar skill level. Apex Legends is no different. Its ranked queues rely on SBMM systems. If those ranked queues aren't matching based on skill, then there's no reason to play Ranked — and in turn no reason to play Apex Legends, for some players.
SBMM systems in Apex Legends and other battle royale games aren't particularly complicated. After all, the priority for most battle royales, even in ranked queues, is to ensure matches happen quickly rather than having perfect matchmaking. As such, when players queue Apex Legends servers will quickly check their hidden skill ratings and will then be thrown into a match with other loosely similarly-skilled players. There are no further checks or verification that players have been matched based on their skill past that. It's this very basic matchmaking system that opens Ranked up to exploits.
RELATED: Apex Legends Leak Reveals Magic Witch Event and Cosmetics
Reddit user Appropriate-Skill-92 recently showed that an old exploit that breaks ranked queuing in Apex Legends is back. The heart of the exploit is that a smurf or low-ranked player can, with very specific timing, join and leave a high-skilled party and trick servers into placing the team into an easier match. High-ranked teams can then win these matches with comparative ease, increasing their rank as if they played a normal match.
It should be obvious how broken this is, and how unhealthy it is for Apex Legends' Ranked mode. High-ranked players are climbing through non-competitive matches. Low-ranked players are falling in unfair matches. And overall, the ranked queue is increasingly unrepresentative of actual skill. It's just a broken mess.
While this exploit is certainly concerning, it should be clarified that it's not an easy glitch to pull off. Since Apex Legends is such a popular game, it's unlikely that the exploit will have any dramatic impact on the overall Ranked system. It will ruin some players' matches, though, and will lead to increasing issues if left unaddressed.
Respawn fixed a similar exploit that was popular in 2021, but clearly the root of the problem wasn't solved. It should mean that Respawn will be quick to address the new exploit, though. In the meantime, Apex Legends players feeling frustrated that they're being unfairly matched against high-rank players might not just be paranoid.
Apex Legends is available now on PC, PS4, PS5, Switch, Xbox One, and Xbox Series X.
MORE: Apex Legends: How Broken Moon Compares to Olympus and Storm Point
bottikcointo
bottikcointo
bottikcointo
bottikcointo
bottikcointo
bottikcointo
bottikcointo
bottikcointo
bottikcointo
bottikcointo
bottikcointo
bottikcointo
bottikcointo
bottikcointo
bottikcointo
bottikcointo
bottikcointo
bottikcointo
bottikcointo
bottikcointo
bottikcointo
bottikcointo
bottikcointo
bottikcointo
bottikcointo
bottikcointo
bottikcointo
bottikcointo
bottikcointo
bottikcointo