When it comes to building huge, open-world sandboxes, developer Ubisoft has a vast amount of experience. The Assassin's Creed franchise seems to get bigger in size and scope with each installment, and some of its other IPs, like Watch Dogs, have followed a similar blueprint. Far Cry, a first-person open-world series, has not strayed far from this formula either, a fact that has enabled the series to churn out new games almost yearly over the last decade. Far Cry 6 arrived in 2021, with its development and subsequent launch having been heavily impacted by the global COVID pandemic, and this seems to have had a knock-on effect on the franchise, as no new game has been announced yet.
The silence surrounding a potential Far Cry 7 is interesting. The gap between Far Cry 6's announcement and release was approximately 18 months, so it's a safe bet to assume the absolute earliest gamers will get their hands on the next installment of the series would be summer 2024, and that's if the game's announcement is made imminently. Ubisoft should seize this opportunity with both hands, and use this time to really bring the wow factor back to a franchise that seems to have lost its spark recently.
RELATED: The Best Ubisoft Games Ever Made (According to Metacritic)
The Next Far Cry Needs to Be Special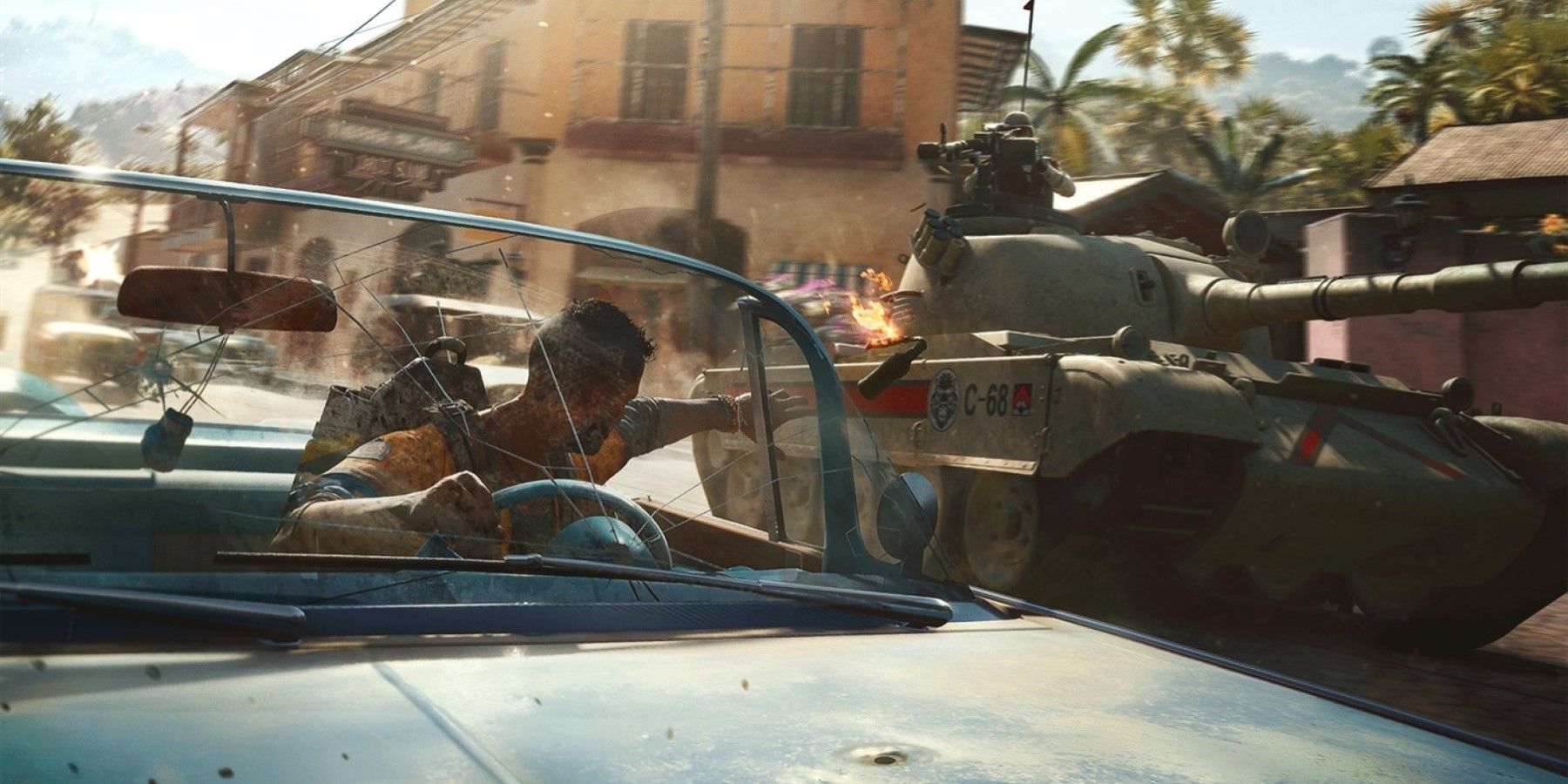 Releasing games almost yearly is a double-edged sword. On one hand, fans of the series get to experience a new release regularly. On the other, small windows between releases mean little time to innovate, and this results in several iterations having little more than minor visual upgrades and subtle gameplay changes, rather than the big sweeping changes fans have come to expect from new releases in their favorite franchises. Far Cry has unfortunately fallen into the latter category, with each new game copying the same standard mechanics as its predecessor, and signs of real innovation becoming relatively scarce. Far Cry 7 has the opportunity to change this.
The series has a number of ways it can reinvigorate itself. Firstly, Far Cry 7 needs to ensure it focuses on its villain. Starting with the maniacal Vaas from Far Cry 3, the series built a reputation for its eccentric, imposing cast of villains. The addition of the talented Giancarlo Esposito as Far Cry 6's main antagonist was an incredibly exciting one for fans, but ultimately, while his own performance was stellar as usual, the character's lack of screen time damaged his overall impact on the story, and he failed to live up to the heights of some of his predecessors.
Far Cry's open-world formula also needs a huge shakeup. The tried-and-tested gameplay loop of moving to each area of the game world, clearing out enemy bases, uncovering more of the map, and unlocking missions has become stale and borderline tedious at times, which is hardly surprising considering the franchise has stuck to this formula fairly rigidly for 10 years now. Gamers expect more from their open-world games now, and titles such as Elden Ring and The Legend of Zelda: Breath of the Wild have only solidified these expectations.
Ubisoft has time on its side this time, and it needs to use it wisely. Far Cry fans would surely be happy to wait longer for the next installment, providing this wait is rewarded with a title that breathes new life into the franchise in the same way that the fan-favorite Far Cry 3 did back when it was released in 2012. If Far Cry 7 spotlights its main antagonist better, and creates a new, fresh gameplay loop that rewards exploration without reverting to the stale formula fans are used to, the series' waning popularity should once again rise drastically.
Far Cry 6 is available on PC, PS4, PS5, Xbox One, and Xbox Series X/S.
bottikcointo
bottikcointo
bottikcointo
bottikcointo
bottikcointo
bottikcointo
bottikcointo
bottikcointo
bottikcointo
bottikcointo
bottikcointo
bottikcointo
bottikcointo
bottikcointo
bottikcointo
bottikcointo
bottikcointo
bottikcointo
bottikcointo
bottikcointo
bottikcointo
bottikcointo
bottikcointo
bottikcointo
bottikcointo
bottikcointo
bottikcointo
bottikcointo
bottikcointo
bottikcointo