Some Pokemon Scarlet and Violet players voice their frustrations with the storage boxes that cause hiccups of unnecessary waiting.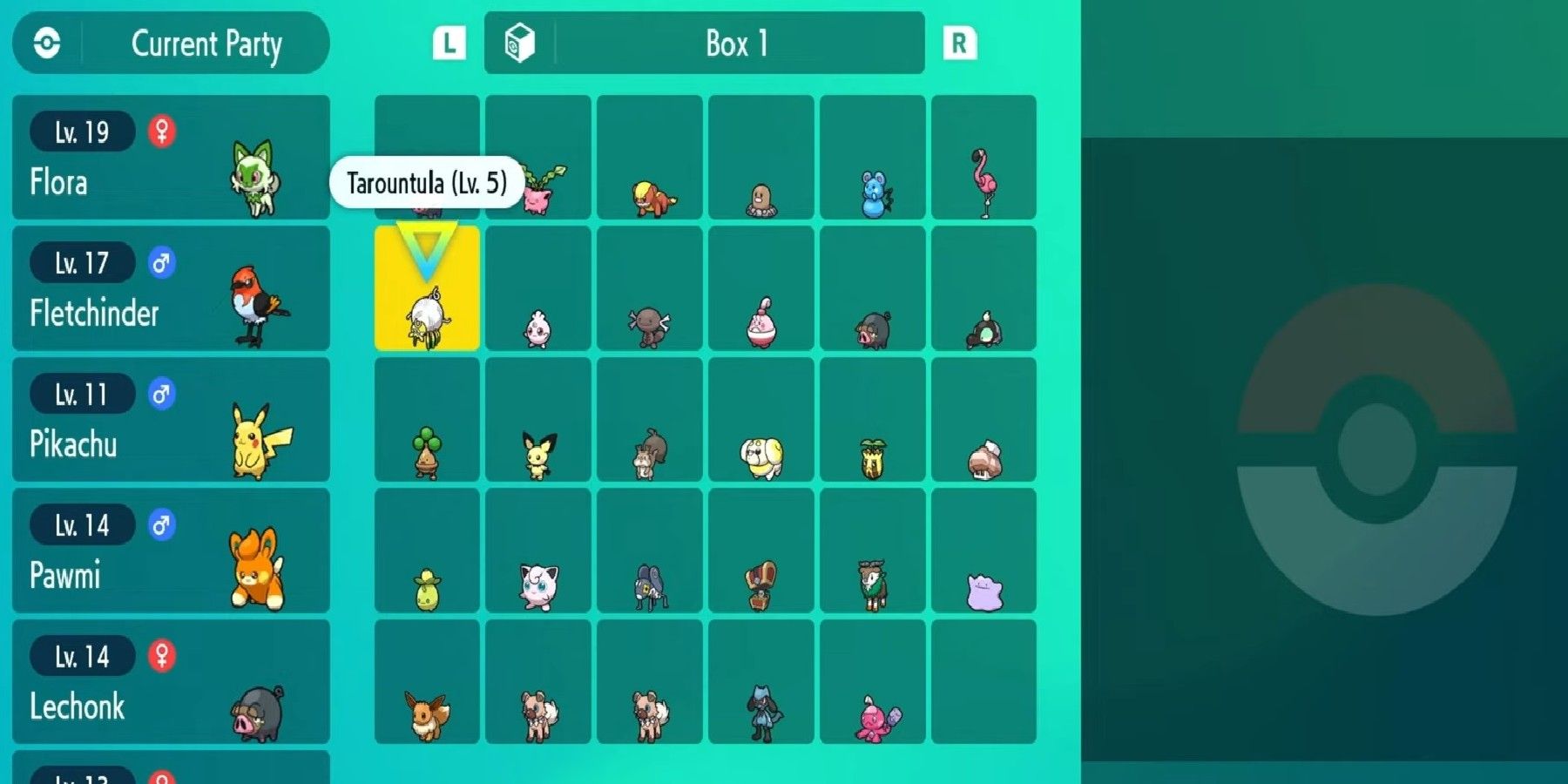 Of all the problems that Pokemon Scarlet and Violet players are discovering in the new games are slow storage boxes that make swapping Pokemon in a trainer's party a little more difficult. Nintendo released Pokemon Scarlet and Violet last week, and since then numerous bugs and glitches have been discovered like simple visual ones that turn the trainer into a giant monster or cause eyes to bulge out of heads.
Reddit user CrimsonishWitch recently posted about their experiences in Pokemon Scarlet and Violet that have made using the storage boxes feel "frustrating" compared to prior generations of Pokemon games. Pokemon Scarlet and Violet kicked off Gen 9 on the Nintendo Switch and although it has become a successful hit for Nintendo, the games have some issues that didn't make it to other Switch titles like Pokemon Legends: Arceus or Pokemon Sword and Shield. While many of the visual glitches in Pokemon Scarlet and Violet have gone viral through social media, it's the storage box problems that CrimsonishWitch points to as spoiling the experience.
RELATED: Pokemon Scarlet and Violet Players Raise Their Eyebrows at Questionable Meowscarada 'Kiss'
According to CrimsonishWitch, the slow Pokemon Scarlet and Violet storage boxes loading are more intrusive to the gaming experience than Pokemon that pop-in while exploring Paldea or the numerous reports of frame rate dips. CrimsonishWitch has stated that they typically try to complete a living Pokedex like two players did with Pokemon Sword and Shield in each Generation, but Pokemon Scarlet and Violet's box issues may discourage the player this time around. After Pokemon Scarlet and Violet fans factor in all the slow-down from problems like the PC boxes, FPS dips, falling through the map, and more, much of the game time logged with each save includes minutes of waiting.
Pointing to the many Pokemon titles that came before Pokemon Scarlet and Violet, CrimsonishWitch asked why the selection modes have been changed so drastically with Gen 9. CrimsonishWitch stated that they're left waiting over five seconds at times for storage boxes to load the Pokemon within them as they scroll from one to another in search of a specific Pokemon. With so many Pokemon in the Pokemon Scarlet and Violet Pokedex, some trainers may fill over a dozen boxes with their collection which can mean a full minute of experiencing the complication that CrimsonishWitch has highlighted.
Many Pokemon Scarlet and Violet players expressed similar problems with Gen 9 in response to CrimsonishWitch who asked if they're the only ones waiting for the boxes to load, which suggests that many fans have seen the same loading issue. As some players voiced other Pokemon Scarlet and Violet frustrating flaws like the camera, others simply voiced that they hope that Game Freak can solve some of the complications with a future patch.
Pokemon Scarlet and Violet are available now for Nintendo Switch.
MORE: Every Pokemon Missing from Pokemon Scarlet and Violet At Launch
bottikcointo
bottikcointo
bottikcointo
bottikcointo
bottikcointo
bottikcointo
bottikcointo
bottikcointo
bottikcointo
bottikcointo
bottikcointo
bottikcointo
bottikcointo
bottikcointo
bottikcointo
bottikcointo
bottikcointo
bottikcointo
bottikcointo
bottikcointo
bottikcointo
bottikcointo
bottikcointo
bottikcointo
bottikcointo
bottikcointo
bottikcointo
bottikcointo
bottikcointo
bottikcointo