Recent beta leaks in Genshin Impact reveal a small detail many players have missed about a new sword that is expected to arrive in update 3.3.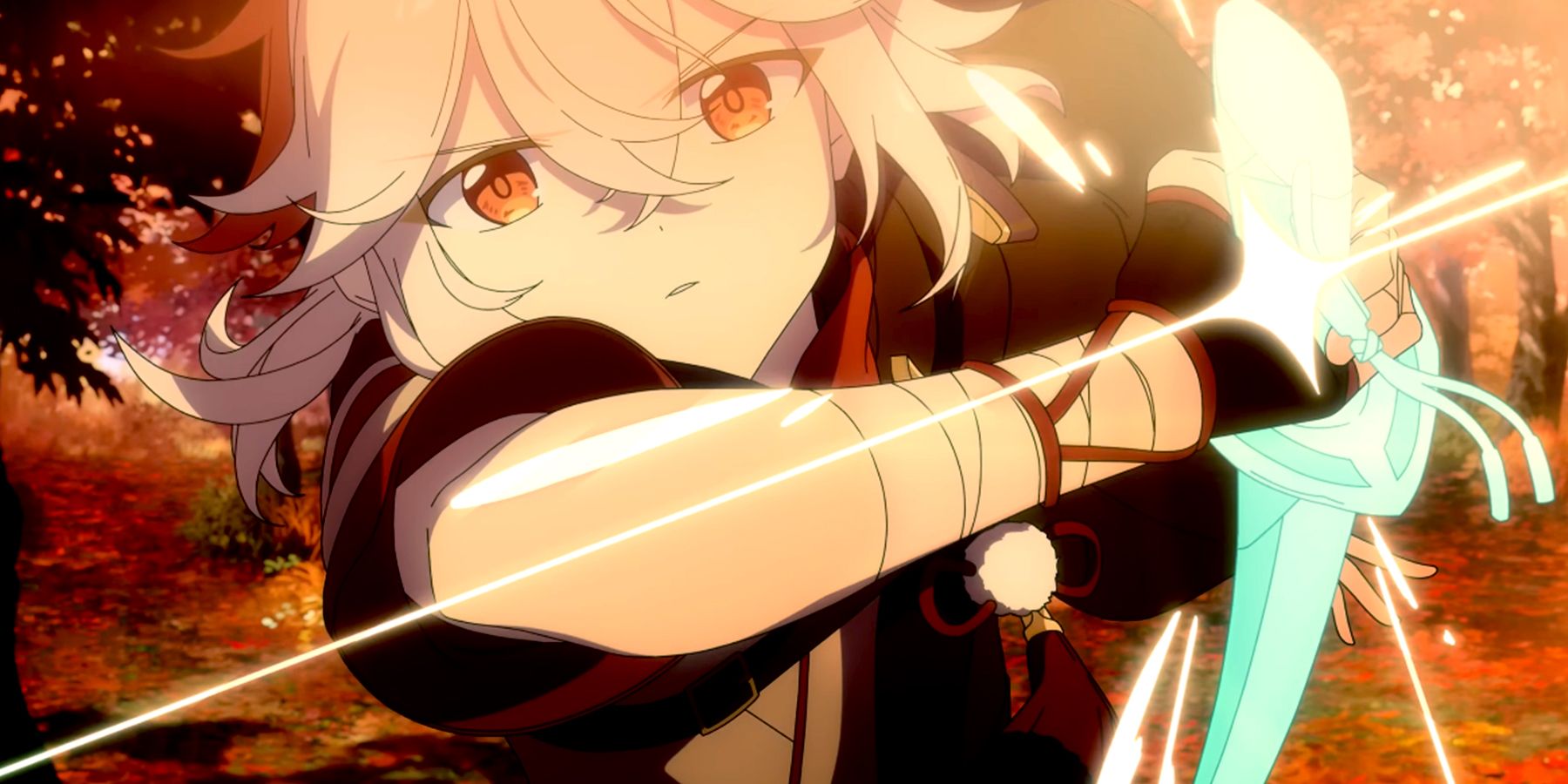 A new Genshin Impact video leak has revealed an interesting detail about one of the new weapons that will probably arrive in the next update. Recent leaks have revealed that the upcoming version 3.3 will include loads of new content including new characters, weapons, artifact sets, and events.
HoYoverse already confirmed two new Genshin Impact characters, Wanderer and Faruzan, for the next update. Wanderer, previously known as Scaramouche, will be a five-star unit while Faruzan is expected to have a lower four-star rarity. There is no official information about their exact update, but players hope to see them on the same banner.
RELATED: Genshin Impact Chart Shows Yae Miko and Childe Sales Are Surprisingly Good
A new post on the Genshin Impact Leaks subreddit reveals an interesting video showing Lumine using the new four-star sword named Toukabou Shigure. The video points out that the sword has an eye in the middle of the blade which keeps moving. The animation can be seen when Lumine enters her weapon pose in the character menu. Fans like the fact that HoYoverse decided to introduce a sword that seems almost alive. A couple of comments have stated that they will try to acquire this sword just because of this small detail.
Previous Genshin Impact leaks have revealed that the weapon will be obtainable for free by completing some upcoming events. Players will be able to get five additional copies of the sword which will allow them to increase its refinement levels, making the weapon even stronger. Some fans are hoping that the sword also has a couple of voice lines that would mock players for dying or missing a skill.
According to the current beta phase, the Toukabou Shigure is a great four-star weapon for supportive characters who could use the additional Elemental Mastery provided by its secondary stat. The weapon's passive effect makes it also a great choice for DPS or sub-DPS units as it has the potential to mark an enemy with an effect called Cursed Parasol. This effect will increase the weapon holder's damage against the marked target by 16-32%, based on the refinement level.
The go-to character for this weapon is probably the five-star character Kaedehara Kazuha who can use its Elemental Mastery. He is probably the strongest Anemo support at the moment which was proven by recent Spiral Abyss usage rates. Another four-star character who can use this event weapon is the Liyue Hydro support, Xingqiu.
Genshin Impact is now available on Mobile, PC, PS4, and PS5. A Switch version is in development.
MORE: Why Some Genshin Impact Fans Think Paimon is Secretly Evil
bottikcointo
bottikcointo
bottikcointo
bottikcointo
bottikcointo
bottikcointo
bottikcointo
bottikcointo
bottikcointo
bottikcointo
bottikcointo
bottikcointo
bottikcointo
bottikcointo
bottikcointo
bottikcointo
bottikcointo
bottikcointo
bottikcointo
bottikcointo
bottikcointo
bottikcointo
bottikcointo
bottikcointo
bottikcointo
bottikcointo
bottikcointo
bottikcointo
bottikcointo
bottikcointo