Just like in pretty much any other MMORPG, healers in World of Warcraft serve a vital role in every party and have the unenviable task of keeping everybody alive while often receiving only scrutiny in return. It's a thankless job, and yet a lot of people still choose to do it anyway and will continue to do it in the next expansion, Dragonflight.
If you're one of those unsung heroes, first off, thank you for your service. Secondly, you came to the right place because in this guide we're going to cover everything you need to know about the Preservation Evoker, WoW's newest healing spec.
What's New With Talents In Dragonflight?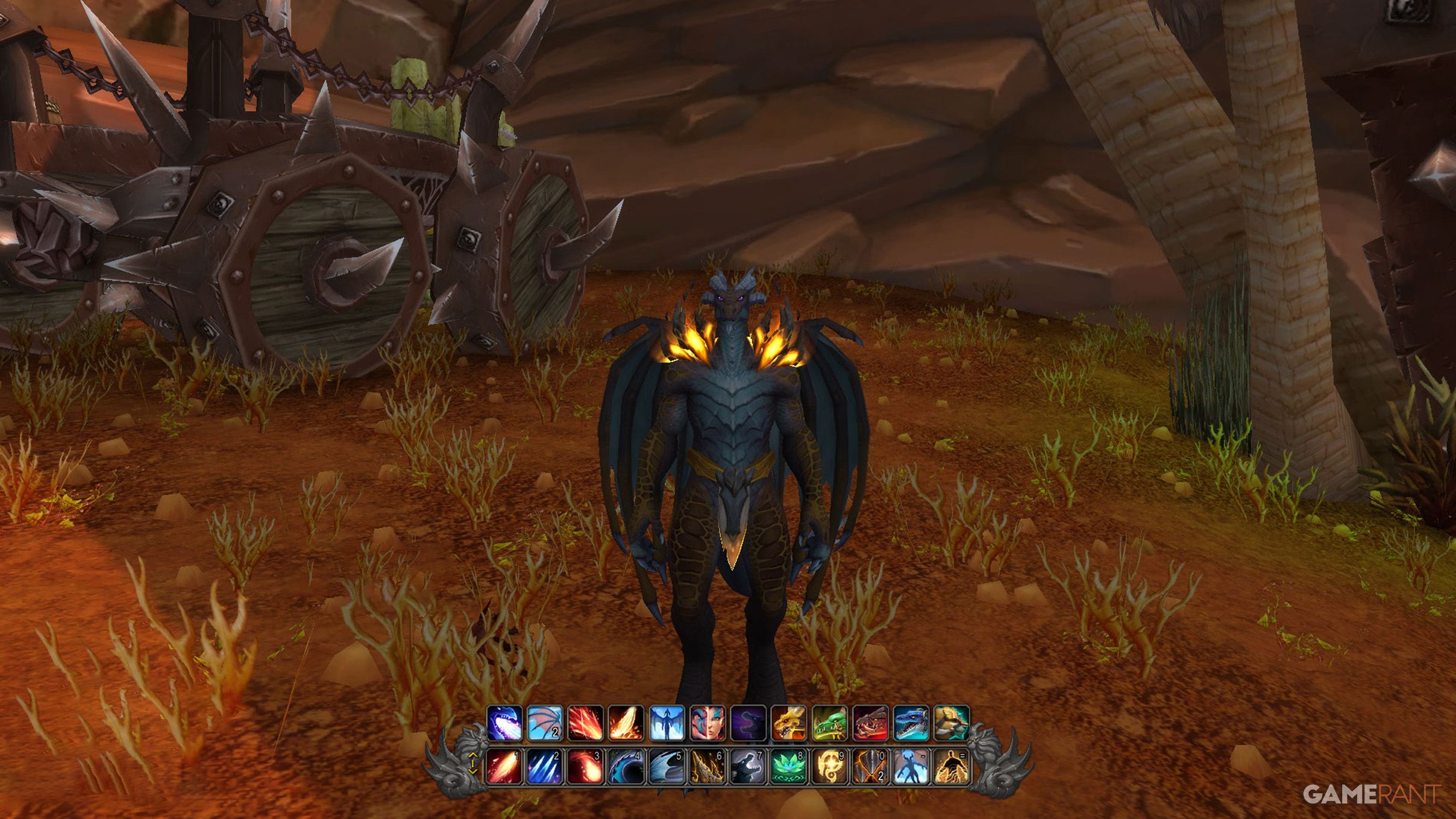 Dragonflight makes significant changes to how talent trees work in World of Warcraft. Instead of working with a single talent tree that offers next to no interesting options, players now have two trees at their disposal and way more choices than available points. Finally, you can once again expect talent choices to be meaningful just like in the good old days. Even more importantly, you can expect each spec to have multiple viable builds, and the Preservation Evoker is no exception.
Evokers are a hero class that start at level 58, so it won't take you long to reach max level in Dragonflight. While that's a good thing if you don't like leveling, you won't have as much time to get accustomed to your spells and talents compared to other healing specs that start at level 1. But don't worry because we'll walk you through everything you need to know down below.
Evoker Class Talent Build – Dragonflight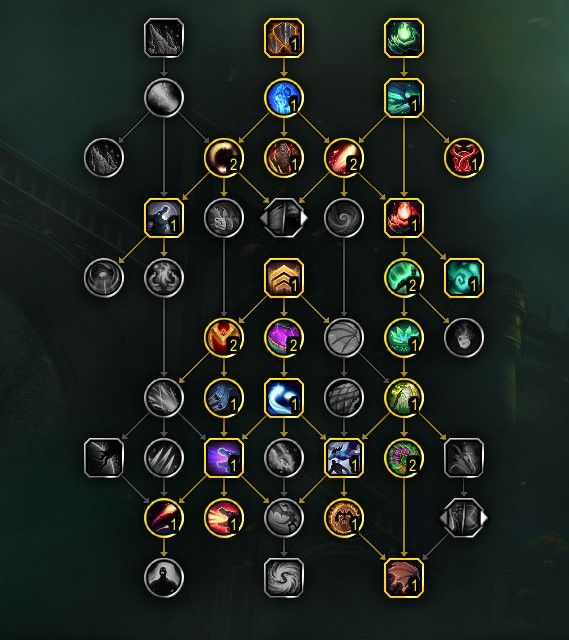 The class tree is your go-to place for picking up talents regardless if you're playing a Devastation Evoker or a Preservation Evoker. As a Preservation Evoker, you'll obviously want to focus manly on healing, however, it wouldn't hurt to grab a couple of Devastation talents here and there. In fact, the tree is designed in such a way that you have to dip into the Devastation side a bit in order to unlock some of the later rows.
Row 1:
Expunge gets unlocked by default so no need to worry about that. Having some good defensive talents is pretty crucial for a healer, so you'll want to grab Obsidian Scales as well. You can skip Landslide since you probably won't be using it a lot.
Row 2:
Pretty much all the talents found on the right side of the tree are good for Preservation so make sure to pick up Verdant Embrace. You'll also want Permeating Chill, mainly so you can unlock Innate Magic on the next row.
Row 3:
Innate Magic Rank 2 isn't a must, but the Essence regeneration is nice to have so we like to take with this build. Obsidian Bulwark gives your Obsidian Scales an extra charge so that's another must-have talent on this row. And then on the right side we want both Enkindled Rank 2 and Scarlet Adaptation for that extra bit of healing and damage.
Row 4:
It's pretty important to have an interrupt as a healer so grab Quell on this row and then also Cauterizing Flame, which is basically just a better version of Expunge.
Row 5:
Tip the Scales is a must for any build while Attuned to the Dream Rank 2 increases your healing done and received by a flat amount. Those are the two most important talents for Preservation Evokers here, but you may also want to consider picking up Sleep Walk. This is a pretty situational talent that can be used to pull or bypass individual mobs in dungeons and raids. It's not an essential talent, but you can get a lot of mileage out of it during group content so we recommend taking it.
Row 6:
This row is pretty straightforward. Draconic Legacy Rank 2 and Inherent Resistance Rank 2 increase your defenses while Bountiful Bloom allows your Emerald Blossom to heal two additional allies. This build relies quite a bit on Emerald Blossom so you'll generally want to grab any talent that improves it. If you decided to skip Sleep Walk earlier you can put that extra point into Ancient Flame or Extended Flight Rank 1 here, but we find Sleep Walk to be a lot more useful.
Row 7:
Next up you'll want to grab Panacea for obvious reasons and then Exuberance for some extra mobility. The third talent you'll want to consider here is Source of Magic, however, keep in mind that this will only be useful in raids. If you're planning to focus more on other types of content, don't hesitate to skip it and spend that extra point elsewhere.
Row 8:
Lush Growth Rank 2 isn't a must for all Preservation Evoker builds, but you'll definitely want to grab it if you find yourself using a lot of green spells. Rescue can a bit tricky to use but it can make a huge difference in group content. Just make sure not to use it on the main tank during a raid unless that's part of the plan. And then finally we're grabbing Oppressive Roar, which we're going to upgrade with Overawe on the next row.
Row 9:
There are a lot of enemies in Dragonflight that benefit from Enrage so you'll get a lot of use out of Overawe. We're also upgrading Rescue by grabbing Twin Guardian and finishing things up with Leaping Flames. Leaping Flames is useful only if you're planning on doing a bit of DPS here and there. If you're focusing exclusively on healing and don't plan on touching Fire Breath, you can go with Aerial Mastery instead or grab Regenerative Magic from the previous row.
Row 10:
The only capstone you'll want with this build is Zephyr. Time Spiral can also be good, but it requires good communication with your group and even then, it's pretty situational. Terror of the Skies should be skipped unless you really know what you're doing as Deep Breath can do more harm than good when you're playing as a healer.
Preservation Evoker Talent Build – Dragonflight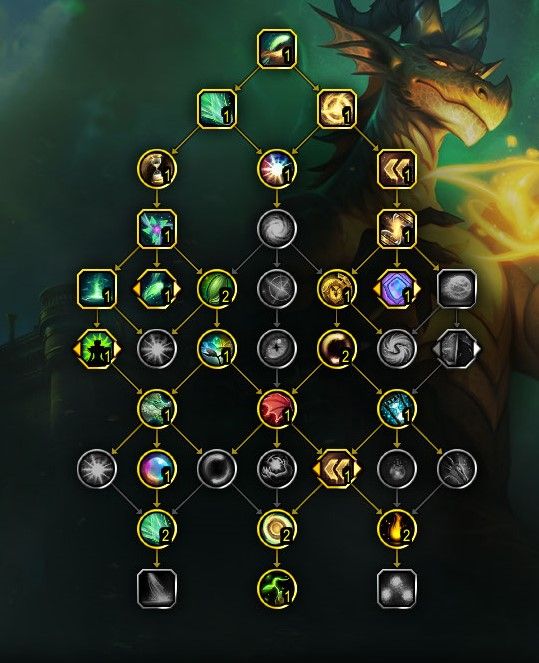 Preservation Evokers focus their efforts on healing either one ally or a small group of them. This makes the spec ideal for Mythic+ but you shouldn't have any issues during raiding either provided you're choosing your targets carefully. The build we've gone with is an all-purpose one and can be used for any type of content so you should be good either way.
Row 1:
Echo is the only talent found on the first row and it gets unlocked automatically. This build focuses more on Emerald Blossom, but Echo will be an important part of your rotation as well.
Row 2:
Dream Breath is an AoE heal while Reversion is a single-target heal and they're both very useful, so you don't want to skip either of them.
Row 3:
Temporal Compression is a talent that gives us some nice synergy between bronze spells and all our other spells while Rewind is another good AoE healing spell, albeit it's more useful in dungeons than raids. Due to how the tree is set up, you'll also need to grab Essence Burst to progress further.
Row 4:
Starting with this row, we're going to avoid the central portion of the tree for a while and grab both Spiritbloom and Time Dilation instead. This will give us access to two more single-target spells, however, if needed Spiritbloom can be empowered to heal multiple allies at once.
Row 5:
Emerald Communion is a fantastic talent that lets us restore some of our health and mana even while stunned, feared, or silenced. Then, you have a choice node with two talents revolving around Spiritbloom. We're picking Spiritual Clarity for this build but if you prefer Essence regeneration over cooldown reduction, feel free to go with Empath instead. To get more value out of our Emerald Blossoms we're also grabbing the third green talent from this row: Fluttering Seedlings Rank 2. Moving on to the bronze side, Golden Hour is a must-have and we recommend going with Delay Harm in the choice node. Temporal Anomaly is a bit tricky to use so we're skipping it in this build.
Row 6:
The sixth row starts with another choice node on the green side where we strongly suggest getting Dreamwalker over Rush of Vitality since being able to move during Emerald Communion is generally more useful than the temporary buff to your maximum health. We're skipping Exhilarating Burst and going straight for Field of Dreams as we continue to focus on Emerald Blossom and then from the bronze side we're only grabbing Time Lord Rank 2 to increase the healing done by our Echos.
Row 7:
Call of Ysera is very good talent that ties in nicely with Verdant Embrace, Dream Breath, and Living Flame while Punctuality gives Reversion an extra charge. Finally, we're starting to dip back into the central portion of the tree to grab Lifebind, another talent that improves Verdant Embrace.
Row 8:
We're quickly starting to run out of points so we'll only be able to spend two of them on this row. On the green side you'll have a pretty difficult choice to make between Power Nexus and Ouroboros. We prefer the extra Essence so we went with Power Nexus, but you can take both if you want by going back and sacrificing either Spiritual Clarity, Dreamwalker, or Delay Harm. The only other talent we're going to grab here is Temporal Artificer from the choice node. Temporal Artificer is very useful during lengthy boss fights as it allows you to use Rewind twice during a single engagement. However, for boss fights that take less than six minutes to beat, you'll want to go with Erasure instead.
Row 9:
Every talent on this row is great so it's a good thing we saved up some points earlier because we can grab all of them. Renewing Breath Rank 2, Grace Period Rank 2, and Timeless Magic Rank 2 are passives with no strings attached, except for Grace Period to some extent since it only works on targets affected by Reversion.
Row 10:
The only capstone we want with this build is Cycle of Life. This is a very simple talent that makes our Emerald Blossoms even better, so what's not to love? The other two capstones have their uses, but they're a bit too gimmicky for our taste. If you saved up a point from earlier and want another capstone make sure to go with Stasis over Dream Flight. Similar to Deep Breath, Dream Flight can get you in a lot of trouble if you don't aim properly.
Import Loadout Code For Preservation Evoker
The Import Loadout feature is a great new quality-of-life tool, you can find it in the bottom left corner of the Talent menu. Copy the code below and paste it directly into the import loadout for your Preservation Evoker to get the full build outlined in this post.
Loadout Code
Level 70
BwbBAAAAAAAAAAAAAAAAAAAAAgkQJIRhIIJh0SaJJJSCAAAAAAhERECJRSSChIJB
Stay tuned for more Dragonflight content in the days and weeks to come. In the meantime, make sure to check out our Dragonflight pre-patch survival guide to get up to speed with all the other changes coming with the new WoW expansion.
bottikcointo
bottikcointo
bottikcointo
bottikcointo
bottikcointo
bottikcointo
bottikcointo
bottikcointo
bottikcointo
bottikcointo
bottikcointo
bottikcointo
bottikcointo
bottikcointo
bottikcointo
bottikcointo
bottikcointo
bottikcointo
bottikcointo
bottikcointo
bottikcointo
bottikcointo
bottikcointo
bottikcointo
bottikcointo
bottikcointo
bottikcointo
bottikcointo
bottikcointo
bottikcointo