Polyphony Digital continues its track record of regular Gran Turismo 7 content updates with the additions of three new cars and one licensed track.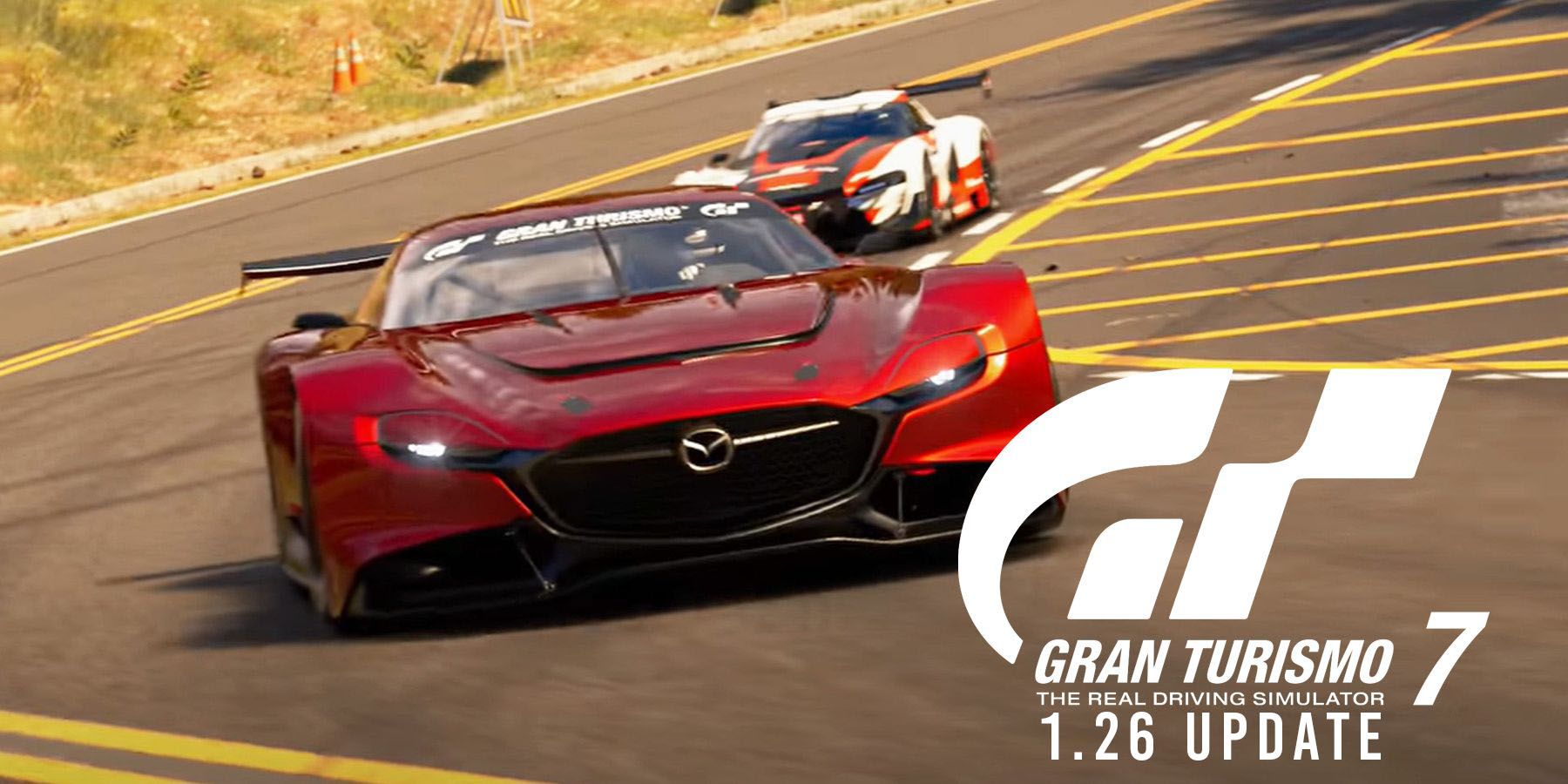 This month's Gran Turismo 7 update will introduce three new cars and one additional licensed track to the game, Polyphony Digital revealed Wednesday. According to a newly released video promo detailing the Gran Turismo 7 1.26 update, the next content drop for the popular racing simulation will include the Ford Sierra RS 500 Cosworth '87, Nissan Silvia K'S Aero '96, and BMW M2 Competition '18, while also adding Michelin Raceway Road Atlanta to the game's extensive list of licensed courses.
Gran Turismo 7 has been enjoying a steady influx of updates ever since debuting on Sony's consoles back in March. Each month, Polyphony Digital adds multiple vehicles to GT7, which are occasionally also accompanied by new tracks and some minor features. While the game has no shortage of microtransactions, its monthly content updates are always free.
RELATED: New Gran Turismo 7 Update Will Add 3 New Vehicles
The 1.26 update is scheduled to roll out tomorrow, November 23, five weeks after the developers launched the Gran Turismo 7 1.25 update. The Michelin Raceway Road Atlanta is definitely the highlight of this month's patch, not just because DLC courses are a less frequent occurrence than post-launch vehicle additions, but also because this particular Georgia track was never featured in any of the previous Gran Turismo games.
As for the latest additions to the Gran Turismo 7 vehicle roster, the K'S Aero variant of the 1996 Nissan Silvia S14 is the most exotic of the trio, whereas the BMW M2 Competition '18 and Ford Sierra RS 500 Cosworth '87 should both be familiar to motorsport fans. Tomorrow's update is unlikely to feature notable bug fixes or performance improvements, which Polyphony Digital usually releases separately from new content.
The game is expected to continue receiving free content updates for the foreseeable future. That said, the developers have also mostly stuck with their aggressive monetization model in spite of microtransaction complaints from Gran Turismo 7 players, so anyone who was wary of purchasing the game at launch hasn't been given many reasons to reconsider their decision so far.
Polyphony Digital did increase rewards from World Circuit and online events back in April, making the game's exotic vehicle roster slightly more accessible to those unwilling to spend money on anything beyond their copy of Gran Turismo 7. But on the whole, this is still the same game that invited controversy over its monetization practices earlier this year, and its microtransactions still rely on popcorn pricing practices geared toward upselling in-game currency.
Gran Turismo 7 is available now on PS4 and PS5.
MORE: Gran Turismo 7: The Best Value for Money Cars in the Game
bottikcointo
bottikcointo
bottikcointo
bottikcointo
bottikcointo
bottikcointo
bottikcointo
bottikcointo
bottikcointo
bottikcointo
bottikcointo
bottikcointo
bottikcointo
bottikcointo
bottikcointo
bottikcointo
bottikcointo
bottikcointo
bottikcointo
bottikcointo
bottikcointo
bottikcointo
bottikcointo
bottikcointo
bottikcointo
bottikcointo
bottikcointo
bottikcointo
bottikcointo
bottikcointo