World of Warcraft shares an informative blog post about the history of the five dragon Aspects ahead of the release of the Dragonflight expansion.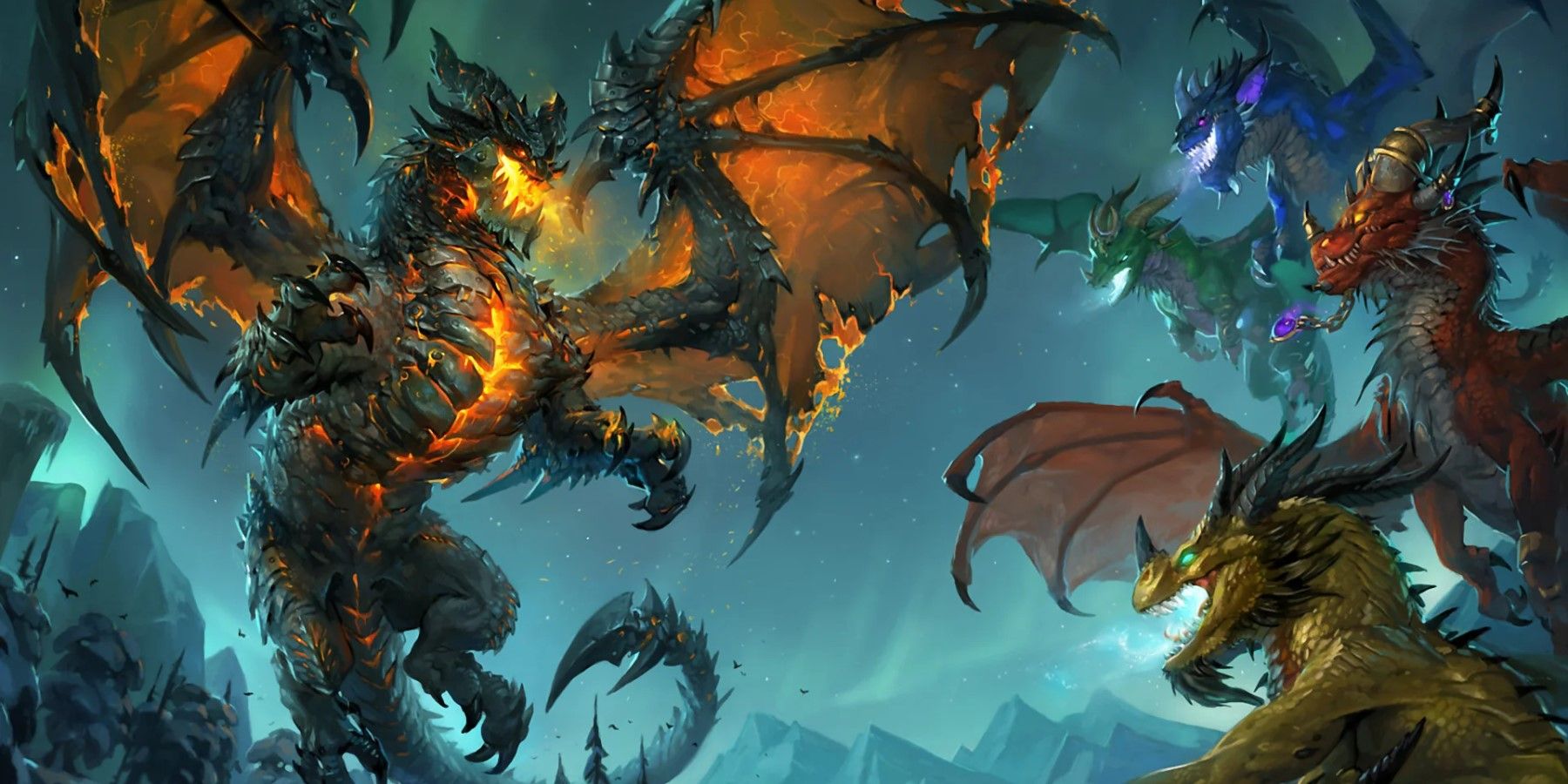 World of Warcraft just shared an informative new blog post to catch players up on the lore of the dragons and their Aspects ahead of Dragonflight. This new post covers important pieces of lore World of Warcraft players should know going into Dragonflight.
The dragon Aspects are the leaders of the five dragonflights of World of Warcraft. In addition to being major characters in Dragonflight, the Aspects have been featured prominently in promotional material between cinematics, art, and short stories.
RELATED: World of Warcraft Players Can Make Personalized Shadowlands Recaps Via Fan Site
The new blog post from World of Warcraft takes players through the essential history of the dragons of Azeroth. It goes from the Rise of the Aspects after defeating Galakrond and being imbued with power by the Titans through the fall of Deathwing during Cataclysm. It introduces the main characters of the dragons' tale, including the Titan Keepers, past and present Aspects, and future candidates. It even has helpful definitions for certain World of Warcraft terms, like the Old Gods and the Titans.
The blog post focuses mostly on Alexstrasza and Nozdormu, the only two original Aspects currently alive. It makes passing mention of Kalecgos, the second Aspect of the blue dragonflight, and no mention of Wrathion or Sabellian, both of whom are candidates to take over the black dragonflight. It does mention Merithra, daughter of the original green Aspect Ysera, though the late Aspect's appearance in Shadowlands and on promotional material for Dragonflight, as well as evidence from the Dragonflight beta, suggests players may not have seen the last of Ysera.
The dragon Aspects have always been favorites of many World of Warcraft fans, and many are excited to dive into Dragonflight to learn more about their history. Dragons have been everywhere in pop culture recently, but World of Warcraft's dragons have a certain charm that makes them stand out from those in other fantasy settings. Armed with the knowledge from this blog post, new World of Warcraft fans can be as prepared for Dragonflight as the old guard is.
World of Warcraft: Dragonflight launches in less than a week. Players will be able to venture into the mysterious Dragon Isles and learn forgotten secrets of the dragons and titans of Warcraft. If that were not enough, players can soar the skies with Dragonflight's new Dragonriding system, delve into new dungeons and raids, and aid the Aspects as they regain the power they sacrificed to defeat Deathwing. Players won't have to wait long to experience everything the new World of Warcraft expansion has to offer.
World of Warcraft is available now for PC. Dragonflight launches on November 28.
MORE: World of Warcraft: The State of the Horde Going into Dragonflight
bottikcointo
bottikcointo
bottikcointo
bottikcointo
bottikcointo
bottikcointo
bottikcointo
bottikcointo
bottikcointo
bottikcointo
bottikcointo
bottikcointo
bottikcointo
bottikcointo
bottikcointo
bottikcointo
bottikcointo
bottikcointo
bottikcointo
bottikcointo
bottikcointo
bottikcointo
bottikcointo
bottikcointo
bottikcointo
bottikcointo
bottikcointo
bottikcointo
bottikcointo
bottikcointo