The Menu exists primarily to point and laugh at the type of people who have enough money to attend the kind of restaurant it's set in. Anyone coming to the table expecting to be horrified should probably look elsewhere, but anyone seeking a well-earned steak knife in the heart of the 1% and their eating habits can sit and enjoy.
The Menu comes to the screen courtesy of Mark Mylod, who is best known for his work on Succession. Both Judd Apatow and Will Ferrell have producer credits on the project, and writers Seth Reiss and Will Tracy are respectively the head writer and editor of The Onion. That's a great deal of pedigree in the field of satire, and these creators bring that talent to the table.
RELATED: 5 Best Quotes From Horror Comedies
The Menu sets out its premise immediately. A handful of wealthy jerks take a boat trip to an otherwise deserted island to dine at a high-class restaurant for over $1200 per person. Anya-Talor Joy stars as Margot, the lone customer who hasn't bought in on the foodie lifestyle and who regards the event with bemused curiosity. Her boyfriend Tyler (Nicholas Hoult,) on the other hand, worships the world-renowned chef (Ralph Fiennes) and stays emotionally rapt at every moment. The other tables include a violently bored wealthy married couple, a trio of workaholic grindset bros, a food critic with her groveling editor, an elderly woman silently drinking herself to death, and John Leguizamo doing a self-parody routine opposite Aimee Carrero. The average viewer will likely find most of the characters insufferable before long, and that only enriches the flavor when things turn nasty.
In the grand tradition of Poe's Masque of the Red Death, The Menu shows its audience a bunch of people they'll probably despise, then sets about tormenting them for the remaining 90 minutes. The main difference is that the torment takes a back seat to mockery. From gags about obscure kitchen equipment to the immaculate set design to the film's elegant way of dividing chapters into courses, it's a film that knows what it wants to accomplish. Elements of the film are reminiscent of old Onion video sketches, but, given the space of a full-length feature to really get all the jokes out. At one point, Hoult's character practically looks to camera and explains the celebrity chef phenomenon at length, demonstrating both a keen understanding of the culture and a strong distaste for it at once.
Anyone who is just looking for a fun takedown of the many absurd ways in which the wealthy ruin food will find a lot to like in The Menu. However, the horror elements are a bit light. The film can't quite muster up the atmosphere to be genuinely scary. The performances are solid across the board, every character gets a few chances to communicate their response to the scenario and try out their ill-advised solution, but there's just not much to be afraid of. One could imagine a version of this film that dials up the heat a bit and winds up closer in tone to a Jordan Peele film, but The Menu sets its sights closer to Ready or Not. The violence is rarely explicit, and there are only one or two particularly disturbing scenes. Go into this film knowing what to expect, and it'll likely be a fun experience.
Anya Taylor-Joy made her big-screen debut only 8 years ago, and it seems like she's the busiest actress in Hollywood by now. Reportedly, Emma Stone was originally tapped for the part, but Taylor-Joy brings a hard edge to her performance that the film simply wouldn't work without. She shines brightest against Ralph Fiennes, who is also in absolute top form. Fiennes plays a fascinating cocktail of every modern TV super-chef, from Gordon Ramsay to Anthony Bourdain. His take on the concept occasionally contains flashes of his performance as The Tooth Fairy in Red Dragon 20 years ago. Leguizamo stands out as well. His washed-up name-dropping former star character doesn't even get a proper name, but he's still one of the most textured characters in the film. This film is heavy on style, and the excellent casting and great performances provide the substance.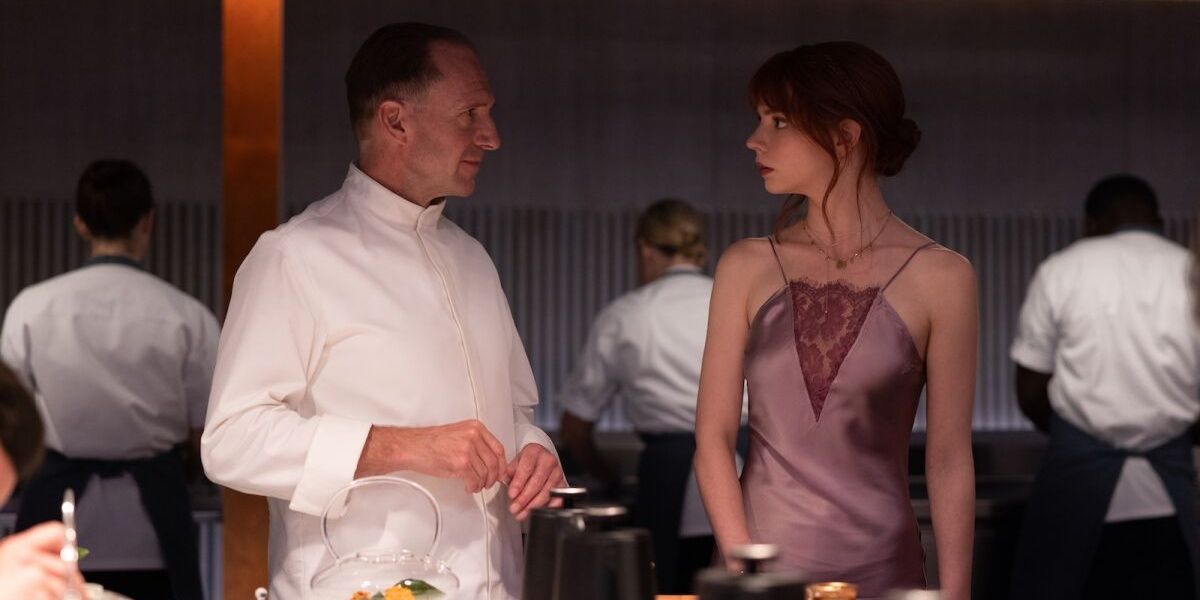 The Menu states its recipe, lays out its ingredients, and makes something rich and flavorful. It's not a transcendent experience, and it might not stick with the viewer as long as some other films in the genre, but it's a perfect execution of its idea. It's reminiscent of excellent sketch comedy. They found an absurdity in modern life and mined every funny idea they could out of it. Presumably, whatever meat The Bear left on the bones is now picked clean. Excellent performances, an incisive script, and a group of clever satirical minds make this film a solid exploration of its themes. The Menu is a wonderful meal, so long as you know what you're ordering.
bottikcointo
bottikcointo
bottikcointo
bottikcointo
bottikcointo
bottikcointo
bottikcointo
bottikcointo
bottikcointo
bottikcointo
bottikcointo
bottikcointo
bottikcointo
bottikcointo
bottikcointo
bottikcointo
bottikcointo
bottikcointo
bottikcointo
bottikcointo
bottikcointo
bottikcointo
bottikcointo
bottikcointo
bottikcointo
bottikcointo
bottikcointo
bottikcointo
bottikcointo
bottikcointo