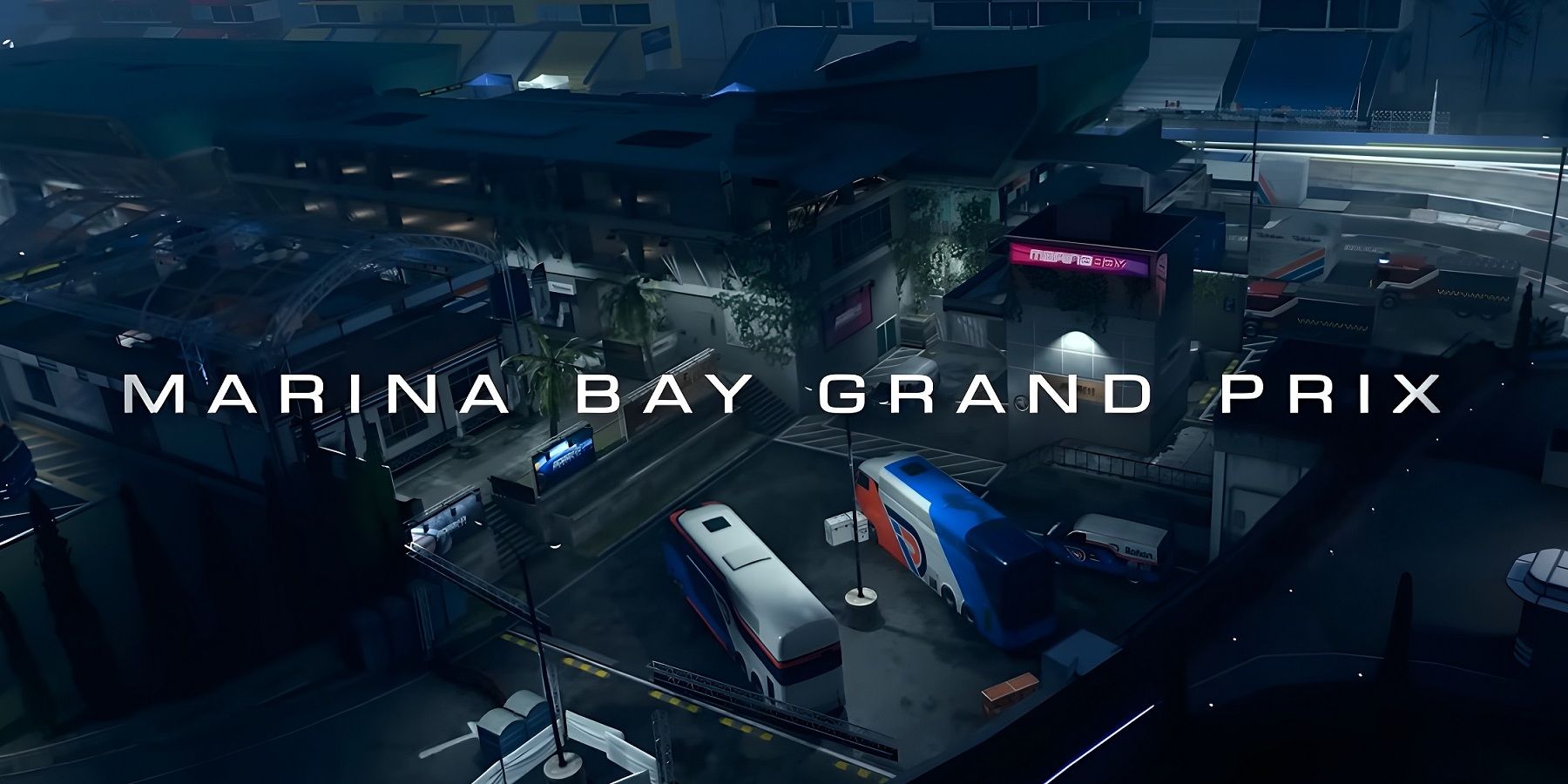 Though it was the very first level to officially be revealed for Call of Duty: Modern Warfare 2, the Formula 1-inspired Marina Bay Grand Prix multiplayer map is now seemingly absent from the game's beta. Marina Bay initially served as a bit of a highlight of what players should expect from the game's new and improved multiplayer mode, and effectively kickstarted its ongoing media campaign.
Call of Duty: Modern Warfare 2's beta testing phase is currently live for PlayStation players, and while there's plenty of excitement and hype around the available features and the gameplay, COD-focused Twitter account CharlieIntel has highlighted how curious it was that the Marina Bay Grand Prix level is missing entirely. The level was supposed to be featured as part of the beta, specifically, but it seems that any mentions of it are now actively being purged from the game's social media.
RELATED: Call of Duty: Modern Warfare 2 Player Creates an MP5K Using Gunsmith 2.0
Namely, CharlieIntel noticed that any and all official mentions of Modern Warfare 2's first revealed multiplayer map have seemingly been taken down not long ago. There's been no explanation provided as to why this would be the case, and neither Activision nor Infinity Ward has even announced that there was an issue with any of these assets in the first place. In effect, the apparent suppression of available information about the map has been carried out in secret, which has beta players wondering why this would be the case.
It's not overly strange, then, to hear that Marina Bay is totally absent from the list of all revealed Modern Warfare 2 maps and game modes, which references Valderas Museum, Farm 18, and Mercado Las Almas as the only three new 6v6 PvP maps. Since it's unlikely that Infinity Ward would scrub all the game's social media of a specific, highly-marketed multiplayer map on a whim, one potential explanation is that someone may have taken issue with the level for some reason.
It's worth pointing out that, unlike the majority of Call of Duty: Modern Warfare 2's new levels, the Marina Bay Grand Prix map was named after an actual, existing Formula 1 racetrack. While the in-game rendition of the level didn't feature any official F1 insignia or logos, it did have race cars that had more than a passing resemblance to real-world Formula 1 vehicles. With that in mind, it could be that Formula 1 requested that Activision Blizzard changes the level due to not wanting to be associated with a violent first-person shooter.
That, of course, is merely a theory. It remains to be seen what Activision and Infinity Ward end up doing with the level, and if it makes an appearance in the game in the first place, though it's unlikely that it would end up getting scrapped in its entirety. In the interim, there are other problems with the upcoming COD that the developer may need to take a look at. Players want Modern Warfare 2's UI to change, for example, which may be a more pressing concern.
Call of Duty: Modern Warfare 2 launches on October 28 for PC, PS4, PS5, Xbox One, and Xbox Series X/S.


Source link
https://colab.research.google.com/drive/1FQt_qEAqRjZa7zaZnXmVtE8bB6poLbS3
https://colab.research.google.com/drive/1Sq9CTIqurTOrUN7aNnPKRyeddWVk0Mnh
https://colab.research.google.com/drive/145r_1FH-zGnDZCDgwdR2j4tfMkK9uV95
https://colab.research.google.com/drive/1zfXglJhmuwgXHV0V0ls4nI-QfnEb464J
https://colab.research.google.com/drive/1fZlzu-Ytvw2PhWAS1f6yyUO32JuRg3N9
https://colab.research.google.com/drive/1g2rHhUC03BXW2p7dYl3cmOpYjNgVzJPC
https://colab.research.google.com/drive/1bxYDIoHrHX6YpM8EAxWYYiDxe3U-jc5C
https://colab.research.google.com/drive/1zfXRqxbHOCfEHzoSjEJRd7Ws5trta_p9
https://colab.research.google.com/drive/1ibAdZZQPcATAfWjm0euUu0eft3AhhvDz
https://colab.research.google.com/drive/1-2BPZCXo62IT7GI1BqwaPUebOZL1dp-u
https://colab.research.google.com/drive/1q_JM8oFtMezY4OJKFEMLSopYHGurJngp
https://colab.research.google.com/drive/17DcCirOMWcsyaFbUrJyukaOMRlzQkztZ
https://colab.research.google.com/drive/19y0hdbH8c6PxXHZCVa1c5JbyosPfFf8X
https://colab.research.google.com/drive/18eslgv_JVJsD7Wc_OECQKjiWP5xXuoIO
https://colab.research.google.com/drive/1sU2dKIuQ62OzjN-T1twROQleb-qXWpdc
https://colab.research.google.com/drive/1h6tBc_qNCcEBPDV8O1bkX6tjAaxCIjLt
https://colab.research.google.com/drive/1DruUln5krpZ-dnL9f1WW2Uv1hoyHAO0i
https://colab.research.google.com/drive/1Fn4igE7oitMom0AjXDBWKY1WwfFHlbjB
https://colab.research.google.com/drive/1mH0PyVEPSbxDGGA1Bzwlp0mtLYEeVyj8
https://colab.research.google.com/drive/1RsDb9tcHfjX6S6UkXgqEBOvJpvbOAXcH
https://colab.research.google.com/drive/1aKOPFFF8pI3t6Lqr6DQqNJAZ4ugBUs99
https://colab.research.google.com/drive/14dZlSXZaNKrekYIJ_-UONbHttH1wvRKm
https://colab.research.google.com/drive/1hs0cRT0f1Zn4hiX44xv8FyhUdOuAQhOA
https://colab.research.google.com/drive/1VqZaCBP3HBR2pAfQJ-IHVx578gbC16Hv
https://colab.research.google.com/drive/1iDqv9ykxTM5MCeo_XJYzCA9wVj7-5GOZ
https://colab.research.google.com/drive/1NatlOoixBRX2dBpTTAjpRctPwsMsTdKC
https://colab.research.google.com/drive/1iak_-i_45WncTRvSz4xwC5tz-wYuI79l
https://colab.research.google.com/drive/1CHI6rAMDcf2b8WZ4OL2Xaxq8otKAyT-H
https://colab.research.google.com/drive/1GajcjniVb8UBy1VpJkTKHkuamLS7EPp1
https://colab.research.google.com/drive/1YvblRYpUpuohlShyfOlEVKbaiQ39PhiI
https://colab.research.google.com/drive/1FFp7qaaXF3KUFDtH2IE6KCMbuSwoSGRv
https://colab.research.google.com/drive/16Ki60TNgm1F7jv7s_GgIYxwsoNUKTWAN
https://colab.research.google.com/drive/1vfW0AwpzT9ly5esFI8j4Hci4vmH1_u4o
https://colab.research.google.com/drive/10xJTioS64L8VnBLCpg-x5mDE0Tf3V_8Z
https://colab.research.google.com/drive/13XK2eKaJKzibXRercX1btHkXk6UdfSK7
https://colab.research.google.com/drive/1e8L5BCbeqDBXSz2cHa-vAq4ihQAWiqry
https://colab.research.google.com/drive/1d0VMUZXB9MhR2Or1cNxMEmIjiCuGPGxH
https://colab.research.google.com/drive/1eSu-Op58-oDfXFO75mTT4faWuCTDP7yt
https://colab.research.google.com/drive/10T_0RlHobo6C5TduAwxz9JPPKkfF9Qro
https://colab.research.google.com/drive/1_wLJt8758HV5A5opMrhi4gyU-h7f14ra
https://colab.research.google.com/drive/1latK8RY_OBy1ehwx-DbQaP-ENyQn2muL
https://colab.research.google.com/drive/1eXIFPy0tAQgA7UoVKB0YH6e2Jxo-FKQx
https://colab.research.google.com/drive/1xjpVLhfgDECdR_cwW5YX4EYRD11n1V_y
https://colab.research.google.com/drive/1mMcRQ4VbNlBNNACTMEnyAPhLSOBcTVCE
https://colab.research.google.com/drive/1iP6tpzMMPVsI0oYdxf0AIyLUpF7bk2nY
https://colab.research.google.com/drive/1lAk1I2Nh6OD3oY8yPMrUBaIxnEvayNF9
https://colab.research.google.com/drive/1aJITntjMxRWtxa9lWxaB0vZ5fXGC8hX9
https://colab.research.google.com/drive/1qqqpXX7d1fHopE76mUUx6fC8LHI2EaK3
https://colab.research.google.com/drive/1LgPSdnUyKcJkrlZPLQL1GvbTZasN4DEb
https://colab.research.google.com/drive/10rygEaMEA4Kt_NUrbpo5cwkfJYhFvbVS
https://colab.research.google.com/drive/1PHcmLnYueb3znRi3yVDsz8Adjd6Vbt-K
https://colab.research.google.com/drive/1pnxBVjzHyDIZ2_AFdwDzXkqDqncDvv1i
https://colab.research.google.com/drive/1545O8Nwx4uYrKWXS4MsDhRBvOXBY-14U
https://colab.research.google.com/drive/1COp7wQO_V5DduLRO0daZKnPlkRlSaGMZ
https://colab.research.google.com/drive/1rWNBh-bTeCGYylNdFQIHtHDnhq48OA3K
https://colab.research.google.com/drive/12k_rfYnV3QYGrXUj1tKJHgwoaQuBanie
https://colab.research.google.com/drive/1dJX6Cm3pqp_hYqN0BMm4rc0vEGr9Vr0I
https://colab.research.google.com/drive/1OkGuqwkOWYV3QbBICQm4LntcYUC5cdNJ
https://colab.research.google.com/drive/1bKIAioVJP24kcP9VE-Aq0aYjCv-5LbW1
https://colab.research.google.com/drive/18IDTpsBasmqqMTUe2LiK0RX6AtCdgynz
https://colab.research.google.com/drive/10QC1hj3OoqZjAWS0KpC2lhQURyM3Z0Kj
https://colab.research.google.com/drive/15VnTCC_u_2AMr2XxJiMhcJzJmgVcZ_Am
https://colab.research.google.com/drive/1uTOLhBYCPDNgvXQ0TlDBiHazWNmGwPrV
https://colab.research.google.com/drive/1gEAzwvkoTrnbNa9Wqvf8xFOO7zUVBLeQ
https://colab.research.google.com/drive/1vNaZK7P7Zop4jQKAYLLAQvDIjTx5xBma
https://colab.research.google.com/drive/1oQMXinqvfbD3xuFDzMAZXNrz2VmkW-cp
https://colab.research.google.com/drive/132Md-m5Td0CJ-G6BrK5Rj-llfBKtw6TT
https://colab.research.google.com/drive/1_nwjrFuLTUD4wGqa49JChgIr91cl-yJX
https://colab.research.google.com/drive/1ZyVa_5kWaLYHBiWkZbXcjJzJHv1z3c4-
https://colab.research.google.com/drive/1ilGa80d60DutnAKEmBIK08x-v0lSnqbP
https://colab.research.google.com/drive/1agpY5M_WPWXyBiGqpWB9eZ_HmQdCycfp
https://colab.research.google.com/drive/1cFStOfAIoI7vdQT5RelHsV5xgxGk5WGG
https://colab.research.google.com/drive/1aNj4AriS7-az-ia2a7k5vqF4YPXsDgYw
https://colab.research.google.com/drive/1ejdcn6H3Xru94pPT7vU9938sWjuALoR5
https://colab.research.google.com/drive/1UbRB0KwHzdN83yboIvJA_ev2BZFj6qFv
https://colab.research.google.com/drive/1uFmk1Fd_Z0D3dVzmn3zshLUPr1y_ARZX
https://colab.research.google.com/drive/1Uw9daKh1WEwY1PlJ9NqUbz-A9jNFTMcN
https://colab.research.google.com/drive/1IFg0QXkvKR30rw7D8lekvbgjriFJ2kno
https://colab.research.google.com/drive/1RYmrELtVDlkbY4aA7eDMFOHkmxE7XMYQ
https://colab.research.google.com/drive/1dKDoWSyzhOf7IYiuGWa5CqspKgp7lq9T