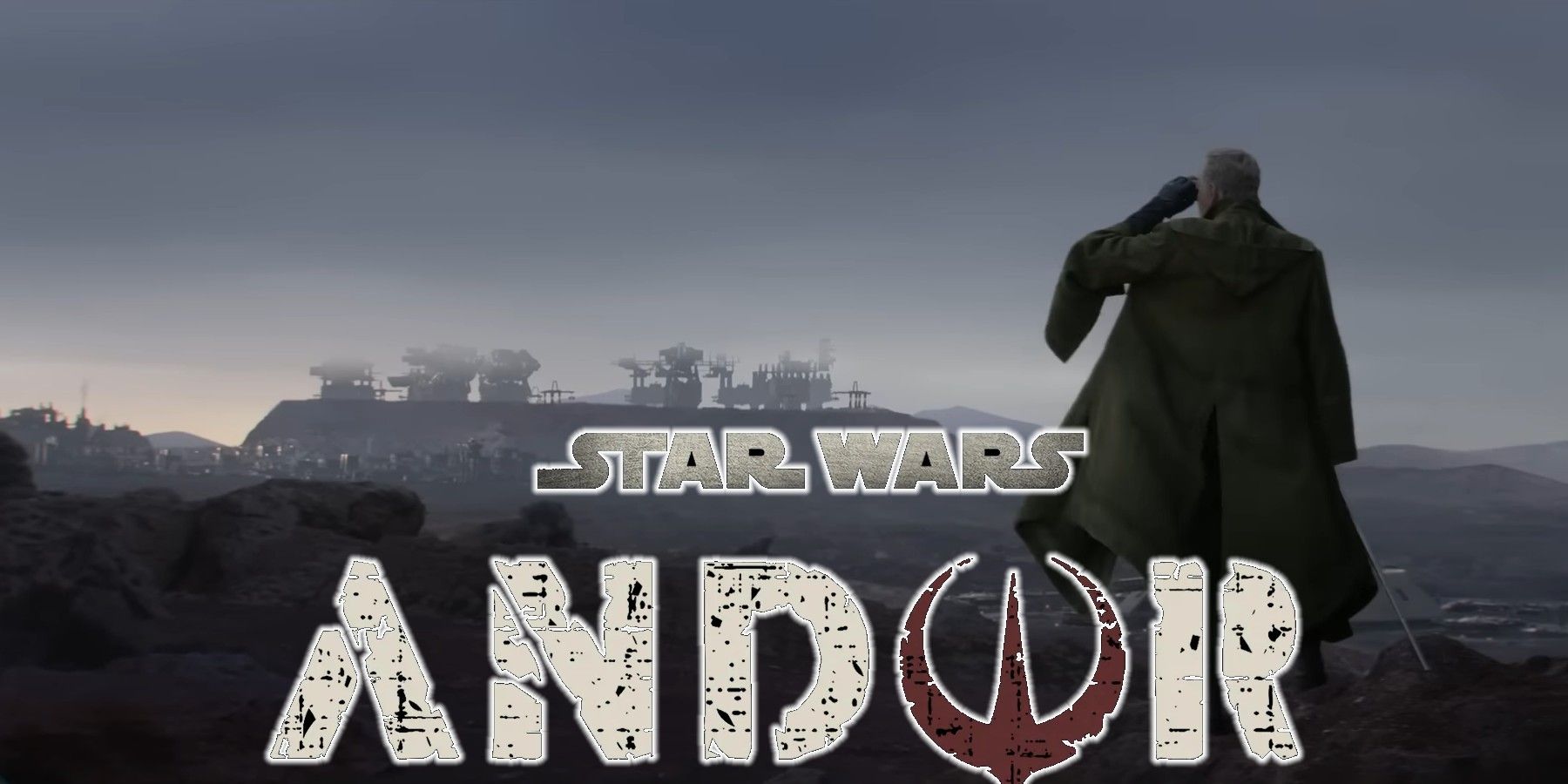 At this point, one of the more interesting selling points behind Star Wars: Andor is how the series won't be using the high-quality "StageCraft" screen tech that other Star Wars shows have utilized, instead opting for more practical sets. Well, it turns out that the upcoming show is going pretty wild with that concept, and audiences can expect to really feel it upon the impending premiere.
Adria Arjona, who plays the mechanic Bix Caleen on Andor, recently spoke with Collider about the show. The subject inevitably shifted to the making of the Star Wars series, during which time she revealed the scope of what was actually built. "They built an entire city for us, like an entire city," Arjona said, referring to the planet of Ferrix that will play a significant role in Andor. "I got lost in it. I remember the first day that I walked on set, and I was in costume already, which was a coincidence. It just happened that was the day that they gave me the tour. I was at a costume fitting and I went over there, and I was mind blown. It was an entire outdoor city that exists. Ferrix exists. It's not in a studio. It's not parts of a set that we filmed in studio. It is very much a city. I keep saying three to five city blocks. I could be wrong. And I also could be maybe under, I'm not sure, I'm not good with distances."
RELATED: Could The Music Make Andor Feel Like Something New For Star Wars?
Arjona went on to detail just how much more authentic the real-life location and massive set made the experience feel. "I had one scene where they were like, you got to run," she continued. "And I was like, all, 'where do you want?' And the director said 'where do you want?' Cause they could point the camera pretty much everywhere. I was going in one specific direction because Ferrix does have a very specific geographical map. But either in this particular place that I was both ways would leave me to the same place. So it was like, wherever you want. And that was really cool. I'm like, 'Oh, so you can point the camera everywhere.'"
The conversation also dealt with Arjona's character, Bix. She's got some history with Diego Luna's Cassian Andor, but it might not be immediately apparent what that history is. "She's a risk-taker," Arjona explained. "She is bold and fearless, and she is a manager at a salvage yard. So has a pretty steady life and pretty, she has everything under control, and then here comes Cassian, and then it sort of always happens. Their dynamic is one that I love deeply. So it was so fun to sort dig in and play around with it. They're childhood friends and nd you can sense that they have a history and their dynamic is complicated. You can almost tell that their trust has been built and broken and built and broken over the course of many, many years. Yet, she's incredibly caring and incredibly protective over him. Sometimes even at her own detriment."
Naturally, these are just small tastes of what to expect when Andor finally premieres on Disney Plus. The show is reportedly so far removed from the typical Star Wars formula of Jedi and lightsabers and whatnot that audiences can go in fresh without needing to brush up on anything (though a rewatch of Rogue One might not be a bad idea). So it will certainly be interesting to see something possibly totally original from this landmark franchise.
Here's hoping it ends up a success. As a series that already knows how long it will be, there's a good chance that the storytelling will be that much tighter. So eager fans and newcomers alike should strap in for some fun spy thriller hijinks.
Star Wars: Andor will premiere its first 3 episodes on September 21st, 2022, on Disney Plus.
MORE: X-Men: 5 Comic Stories To Adapt For The MCU
Source: Collider
click here to get free coins
click here to get free coins
click here to get free coins
click here to get free coins
click here to get free coins
click here to get free coins
click here to get free coins
click here to get free coins
click here to get free coins
click here to get free coins
click here to get free coins
click here to get free coins
click here to get free coins
click here to get free coins
click here to get free coins
click here to get free coins
click here to get free coins
click here to get free coins
click here to get free coins
click here to get free coins
click here to get free coins
click here to get free coins
click here to get free coins
click here to get free coins
click here to get free coins
click here to get free coins
click here to get free coins
click here to get free coins
click here to get free coins
click here to get free coins
click here to get free coins
click here to get free coins
click here to get free coins
click here to get free coins
click here to get free coins