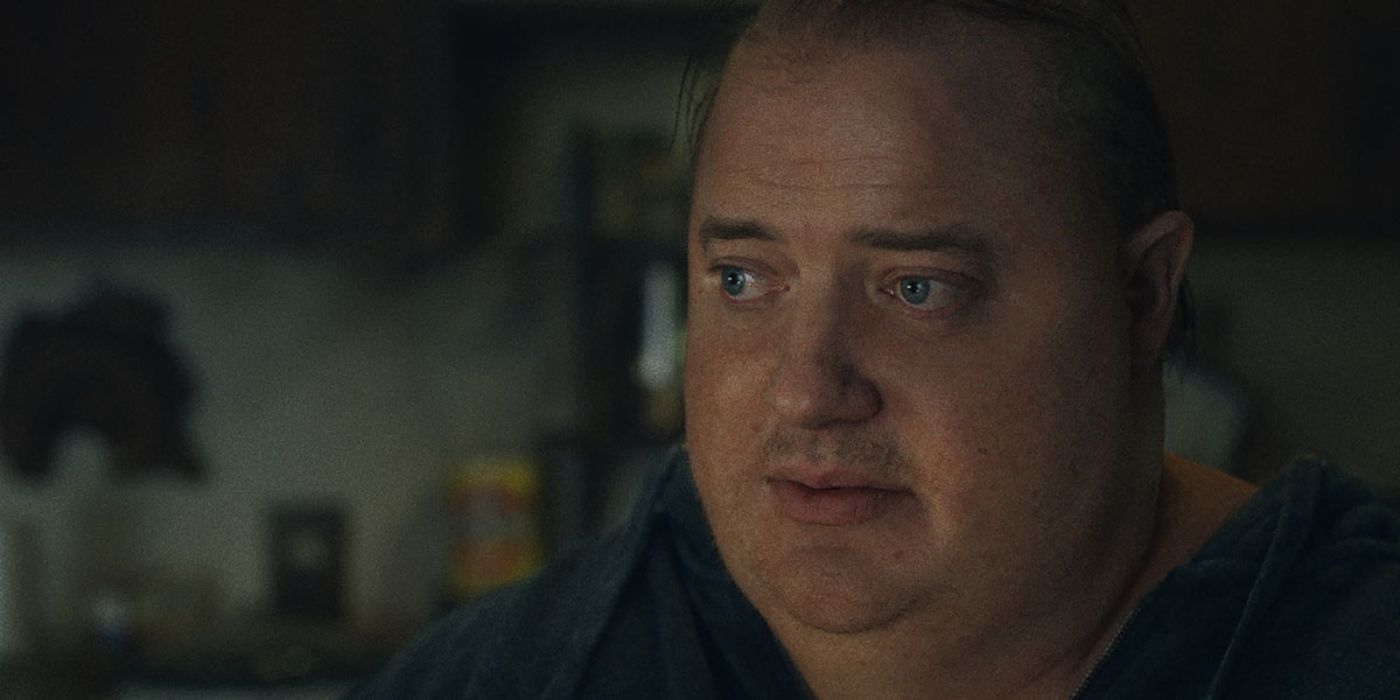 Critics have sure sung their praises for Darren Aronofsky's emotional drama The Whale, adapted from Samuel D. Hunter's play of the same name. The movie had its world premiere at the 79th Venice International Film Festival on September 4, 2022 before having its North American premiere at the 2022 Toronto International Film Festival on September 11, 2022, where Brendan Fraser also received the Tribute Award for Performance for his leading role.
Known for his roles in The Mummy franchise and Doom Patrol, the leading man makes a splash in this new movie, stepping into the role of a 600-pound man named Charlie. Visually and physically, Fraser commits to the role, glimmering under a constant sheen of sweat, stumbling around via walker, and navigating his character's life using various handicap accessibility tools. He also dons a 300-pound fat suit (among other prosthetics), which has evoked some critique from spectators, both commenting on the specificity of his portrayal and the general usage of fat suits in Hollywood. It's fair to say that he's gotten off easier than Sarah Paulson in Impeachment: American Crime Story and other offenders, and perhaps that's credited to the challenging nature of the role and the genuineness of Fraser's performance.
Related: TIFF 2022 Reviews: Glass Onion: A Knives Out Mystery and The Menu
From the very beginning, Fraser's Charlie is more than what meets the eye. We meet him as an online professor, one who is too shy and insecure to turn on his camera while teaching over Zoom. "Is your camera still broken?" a student asks. He is a critically kind man who is dedicated to his students and encourages them to write what they feel, not what they think he wants to hear. He apologizes needlessly, oftentimes for merely existing—a notion known way too well by women—as if he's a waste of space, despite reassurance and support from his friend-slash-odd-duty nurse, Liz, played by Hong Chau.
Here's the kicker: Charlie is dying due to his obesity and inactive lifestyle, and the movie plays with time stamps on the screen, naturally building anticipation and dread among its viewers. Like many overweight people, Charlie avoids hospitals, and while he doesn't credit it to the oftentimes demeaning experiences plus-size individuals face in medical settings, it may play a role given his intense insecurities. But playing a bigger role is the cost of medical care in the United States as he insists that a trip to the ER may cause him to go bankrupt. The Whale offers brilliant commentary on the failure of the United States culture and healthcare system, which have both contributed to making people feel ashamed of their bodies and keeping them from accessing adequate care, both physically and mentally.
In the drama, obesity is viewed similarly to addiction, in the sense that Charlie is unable to stop binging on food (which is considered an eating disorder). His draw to this coping mechanism was sparked by the loss of his partner, Alan. Charlie, upon learning of his own unfortunate demise, decides to reconnect with his estranged daughter, Ellie, played by Sadie Sink from Stranger Things fame.
Carrying an identity shaped by her father's sudden absence at age eight and her mother's distance and alcoholism, Ellie is a firecracker of angst and righteous anger. She hurls slurs at her father, bringing the man to tears, and they eventually strike up a deal: She gets a few hundred thousand dollars and some school papers written in exchange for spending time with the lonely man. This storyline ebbs and flows predictably and dominates the movie, but with such sharp dialogue and intimate direction that it flows naturally.
At its surface, The Whale is a front-row seat to the biggest sh*tshow in the world and follows a dysfunctional family in denial of their journey coming to an end, but with a careful script and brilliant performances from all (Oscar nom predictions for Sink and Fraser), it transports itself to something much more. The tearjerker becomes a tragic exploration of grief, heartbreak, and addiction. It becomes a story about a man, with an unwavering belief in humanity, who seemingly gave up on himself before the world was willing to let him go.
The Whale will release theatrically on December 9, 2022.
Next: TIFF 2022: Aristotle and Dante Discover the Secrets of the Universe Review


Source link
https://colab.research.google.com/drive/1q0nKBfSp_7GRMvhvR_a4I5jQ7AaOwG3G
https://colab.research.google.com/drive/1sD6QOpSP73_-nhkft0yF0EnVfrYNsAg2
https://colab.research.google.com/drive/119S_WT-DrEWUey9zRULhl21kNDhs_hSA
https://drive.google.com/file/d/10wzC_J8C3J3x-oSgI9Lpp0ftP4Q_cmSy/view
https://colab.research.google.com/drive/1kEtpPlq0kNeNLPn4l2nrljlLPD6PxQIl
https://colab.research.google.com/drive/13D1EcfImEywoQxfYL7qC1ZZY4uVLM3FH
https://colab.research.google.com/drive/1yFd8TmthqaIHFJDph0ncleTwIlH5Uxjv
https://colab.research.google.com/drive/1hCQqluH1GCakE8HpVQjKFKbWsBFlKQGf
https://colab.research.google.com/drive/1lP468U_hVpsZfBZJiD-inkaLABDEqHul
https://colab.research.google.com/drive/1QnEn2wF6q7jockDk1ggo4odmlOypcaLt
https://colab.research.google.com/drive/11h0tJHNJ0lGYAdTPP-yI0DWNBGBWf99H
https://colab.research.google.com/drive/1om5SdE3C1gZPdGYKnrKEFkd5Tle6qLX_
https://colab.research.google.com/drive/1VN1qAAR1rPfK8Zc-raSpexJeA5RsoiYa
https://colab.research.google.com/drive/1Tq1WjJI9kMPobQev7W_EmHC0uY-VjQof
https://colab.research.google.com/drive/1yj1xcvnhjKLdTOGXwpam70hmDqZbrWYO
https://colab.research.google.com/drive/1OuGarAfUgOTvdHV2rUnToZwk_VC-nBEq
https://colab.research.google.com/drive/1DA__if27F0sQjhLn_-dLVezpGu7vUreP
https://colab.research.google.com/drive/1nTf5CEZIJ7KK32-8iPQVWJkv9jw5KqVV
https://colab.research.google.com/drive/19UhDVC1FYUTDZdtg6v8Bp_MO9tV0v2ax
https://colab.research.google.com/drive/1h4rhC5ot8ttVwhP5XqU11-ki1F-B8E4X
https://colab.research.google.com/drive/1CXBzY8VPnkN9YVt5Y5HmL0xEfEIHN1mj
https://colab.research.google.com/drive/1KwU3q1N_aqv6kRwAmOdikp4M8PoQPrSd
https://colab.research.google.com/drive/1oR8n5JJUrjXwcVTiRURoLFOjb9EFsSyb
https://colab.research.google.com/drive/1ERJfg1Ohdc-w8Zkknc2S09cSCZsMr3Vv
https://colab.research.google.com/drive/1u3PXdyu6n0dnZwlV2niR4-CF82ntfN1e
https://colab.research.google.com/drive/1jaHJXybiSzj5tknX4DxTCKLeaC5kQ8gJ
https://colab.research.google.com/drive/1F-WuDSVh26E7we7i-xORJGb6CVVRW–5
https://colab.research.google.com/drive/1BAafvTaXBgSly_uxl1NkYP-SOF9UlHVJ