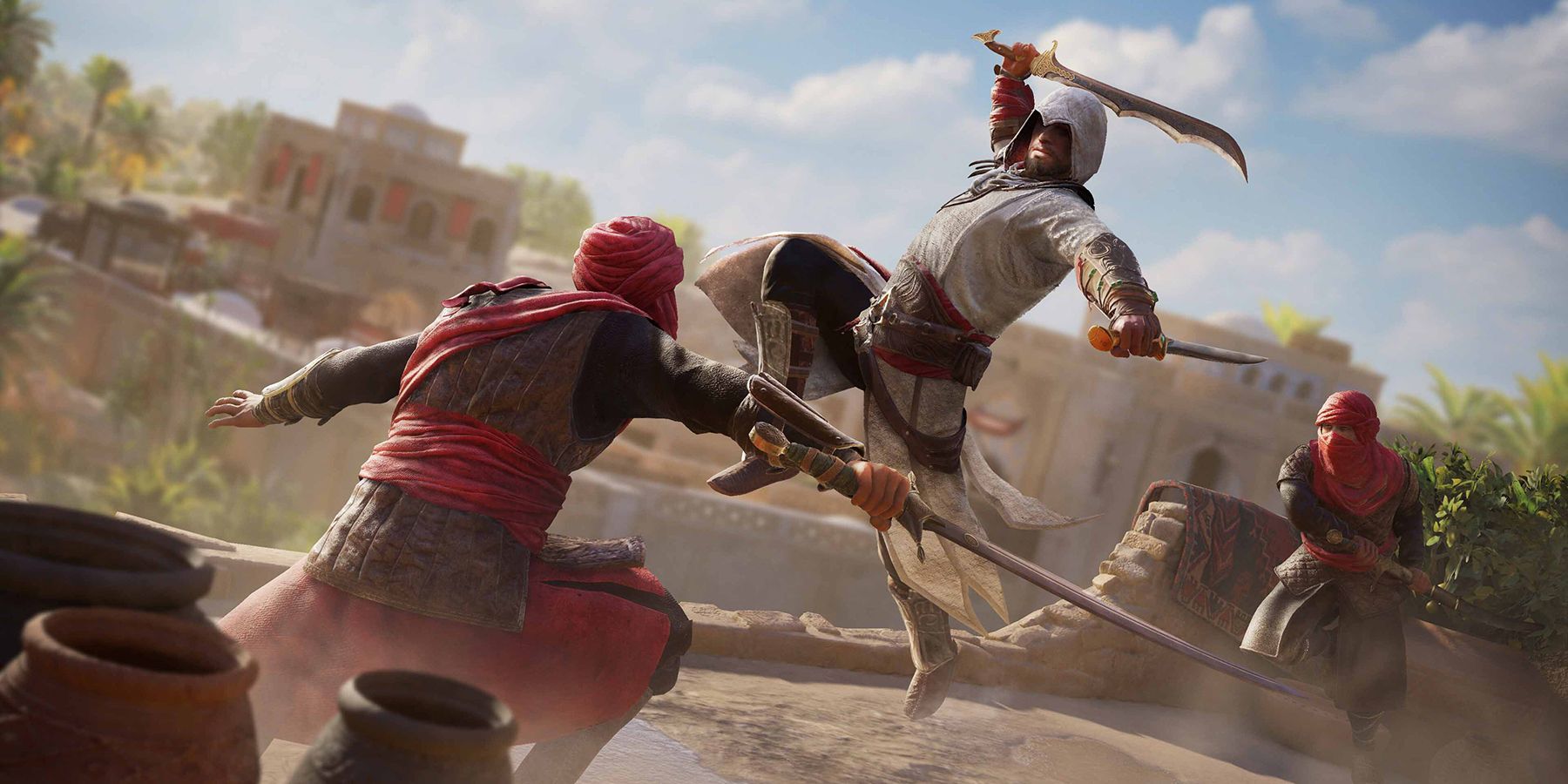 The Microsoft Store and other digital markets are listing Assassin's Creed Mirage with an AO, or Adult-Only, rating, but this is unlikely to stick for the release. In the history of the ESRB, only 27 games have ever received an AO rating, and most companies will do everything they can to get rid of such a label. This is because the AO rating is usually associated with extreme levels of violence, over-the-top sexual content, and worse. Most brick-and-mortar retailers will not sell a game with an AO rating.
With this in mind, it may be odd to consider that Assassin's Creed Mirage could get stuck with such a rating, but that's because of a relatively recent rating: Real Gambling. According to the Microsoft Store, Assassin's Creed Mirage features Intense Violence, Blood and Gore, Sexual Themes, Partial Nudity, and Real Gambling. The latter portion is the only reason for an AO rating, as without it, the game would easily be in M rating territory, and it will likely be so at launch.
RELATED: Assassin's Creed Mirage Doesn't Feature Playable Present Day Segments
Why Assassin's Creed Mirage's AO Rating Probably Won't Stick
First off, even though digital marketplaces are much more common now, having retailers refuse to sell a game with an AO Rating is harmful for the company. Ubisoft is huge, but not that huge. Just because of the stigma alone, Assassin's Creed Mirage's potential AO rating won't stick, and that's if it's somehow not a mistake. Several retailers, like Amazon, show a Rating Pending sign for Assassin's Creed Mirage, and this makes sense. It's a bit too early for a solid rating, as Ubisoft Bordeaux is still hard at work on the game.
What could have possibly happened here is that Ubisoft Forward showed an AO Rating at the start of the show, but that could be based on any of the live-service games shown there. Real Gambling would be associated with loot boxes, and for those titles, it makes sense. Especially as the ESRB cracks down on gambling in video games. The Microsoft Store and other platformers may have pulled that rating to mean every game shown at Ubisoft Forward, but that would obviously be a mistake. Mario and Rabbids: Sparks of Hope, for example, would go nowhere near an AO Rating–Nintendo wouldn't let that fly.
After all, for AC Mirage to get an AO Rating based on real gambling, there would have to be loot boxes or some way of spending real money without knowing what someone will get. That existing in a single-player game is hard to imagine. It does all remain to be seen, but until the official ESRB rating is out, fans should take these reports with a grain of salt.
Assassin's Creed Mirage releases in 2023 for Luna, PC, PS4, PS5, Xbox One, and Xbox Series X.


Source link
https://colab.research.google.com/drive/1vkiZNl9lf-cTcOZqd97ebVKt99oE5wRp
https://colab.research.google.com/drive/1WEte-rgWX-Izw_FC83J9EuNJH7Ykyrcd
https://colab.research.google.com/drive/1yUQUo_mmGMVkfwIeJ1vk0H06RBq7QVnE
https://colab.research.google.com/drive/1Hj-QegFfEYTWVrsMhuLDR3dciy5Sf8RI
https://colab.research.google.com/drive/13EmusOGRM5JfwEHZUF-c-Jo7LBqxPdGh
https://colab.research.google.com/drive/1qpuPGN-MOKhXOKntt6V-XDP7j1FouUo3
https://colab.research.google.com/drive/1_jBfV8Uyq4aEJ7gk427aIr4I9yMVBspj
https://colab.research.google.com/drive/1p08tIONF_G3tBCRKEWdOp8YhnGY3MZLv
https://colab.research.google.com/drive/1oHALX5IAhdBTG71B6gvs7cD6nKMKlJoO
https://colab.research.google.com/drive/1drEd5EF8uDGGFbGbJcmZsSKnGzLT2v3o
https://colab.research.google.com/drive/1l1aaBCfOVegjUo2RJjOg7IX8_1VsTuz5
https://colab.research.google.com/drive/1AkLVA1uve9ewtTlM0K2xmV37Dco-m5nl
https://colab.research.google.com/drive/1zDIuxmSvw7AXrKz_3TNl-a3scYDXx6Zy
https://colab.research.google.com/drive/12hRTQvt3YdVuTZ-cNUopJHOc91-iBSxd