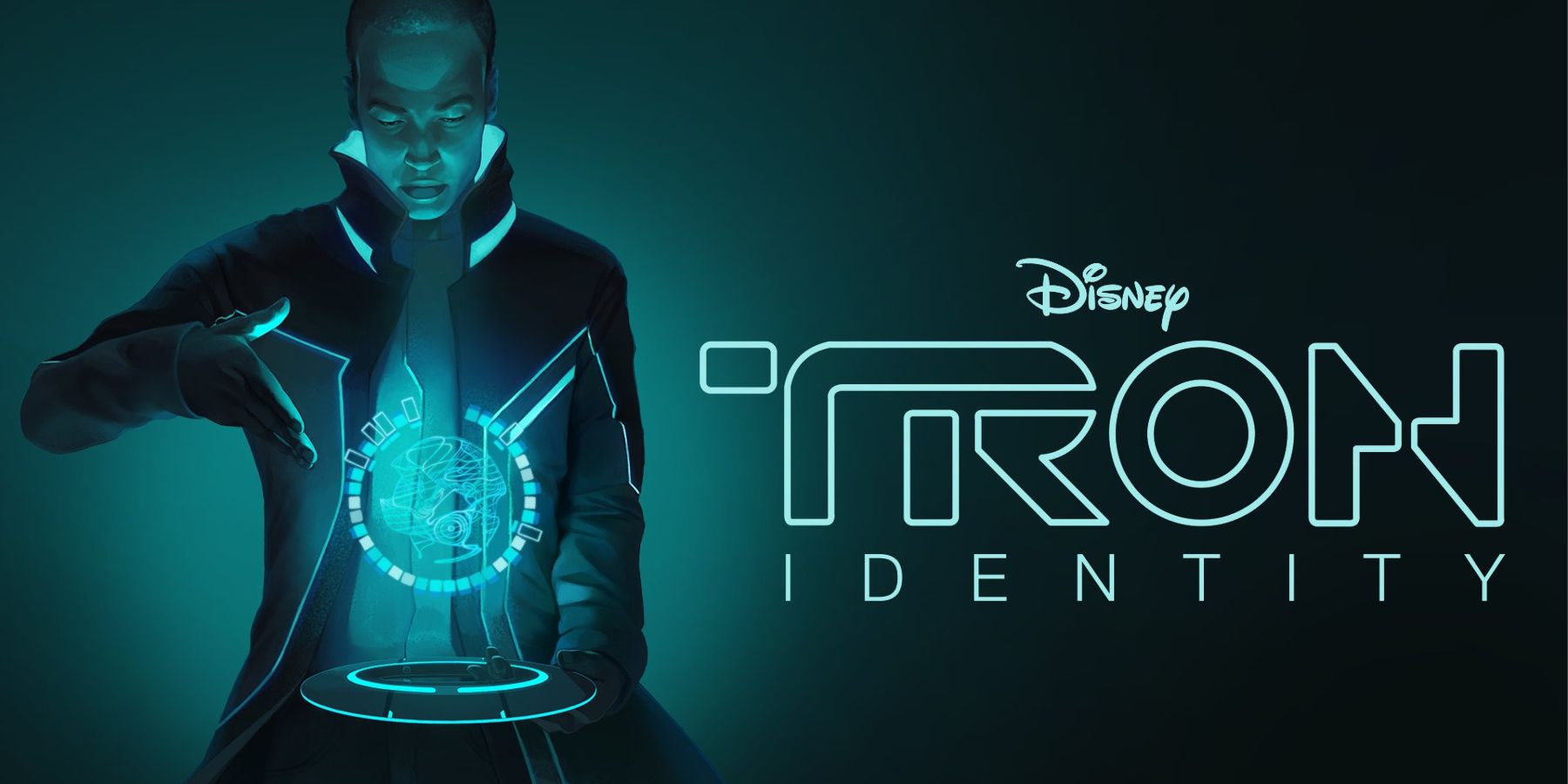 As part of the D23 Disney & Marvel Games Showcase presentation, Disney officially announced the surprise development of Tron Identity. Tron isn't a particularly big gaming franchise anymore, at least compared to the 80s. But Disney is aggressively seeking partners for licensed projects and Tron and Tron Identity are the result.
The official announcement was made via a short teaser trailer that focused entirely on teasing that the game is part of the Tron universe. The video featured a Tron identity disc slowly lighting up, almost like a loading bar reaching 100%. The only other details confirmed in the trailer are that Tron Identity is being developed by Bithell Games, in partnership with Disney, and that the game is planned for release in 2023.
RELATED: Tron 3 Axed Because Of Marvel And Star Wars, Says Joseph Kosinski
While the short D23 trailer for Tron Identity was short on information, more was revealed via a Steam profile for the game that went live after its announcement. Tron Identity is described as a visual novel adventure following detective program Query. Query is a part of a new Grid, abandoned by Users and left to its own, investigating a crime that threatens the Grid's future. Gameplay will involve branching decisions that actively impact Tron Identity's story, all helping Query solve the mystery at the game's heart.
As noted, Tron Identity is developed by Bithell Games. Bithell is known for its diverse indie offerings, including John Wick Hex, Thomas Was Alone, and Volume. More recently, Bithell has focused on adventure games including Subsurface Circular and Quarantine Circular, as well as the espionage-based solitaire game The Solitaire Conspiracy. Bithell's past works should make clear a novel intent to tell exciting stories through experimental gameplay.
What the announcement of Tron Identity does, perhaps more than anything, is show Disney's interest in experimenting with its game licensing. It's difficult to imagine anyone predicting a Disney visual novel being made for release in 2023, let alone a Tron visual novel. Yet with Bithell Games working on Tron Identity, it's an exciting project and a unique opportunity.
Tron Identity isn't the only example of Disney seeking interesting gaming partnerships. Disney could easily settle for major partnerships like Marvel's Spider-Man from Insomniac Games. Instead, there are games like the tactical RPG Midnight Suns, Pokemon GO developer Niantic's Marvel: World of Heroes, Nintendo Switch-exclusive co-op platformer Disney Illusion Island, and a remaster of the Sega Genesis game Gargoyles. Tron Identity is in good company.
Tron Identity releases in 2023 on PC and consoles.


Source link
https://colab.research.google.com/drive/1y7e4Q-hXianfgUTrFtl0-fuYF3A_b2-Q
https://colab.research.google.com/drive/1-ylucjooRjnxumhiFROgtD-8IBF6Bh5i
https://colab.research.google.com/drive/1yjg95aPHJeE_646A3NOA52gMKDtsk16G
https://colab.research.google.com/drive/1VTW6chs91tteBaFOLu92K03_iM5NtZAx
https://colab.research.google.com/drive/1qBBmplEi36_YkRf6bzGvgCJYyRzAixdH
https://colab.research.google.com/drive/1fjLRN_B_h8nJLNOyPTJdooAvQLJOZwDb
https://colab.research.google.com/drive/1K5whc1JkZmoLybVm4G9mJn5G_3K-u2zf
https://colab.research.google.com/drive/1MCGBgmDlmLQClhrW0SSTsygNIRBgWzrh
https://colab.research.google.com/drive/1woJbuYfvJ1PLBFLTF05hucHaMER18g0o
https://colab.research.google.com/drive/1vmEuqc0PmQ_iUsRYFKHkaSxV2JkoC2NL
https://colab.research.google.com/drive/1udBObEUqVZRYomPN0hVdt70_OY0NIWEM
https://colab.research.google.com/drive/1MTmH2sQC8PMkqfcTj56X7SCTrUAANrGr
https://colab.research.google.com/drive/1f6vO2fseoctjtNDp7XBaR8KAMjm3OOiI
https://colab.research.google.com/drive/1jFyYN9PlKTPI_wI2a5OKErDK_FTWANK5
https://colab.research.google.com/drive/1XlvX2ihnbAg8Zy2Cgk1MnHRH6caagM8b
https://colab.research.google.com/drive/1Ot6yPWFip2mnWeihiF6nzrLTIe4Y8UfG
https://colab.research.google.com/drive/1v6-pgoev4g4-ETqroar210kO6oeSsOzr
https://colab.research.google.com/drive/10a7Ey7jGzlBBhLzDfN50_6OjPoIpErab
https://colab.research.google.com/drive/1iGteCZUBshxJB_zIMvwZEIZ9yMO5qVl1
https://colab.research.google.com/drive/1PsLCqqNal_jYkKDUPdh_UW4BsqppP_fx
https://colab.research.google.com/drive/1kXUDaTYcJsROGWOmvpa6nO9PPe2yJ2el
https://colab.research.google.com/drive/1qlmQQ34EXLCuLO5LZtIL2ZDNATK4oiON
https://colab.research.google.com/drive/10nqf-tjCub4oCki_rSSHWf6uRoIpjaG7
https://colab.research.google.com/drive/1dFWRHA4HPBcJDpKDyJObpMQV1qMn6uSq
https://colab.research.google.com/drive/1QO5Q79GhMS7f2R5NO75JBEMvjS0j4NIx
https://colab.research.google.com/drive/1T2BnRRLvHy5pQNF2B0WSq3irED7oWoLZ
https://colab.research.google.com/drive/19jeCqSIFw06wWj-vo_g7TqFKs7ZEybzI
https://colab.research.google.com/drive/1OV5okJrnijBkM_to7MFWC9ALYklXVaXi
https://colab.research.google.com/drive/1CA8TntzuytiTxQOAJNLL9kkAl3mbgrKO
https://colab.research.google.com/drive/1mk5FzHN5XYa53kZtDnDCdklrhOnOWibA
https://colab.research.google.com/drive/1Ni5DSq0CNxT71rI3pZ3IqP61D4IUSnP7
https://colab.research.google.com/drive/14F_NtlJ0ojZ-d6I7iff3Q6JnxsakZF9A
https://colab.research.google.com/drive/1LcXoOckTNMQ9LMcbrzMR3ukr7gdKhaO9
https://colab.research.google.com/drive/1UgujkpbZSRu97mupQdd2BKGUyzjuJnAC
https://colab.research.google.com/drive/1AQ9eHXbC774U-v8wRMuFLs2BBDPg4-8u
https://colab.research.google.com/drive/1pkd83dOwEZQCFBwnmHPrJjO1VPNIB3V4
https://colab.research.google.com/drive/1SPQfdjCFDYg5LY88jYbuSGIMQwMjAyIr
https://colab.research.google.com/drive/1pyM7kRhsfgsCF8zBLXP_iKdSA4B2xzQZ
https://colab.research.google.com/drive/1LBdchZCBYfjAMwbKkf4hKibBg4aD7ZbE
https://colab.research.google.com/drive/1syD9QFdFFIkoKGEPDhTLngDykOGarr_8
https://colab.research.google.com/drive/1p-ANGC4IuwGgnlYy3ctJHippzfPIe79F
https://colab.research.google.com/drive/1Y4LPeue6DphnvMgL_iElUVaU4Jh1lU78
https://colab.research.google.com/drive/1ZHeZU5BZnQwMLKDF5UVOPiZOPPeKyKHz
https://colab.research.google.com/drive/19dZgmLY_Zww3dL3SnsNUdmb0Mt0kRYjt
https://colab.research.google.com/drive/1bb_6CkK8CsHeX_ulLTl3MnRp4AVttV52
https://colab.research.google.com/drive/13zaSr6tYvn2TmWyUncZChm_U79Hri6ef
https://colab.research.google.com/drive/1EjqNKFTwDsRpZFQhSY3YMaal2b7XyAOa
https://colab.research.google.com/drive/1DAQXg_liZK1_e2eng1PHJETJPmfHRozS
https://colab.research.google.com/drive/1_gShPbF-wusA2UiX-6lDUhVYR9zgscG5
https://colab.research.google.com/drive/1__4L-f19wd8cUA49m1Aa4GdTVOoG2UJi
https://colab.research.google.com/drive/1ANEjB8UFWcdnwFAFq6i8IpknfMvFIdIW
https://colab.research.google.com/drive/1EiBKQeQLYL-4qSFBUtVyKfgnEEhzd9L9
https://colab.research.google.com/drive/1xgc54uDyLgR0KDE6WwSef9SLKQoOw-Nw
https://colab.research.google.com/drive/1XBKJjdQaSrhD4ECXz6nWE_6wFJSoiX3g
https://colab.research.google.com/drive/1540VMNd2T-4c7QC2ou341bm3wSL_VnY-
https://colab.research.google.com/drive/14TMAHhUl2z2PsLrkJXaueiEtgPGFDW8Q
https://colab.research.google.com/drive/1XmWQUWLPdaz91oQF8ai480JMBnZ6kThE
https://colab.research.google.com/drive/1zXpIhrgYvTgS6BSp919MPCtMtCltJi86
https://colab.research.google.com/drive/1-BCODb1RAEOCH1QETGyVqhe2wWYxVWcR
https://colab.research.google.com/drive/1pjH9svy0Co1a4_6o2rVhLRIEZbURKRtk
https://colab.research.google.com/drive/1sYm3ScXwm3REjoP8-JAexNieGS7iFI-E
https://colab.research.google.com/drive/15M45NkpwEEEV5sVYsnpfwW_ueOPKzIXk
https://colab.research.google.com/drive/1XARpHchjlBE1KHeQZhmQF0nobN_ZOYci
https://colab.research.google.com/drive/1qQyCJm34jDYMdOl9m9nWQt4gMplm37e5
https://colab.research.google.com/drive/1dEe72_S0lAByQv8qrz4ju0zZITKmr7LC
https://colab.research.google.com/drive/17CkLJcHuisbif7E9Q62FH9hFtOilcUaq
https://colab.research.google.com/drive/1fvBlbQRJogXlDJ4k1urcIvDhhLutuFLb
https://colab.research.google.com/drive/1pTvl7xC5TCcq0gBzUjit_c7Wj9ryxTgM
https://colab.research.google.com/drive/1oAAnVyTZG81N32-yDZkqJ3XpoTqQBbhf
https://colab.research.google.com/drive/1ce21QWhnVM9jIHZHvHHYokG7LTSfUMJ3
https://colab.research.google.com/drive/18EgUm8Wsf2FMj0O-GP5Dvao2f3th-oNL
https://colab.research.google.com/drive/1a2kiyxLDMFmvykoxGybyFmvrrhPR9LPu
https://colab.research.google.com/drive/1oZKARMf6SSod94L4Qegh9mNTARmxZyuT
https://colab.research.google.com/drive/1BfOKsJp8O5Gp6F0j-ZJieLhbCBmDBJSq
https://colab.research.google.com/drive/11rara_S5ngKKxvfr5n5CpLHq5PE3pKyK
https://colab.research.google.com/drive/1JoYmch1BER3NBrjq_Rb3K-TrX2BBDyPf
https://colab.research.google.com/drive/1XQB9pnqxHl6wewxWXt4Awuke6AsWqwe-
https://colab.research.google.com/drive/1Mquqw9kJw-53Iil6OLzt3MY6QM1S9nyU
https://colab.research.google.com/drive/1IhhzB5ig3yZnGml6FXQY0LZ-rwLCGYSa
https://colab.research.google.com/drive/1ZF0W4AxYPeT7L1Gh3ouf53xRj-V1wVgl
https://colab.research.google.com/drive/1brOV1oHLqBzmvEq5AtBlWgyhMCrzqUVS
https://colab.research.google.com/drive/17GCKUZCYFlPRamSkpG7_D6RqYwax5zsR
https://colab.research.google.com/drive/14A_4Cpn6jEcGlulqSIAtEdO2vKDi7Pml
https://colab.research.google.com/drive/1E5bVDrhoJ6VFfG5sXfboax4jZphssRwS
https://colab.research.google.com/drive/1I8d9ehfyLbyrW3AiBn9sgHAuXkcsJYQx
https://colab.research.google.com/drive/1VsamumGxC0sWDLHqbizHsVhZVLSLbbCX
https://colab.research.google.com/drive/1q8GhXLAxdTTt3cqkQoj7jFwvyyzd8VuL
https://colab.research.google.com/drive/1twsMr0k993npisPUT4GpzfuMxt8MIoBk
https://colab.research.google.com/drive/1ua-sGo93XHFkcKUFJs-_ztmxI_fbzfVy
https://colab.research.google.com/drive/1HSjBwDa0FBIyY_Epq0dyfgOrritLJZA9
https://colab.research.google.com/drive/1VPn3jEEzt4v4lqvsa4v3NGIQY7jjqP5Y
https://colab.research.google.com/drive/1_OwGfHiHGBary-dWRYgctH8VUheEShtK
https://colab.research.google.com/drive/1RNOeSxO61HSb4AzbRX58MOo-OVa57ob1
https://colab.research.google.com/drive/1k3GlLwjm_yLVPa4CBlkldvr7SsRxY4FM
https://colab.research.google.com/drive/1SvWgSr3ebgbp9IgJIuJnte5u4n0_Z0cm
https://colab.research.google.com/drive/1_6TId80RyqIPrJZk4XUdBeHW5sbOVJgG
https://colab.research.google.com/drive/1h_WDB0o75R7n7_m6sjaNBkHk_lNgFdJA
https://colab.research.google.com/drive/1CgiXyKpbnHXPNZK_m3SQLJdi0NyVWHdS
https://colab.research.google.com/drive/1D8rJlU6JYLVVxiqSCW9anti7ywhtg6-i
https://colab.research.google.com/drive/1RfyTj5AIx–UJ0ad3U0IXgd-ci0z4EF8
https://colab.research.google.com/drive/1gdMTfcp8Xp-vrgX8X-gxZMymvWowZr2u
https://colab.research.google.com/drive/1OmOPEtv0NWDfRqWxyfTk6unQGeUos9WW
https://colab.research.google.com/drive/10TRklPpoSNAs8xWLEJdwKqKUcjAwLPoN
https://colab.research.google.com/drive/1RB4IV4WxEllv7vhVbfkcTGaZQtwf1kUd
https://colab.research.google.com/drive/1-93pCxgG-odbCOStLkhiXqdOi59iljP0
https://colab.research.google.com/drive/1qYtIsaoXhjGUMKn8tykgcIrkF7u7WXG3
https://colab.research.google.com/drive/1zR2sE98JqieJUR3XFuGuntV2DF8QE2wO
https://colab.research.google.com/drive/1dtsgEUmiNooFMLCWH3cR2DXsTETcXcfE
https://colab.research.google.com/drive/1LzNIPfrRKpn0UTfT4HQgyk1IqHaqPLr_
https://colab.research.google.com/drive/1Q0erUFyYwreI4JhsOMJezmf4qtSE5U61
https://colab.research.google.com/drive/1sGD4PTS3pxyFN_-5a3EtANAgCQ2bqg-G
https://colab.research.google.com/drive/180YBNd6vBN4NvamtfNvQ0SvzjShJwXqo
https://colab.research.google.com/drive/1Ksbmv8vwbKaBiIudRl6fooYMHKdL_WmG
https://colab.research.google.com/drive/1g2ZT4xVAlipk0IvJPMLrD-aU4xvr2hZ_
https://colab.research.google.com/drive/1lmeQK_eiWUGgZLh_F7z7ut1wvqonJPjc
https://colab.research.google.com/drive/1rBXhMpuMW3MwCPF8MDozdWVVCQw8GQWE
https://colab.research.google.com/drive/11PqtMvo1o02hOlL1lS6LJOyTol9_RWxL
https://colab.research.google.com/drive/1jZzkjQLQN8u6052XUk73MaA3SsgiuZkS
https://colab.research.google.com/drive/1yAvavz2Bco235PVwmFrHBD9ccDN-NLen