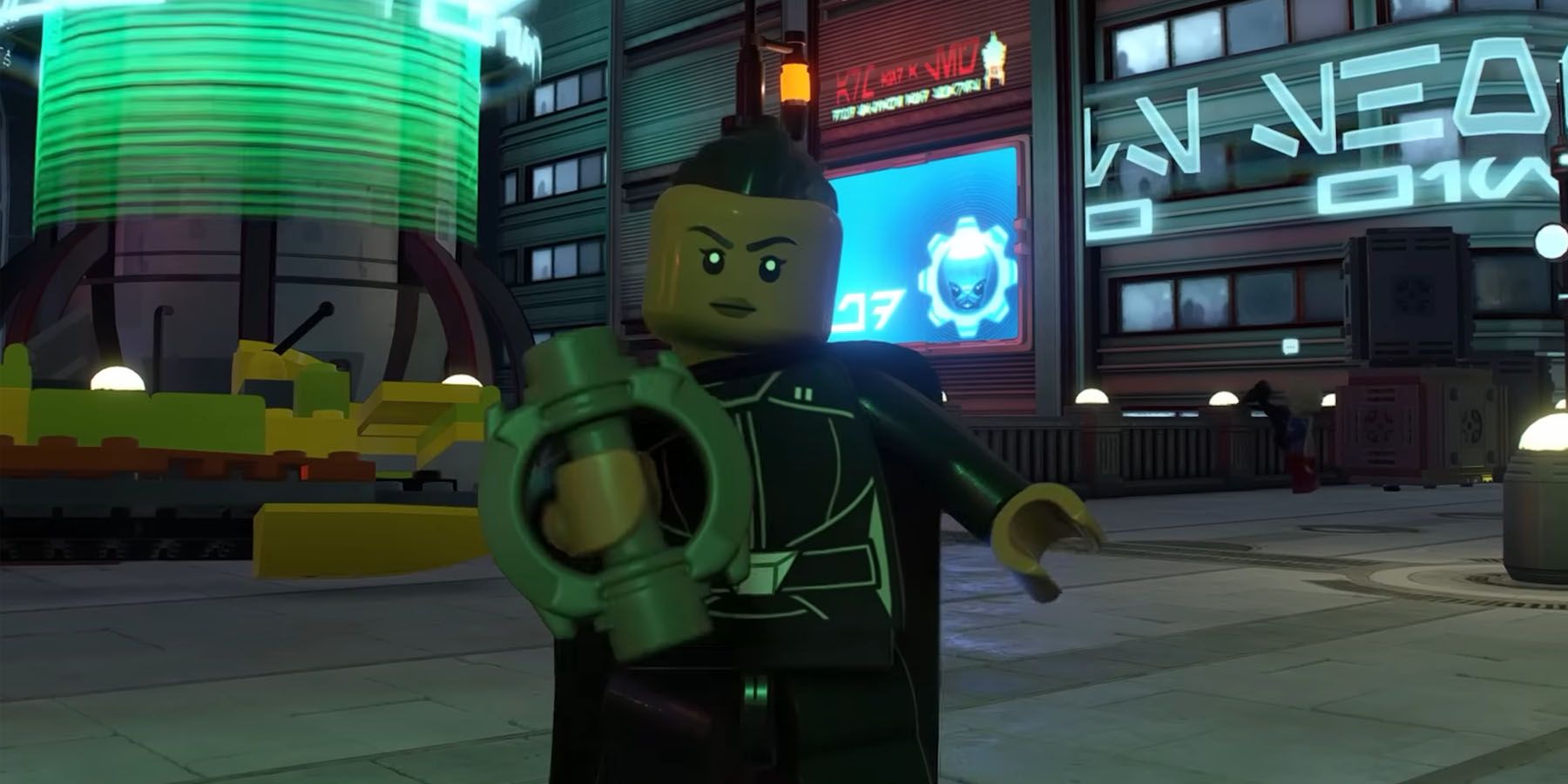 At today's Disney and Marvel Games Showcase, there was a brief showing of LEGO Star Wars: The Skywalker Saga, revealing a pack of new characters coming to the game. While the game wasn't featured too heavily in the overall showcase, it featured a number of characters that originate from many corners of Star Wars media, including the prequels and spin-off shows. Moreover, this will all be packaged in a new re-release edition for fans to get all at once if they haven't already.
LEGO Star Wars: The Skywalker Saga was originally released in April of this year, and was a big success critically and commercially. The base game covered all three major film trilogies of the Star Wars franchise, with a roster of so many iconic heroes and villains to play as. Despite boasting an impressive amount of content at launch, the game is getting plenty of support and updates, with the next DLC featuring many more iconic additions.
RELATED: First Disney Lorcana Trading Cards Unveiled at D23
During the Disney and Marvel Games showcase, The Skywalker Saga's brief appearance highlighted characters that will be added in this expansion, such as Cassian Andor, Captain Rex, Inquisitor Reva Sevander, and many more will be added to the game. The showcase even features gameplay of these new characters in different scenarios, such as using their lightsabers, the force, or even taking part in one of the game's more silly moments such as a dance party.
Moreover, fans will be able to get all of the currently released DLC and this upcoming additions in a new re-release of the game which will release November 1, 2022 under the "Galactic Edition" moniker. In total, LEGO Star Wars: The Skywalker Saga's Galactic Edition will contain 13 DLC Character packs packaged together, which includes content based on The Mandalorian, Andor, The Book of Boba Fett, and more.
The Galactic Edition re-release will cost players $79.99 for the full package. These character packs will be available for purchase outside of this re-release, which can be bundled together for $24.99. The character packs themselves can also be bought individually for $2.99. If players already bought the Deluxe Edition of The Skywalker Saga, they will already have access to the first seven character packs. Fans can buy the second set of character packs by itself for $14.99.
LEGO Star Wars: The Skywalker Saga Galactic Edition will be available on November 1 for PC, PS4, PS5, Switch, Xbox One, and Xbox Series X/S.
MORE: Now Would Be the Perfect Time For a Star Wars: Rogue One Game Adaptation
Source: YouTube


Source link
https://colab.research.google.com/drive/12HjitXlJ_-4iX5jrQqjF2NLRIcAXB1PK
https://colab.research.google.com/drive/1wv4pdZQrFbWIlD-XMgdsPGPDvUKwG4Tc
https://colab.research.google.com/drive/1qzaliaxbKaxApokAG3nPT9WsFBoyU1kh
https://colab.research.google.com/drive/1JM9yu4uwHYPqLP1El7L16z0GHstq5Dfz
https://colab.research.google.com/drive/1i0waTf_yccWd6UFttSopR_uk1QQyv9oR
https://colab.research.google.com/drive/1VCWVHQx1vkUCuSohGo8NCvUiuCW8eC9L
https://colab.research.google.com/drive/1FKxSkMB75yl2w5yarzCG3Zvl3NWblDYu
https://colab.research.google.com/drive/1ghGWmxXz9cmb0cI1PoOGJUJowaH_mwmf
https://colab.research.google.com/drive/1-qoYWFVrslsiF_nk-hizPW3g8lYFoani
https://colab.research.google.com/drive/1jPiaoCP1khzcEsfmtTwamyZ2N-kI9cEW
https://colab.research.google.com/drive/1ObWckpdTR8FrQoHh066tSokumYzi78g8
https://colab.research.google.com/drive/1IaltRqmfrfT_8m9zer0oXAGczOio-__V
https://colab.research.google.com/drive/1qnpXR6WO8ZXxfuWiIQhDifisuYCUdaNQ
https://colab.research.google.com/drive/1Ol3c-I_dzBps3kL8iCyCw6KNMXjn75dY
https://colab.research.google.com/drive/1OkUQ3EOOA_OiWKPEU7Ilca24ifP4tOCp
https://colab.research.google.com/drive/1SQykpRmbhrU78I3-VEtHxIhxz_-rxAOU
https://colab.research.google.com/drive/16u6fcJyFcUuZX8WwHg4r3BZFiGMDogG5
https://colab.research.google.com/drive/1qawM5_ZB58mJmgc4-YO5XXRYwzMpdk_S
https://colab.research.google.com/drive/1kPpQGfbiRS1RBFkj2V4m3Modvq479dte
https://colab.research.google.com/drive/1euC5MRGrjtWCihdYGg14C1EwkrmbLrU_
https://colab.research.google.com/drive/10Bwe5PTNRyJ94W3mo6l3NbpVNxVOV7g2
https://colab.research.google.com/drive/12B_U7adwtjxJ1H6nYvDDeDfCa0Y2eXrf
https://colab.research.google.com/drive/19lJ7qdTgRvs351OeztnA_zbkgFaFZB5m
https://colab.research.google.com/drive/13OkitLjtejtgdyGZ53l3Y7Euanhnbw6s
https://colab.research.google.com/drive/13Qcn0Vg1GVVwjA7JMT9RhNdSUHIofe67
https://colab.research.google.com/drive/1YSO9Es9f26PKLdaVrf0zYdsdJzmpspu3
https://colab.research.google.com/drive/1-UhJ3-8y4t5EKxkFFKHdC_upNLDKWLGi
https://colab.research.google.com/drive/1u3Mgb2Ga8JEu55OTZFLppgFZmnMcbCRb
https://colab.research.google.com/drive/1y1HtV1RYoiqL5TcV1skqpQeJUPLURY-I
https://colab.research.google.com/drive/1gHopTTVTAAA3OFhaOK1tBNaGl8Ih6kmc
https://colab.research.google.com/drive/1dMKg7tSPp5ojH-Swj8WrmRE2pA3rBLd7
https://colab.research.google.com/drive/1_pv8unhczmrN65kORZSJwaP3oFm17vi4
https://colab.research.google.com/drive/1m0wn6-BB5baEB5FrHz4Mpta6bDGnx2Zo
https://colab.research.google.com/drive/1EjKV_EI0h6EG2wDF-v5MXIInWozTlQ1W
https://colab.research.google.com/drive/1B5DejlP8BdRjPmxo7KxFdZTzicL5LCOs
https://colab.research.google.com/drive/19CwPqXRozIQ3yeX5DaAy3laoXD684oBE
https://colab.research.google.com/drive/1fg4Opeo2XGv3nciNg2pbOwrBV77z9Xl7
https://colab.research.google.com/drive/1g3DIXcc1BsjFU33uAPaBY-Ff-SBEw74l
https://colab.research.google.com/drive/1I_1Y05Iwd-cI2unYi9R_whxJmD3bmuzX
https://colab.research.google.com/drive/1tzzpxD_0PSx8gMPs7YZIpFVwl8uzshln
https://colab.research.google.com/drive/1OWJo4h-FsWUw7oO5C5fm7Xl2cVxNvHRw
https://colab.research.google.com/drive/1flhxZEtp5vlGwGZNLkIz-2xUYCXtHEl1
https://colab.research.google.com/drive/1c7VrVq_4OU3MgWFoOm63DDMv4U22Zxnp
https://colab.research.google.com/drive/16F9hpGhO0qaXWx7h-RFd5VFaE7TtCxkq
https://colab.research.google.com/drive/18_ZuiPFLsDpD3vjC7jmAr5B_a_5D2SjJ
https://colab.research.google.com/drive/1Mzf96y2ignEiQQsgzgPtvIFlTqqF9SmK
https://colab.research.google.com/drive/1LWcRaKJgwn9rcVukpPb_ByIk8sMHcpEb
https://colab.research.google.com/drive/1wTt47vCV5WnG47ZJ2AeVa6NcR_1qQ1T4
https://colab.research.google.com/drive/1IBiCltOduMK-azV5jDs7TxN9NskOZ2tZ
https://colab.research.google.com/drive/1r4K7x_dS2kjIa3TzuBlJw-9TVxpiz_5r
https://colab.research.google.com/drive/1yRPj3sK82J_8HFQgkq2kUlr9LenxsupS
https://colab.research.google.com/drive/1EV22WSdWCcMM7Iyec793RFqs0uu1r3K9
https://colab.research.google.com/drive/1NrkY9h-iY1uNolbzYcLmVrD6K4ZOiKgn
https://colab.research.google.com/drive/10cO9HDaOMe3LTpWfVJVZY2Pnl8Psn0O4
https://colab.research.google.com/drive/1OwXHicEESK4s9X6_o8LvEbAxVff39bCa
https://colab.research.google.com/drive/1c-_J1Muj6guAHQjfcH7Q0TQvkYaiPJUm
https://colab.research.google.com/drive/1VcDOHM17dXm6fq2FmsZqoHGLjACNMwKQ
https://colab.research.google.com/drive/1o3UHqrW-u9ctsF6RYUIiGveUVLIOhQOX
https://colab.research.google.com/drive/181PSDUQOaSjM7hDstjGeLLKmpXw1MdWh
https://colab.research.google.com/drive/1NaC1nRB1a5OCMNG4uV89klrJU7jCPkZM
https://colab.research.google.com/drive/1wv0bBFSWAdJkRyIXgEe429TGDds6NNNf
https://colab.research.google.com/drive/14HNzAhJOJTStKik2cZts1HZQgQuozbJ5
https://colab.research.google.com/drive/1eVYjRfcUvPg0v0gvc9MSjtrVdU369gFa
https://colab.research.google.com/drive/1Yr1s3Ejcpr5dumC3fyGd6w3lCaTnG0Ho
https://colab.research.google.com/drive/1QPjDfrRu1Udrdt4pAOF1WEuIdqyeglYd
https://colab.research.google.com/drive/1R8Nc5NsR8XEl0_gSWm2_4JpwuhwXpNiD
https://colab.research.google.com/drive/1oknlHbTTsS1qpRFPTz4VlPOeYfnWW4Tr
https://colab.research.google.com/drive/15EMBPRHHeJaDHXr9GzPTmm_0KyMSwF7X
https://colab.research.google.com/drive/1lrz1HROkFON6kTtUaAqlp2KLf9g_Yeay
https://colab.research.google.com/drive/1bX-U_0BI-mW666KTdM8kryllgZ7lKX5s
https://colab.research.google.com/drive/1bIN31hbCqNcdjzQK_YYRUkWcuhrpsJiw
https://colab.research.google.com/drive/1UHTTRZc0mpXlq0Wz-xtafCGe92YvzBvO
https://colab.research.google.com/drive/1rVO22ljNIwB-h80pXZfRnicATOUrI9wT
https://colab.research.google.com/drive/12i-UIOTuYJfFM0seq1S2Erdhdmn70jq6
https://colab.research.google.com/drive/1s41Sf4fpNxWILoZb8bKONKydPFidSUhB
https://colab.research.google.com/drive/15YXQMTagIVCnLaSX3D2YgBB-NOuS9HhF
https://colab.research.google.com/drive/1cygHkjFCm80hwEcAASTtATG6b53Ee9WX
https://colab.research.google.com/drive/1snKW-fK8NEh45p1X4qLDeKrpYrKtYcwE
https://colab.research.google.com/drive/15OZ_ITv4qyQLWBVD3dWoVIN3QLdl4lHn
https://colab.research.google.com/drive/1LbHUL6aGHaiASJ2f5Dak4Lepq96U1HaT
https://colab.research.google.com/drive/1Dp5-tKdXVO9joj1p82tbtdJU_74ya2pB
https://colab.research.google.com/drive/1BAFG59k_8x1_kWZC-S9W6u11To6ad2Ku
https://colab.research.google.com/drive/1DPA5xu_NTN8SD5-5zCfomFTED4lwbenr
https://colab.research.google.com/drive/15cdISNRY_9WCQla-L-g26FjKRZgC9s4G
https://colab.research.google.com/drive/1P5ckBY4SYURMT3uDdVDfnXultWDcTW8C
https://colab.research.google.com/drive/1_imeIpGQcm86x3I0pAoKT5MSy6rG_rqj
https://colab.research.google.com/drive/1_h2UHnGdV3hZeY1KQCXv1zNIno6zsk-X
https://colab.research.google.com/drive/1QDC6BHuNeOSVL2tWZERE173wdr2y6Ycd
https://colab.research.google.com/drive/1sw7NKqp_soOKPASUJSBf3A8BzvGw2SE9
https://colab.research.google.com/drive/1tK4701a5MZCuT7GC86-pQeTiZbarPf7v
https://colab.research.google.com/drive/1WnNIjhXI9SQzsRMgrUQvlCqQ0mCYQl8V
https://colab.research.google.com/drive/124ABWNjFMiqFrZLoo-G1ZFX7j2VVHLzR
https://colab.research.google.com/drive/1PrCFlwbupqJ5YdXIQjtdctldrit4Mewb
https://colab.research.google.com/drive/1A8vlBATqyLM1v-70lzB0xyjmh32Yfg22
https://colab.research.google.com/drive/1xG589Zt81IEHwIyfO4BM_51o2PrzSk17
https://colab.research.google.com/drive/1XhVgImX9b6WmZ0zWPN79og_Drg—sDS
https://colab.research.google.com/drive/1OLMmZrdkSmPQjrx66g_tfwB-rovDepB2
https://colab.research.google.com/drive/14Ce4WU49y_ifK7RFcwzKVjd90Y9k2SYL
https://colab.research.google.com/drive/1vh7h9Ajr8vYY57l-fqEPiKHZCaUQj5As
https://colab.research.google.com/drive/1VbYPtQab9iCgu56CPjhjP7a3xuWimfWV
https://colab.research.google.com/drive/1Fv9WGFNyv3v4UCQupumeM8j4Oo7jvOC_
https://colab.research.google.com/drive/1mD1uh0PcSyHcG8XmG4Lz7H1b_ohpwM13
https://colab.research.google.com/drive/1GuKGmyoK4ab8ZVgdQDEu1EzPKpTxgIov
https://colab.research.google.com/drive/1lsNItOAmaKupUmPvIgPtK8isRnophRdK
https://colab.research.google.com/drive/1TAJjiSgqBzxQlGuH27atYfV3Syfd0vgx
https://colab.research.google.com/drive/17zM2zj7B2wu-BFviOvLcZNGGAhuHPymP
https://colab.research.google.com/drive/1LkIGcIYIoBZBZGI-hb4e_yhcq9UG86im
https://colab.research.google.com/drive/1_7VLkKDvtxtaxMo_ggRBC2wQlfWNsMvq
https://colab.research.google.com/drive/1bQp1MMbLXv_HKvhCZgPWFbRY9fwwN6TU
https://colab.research.google.com/drive/1T5–p39MmlrQWmSfHX99hVwPu3KTDMJf
https://colab.research.google.com/drive/1Kr8rf4i8hhO0_3EpxvictODnY0SPw4tV
https://colab.research.google.com/drive/1qUvw6MUzuIFZJzveUijdfNkmxfwh8Tze
https://colab.research.google.com/drive/1iuSHU6uQhlfFlHS9OCS6PuUDsjUuZDEU
https://colab.research.google.com/drive/1KJhjhN7UpBYLm86QRowNsD3HkIoxCvDq
https://colab.research.google.com/drive/1DH_R-UmOali_Lv9NXvNq_oNRMZKSgkno
https://colab.research.google.com/drive/1YgO-JPbFxT4NG3K-QomLRTsftcRAbEMA
https://colab.research.google.com/drive/1mCdw1kuham22PQzmTGrN_ghnxuXGTpYc
https://colab.research.google.com/drive/1VbPzq-LSmusC6VWOwVVEeHawOxqmgGSF
https://colab.research.google.com/drive/1I5Ts58YHgwDk31waBdvqFVxhigjgxd_p
https://colab.research.google.com/drive/1QtDRRvc9zyBo1QC8xhx6Hsm_jDnKcSSM
https://colab.research.google.com/drive/135LGRnbWIg4yCcsqGHj4Kj-l6371elKH
https://colab.research.google.com/drive/1Gel-huODo7U1x5TmGoSwx_7Jzq5YJhM0
https://colab.research.google.com/drive/1_ZgFRJ-OVzD8IZIseOJOPu3iQbtMdPH8
https://colab.research.google.com/drive/1KqfLEVmvq0iAle6O6QVIRJCDnoQ4BPOZ
https://colab.research.google.com/drive/10a4A-evN_YgcF2SmATI9EtJrmWUYHeX0
https://colab.research.google.com/drive/1ov2EoBr2uB_Yu5dGRPVBjpAQuPVetiNl
https://colab.research.google.com/drive/1YZ4kSGYmh2agXsWNBdcCp_JWOjHOFI7Y
https://colab.research.google.com/drive/1aOj-OOL-gci7K9x5bp7fzSm9knqpxJec
https://colab.research.google.com/drive/1R3fX3QQ8cqWGkIfan-2AwFnkor7veNVC
https://colab.research.google.com/drive/1kvEcB2tG8inm8SJO8dTraw3hiFp9pocR
https://colab.research.google.com/drive/1r_EsqedJPmzx71nJD_IVxAe-OmD-Z9l_
https://colab.research.google.com/drive/1IMJj9UfOJGeY82yEhkvPhdTF9OK7V4V7
https://colab.research.google.com/drive/1aMtIVLRJkdFo-mEAMxUCj8I8ECLYlRue
https://colab.research.google.com/drive/1QTCZM_VprD2vd5VncczFGyQHl0BNzlwM
https://colab.research.google.com/drive/1dcPpblxLGi3K2OaGp-2xwy6_faedh7nu
https://colab.research.google.com/drive/1Fa1DGBwvNXlu6au1l_z3lPz5i3GKmCpJ
https://colab.research.google.com/drive/1ZpQMn5UUiva6pTqi5C81U_BgtLEOJr6b
https://colab.research.google.com/drive/1A6MPok5naOhFrHIKxImRBktL-dQORzwi
https://colab.research.google.com/drive/1tsFmM2A0c4SMPQtdq-NH0oUlF2gfuUej
https://colab.research.google.com/drive/1C4qh8OGq9RjvejLZ2KahQHlAMaXEFn0G
https://colab.research.google.com/drive/1flYGeyRfBEtCg5hcaIEkgPUenRaH2RtS
https://colab.research.google.com/drive/1Laea2pgsNd9JB4w0cBY_oytqwiFeikKE
https://colab.research.google.com/drive/16w_nPZ2_08lIhwsZ6GzhvwOJR4FJBRrY
https://colab.research.google.com/drive/18sQW2O-AksXsiKK_EJv_K7XblR0nMRml
https://colab.research.google.com/drive/1q9wYfHuVtPc0WjtBH9DaSMKixwuzSlVv
https://colab.research.google.com/drive/1m55CYIb6nH-BF2pW8VjGUEXGfMjnUE4o
https://colab.research.google.com/drive/12bHcDvDRDYnplaE87n5wztT0blPauiXk
https://colab.research.google.com/drive/16NiZJgz9U3ddaWC7dDUTj3n3pnnAibzm
https://colab.research.google.com/drive/1-KKRv_QevOm8NRCKuz7uALc5U1NWkLi1
https://colab.research.google.com/drive/1dh9qHH9xRLpMrvnox99TeuitZ2hWs2tO
https://colab.research.google.com/drive/1sRrMuf7TSmJq872bTJ4O8AGsDN-oh9_4
https://colab.research.google.com/drive/1wAQ8tyFlleuPDWXVMMR-bbuHm2XcI4AD
https://colab.research.google.com/drive/1annnUqeA12S7_njUP5bbJV1ADyLugOWJ
https://colab.research.google.com/drive/1Penq5BTr-MOItqpF6m6ptR5mHpDkOHcj
https://colab.research.google.com/drive/1k7-lzmmp3bgsOt54iJ1F7mvTY76bpBAc
https://colab.research.google.com/drive/1Ndxf0_CepnvGcqqdhJ3tK8QA5y-NKw7j
https://colab.research.google.com/drive/1nfcTeCYBTtSJQOHdCwht0DUfXqwzoaZ9
https://colab.research.google.com/drive/1SAWRFHcQB-BTTPT1LbehlQtH7-gyJK3q
https://colab.research.google.com/drive/1_EfCy-XN1IIyZ_QYc8cS5a3NXi1m0fU6
https://colab.research.google.com/drive/1DH9IdaolBfZMDZIASL2c4Urq8v2L7SNK
https://colab.research.google.com/drive/1HU_fqKEjPUTlQsL_Qv3JlsJ-vTYg0AIt
https://colab.research.google.com/drive/1Oo9c6lsenshV8sirXyGEfB9djR6udCRW
https://colab.research.google.com/drive/1zCpA-5WyJ4Fcq5jiiVc5gDtvFd8QeCZs
https://colab.research.google.com/drive/1UfFQ4aKQAgQRyqsNUR5JLUNPEUFb3hv1
https://colab.research.google.com/drive/1YQcv_DXUQ_RORLDCimWtvVe-2tfPZd5u
https://colab.research.google.com/drive/1e3KzV0WK1EDWsLT_zjAVU5hyhA5ZDCpT
https://colab.research.google.com/drive/1Z3p4gzulv6hTpjRxt8DYcky1ddQyTGIJ
https://colab.research.google.com/drive/1I5Y7oiNOqLZsasx-Y1GzxK_FXKo89mVB
https://colab.research.google.com/drive/1jUyzjNU09dsV9Vf9wT3qgmrjZPg7sziN
https://colab.research.google.com/drive/1KElbZ-QzU-SY4Z5sR8Igqd2jtMG79a5K
https://colab.research.google.com/drive/14AA3WUJPd9V-dw5R2xf_Fyz_0xitEUM-
https://colab.research.google.com/drive/1rmIbOKImhv1KZFqP5FW6Kw-EWrhQGNaL
https://colab.research.google.com/drive/149x5rHQ099f-K55ZneVZb8JR1nIc2cnC
https://colab.research.google.com/drive/1zg7YOCFWX_Nb-T_177P2St_f2fcIp9Ei
https://colab.research.google.com/drive/1liX_qwvdKHN9TIOAH7ZLJPSuYdBv3ro2
https://colab.research.google.com/drive/1MMe2nYKShvAcaZAECAgrJcUBZGHYR8IU
https://colab.research.google.com/drive/1EsXh4PnU4bZhcLLTvmgrV4pQe3Neo1KN
https://colab.research.google.com/drive/1AYqv0GgqYru1LzeQM7sm9wUHGOI4tOYo
https://colab.research.google.com/drive/1H4QK9KwRBq-z-NxNrwTqROvHpU_iIuGC