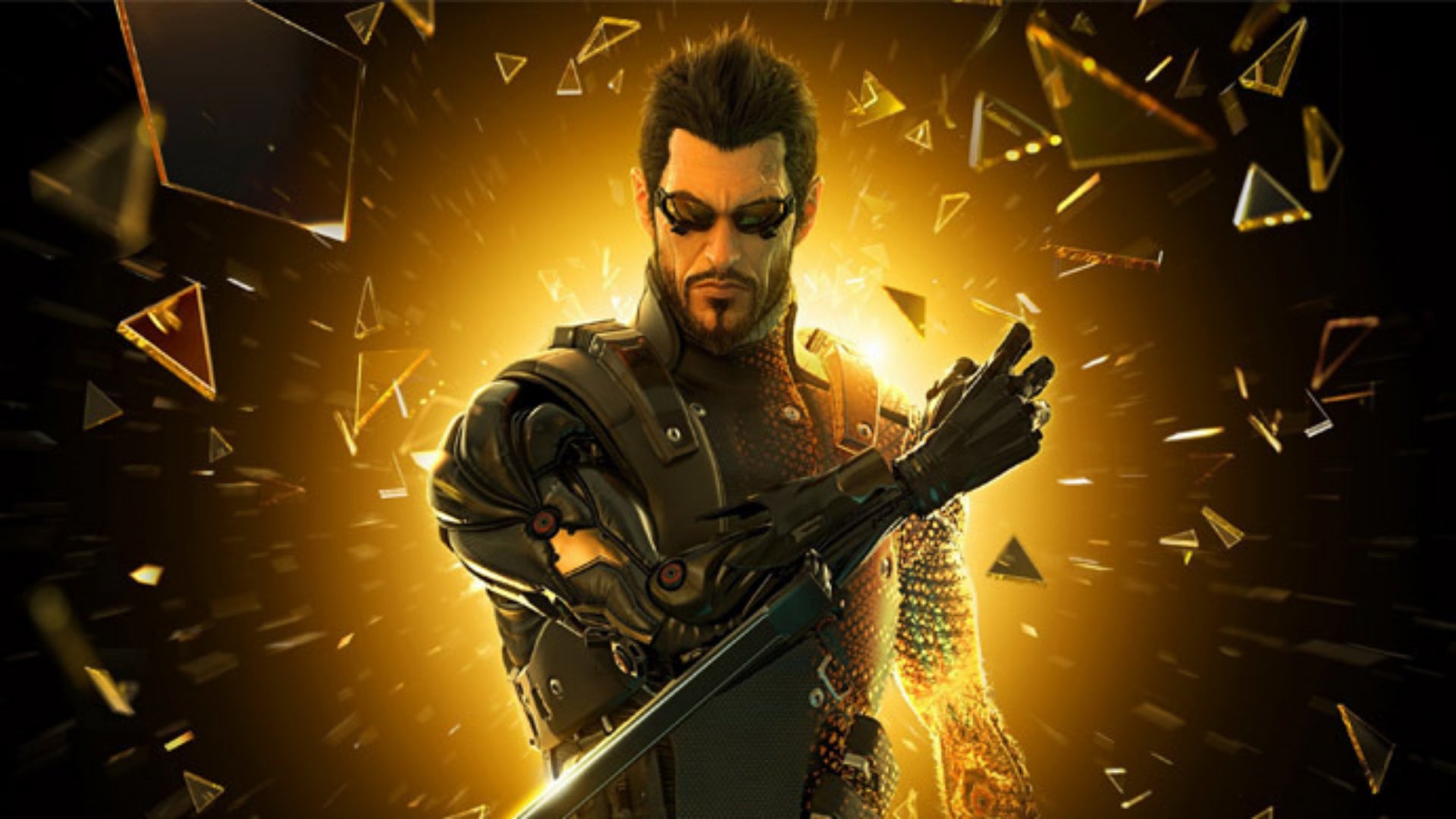 Control of the Tomb Raider and Deus Ex IPs has now officially transferred to Eidos Montreal and Crystal Dynamics following their surprisingly cheap sale from Square Enix to Embracer Group. Alex and Jim wonder what this means for the future in the video below.
We know that a new Tomb Raider game is in active development. It's being developed in Unreal Engine 5, and is set to "unify the timelines" of the classic games and the reboot trilogy. Quite how that will pan out is anyone's guess: three games in, the reboot trilogy is still at a stage where Lara hasn't *quite* become the Tomb Raider yet. Not quite risen. Not quite unveiled, still in shadow. See what they did there?
And so, though it introduced supernatural elements early on, the reboot has a lot of as-yet-unspun connective tissue to make up before any convincing bridge between Lara's traumatic origins having to wade through the gritty realism of shooting Russian mercenaries and feeling quite bad about it, and her zenith (or nadir, depending on who you ask) as a wisecracking aristo thief who gleefully guns to death the last actual living T-Rex.
Rumours abound that Deus Ex is being primed for resurrection too. After Mankind Divided failed to capitalise on the runaway critical and commercial success of Human Revolution, the series seemed destined for the scrap heap. Deus Ex has never quite been the success story that its devoted following suggests. Crucial though the original game was in shaping the medium, inspiring many narrative-driven RPGs that followed it, and as highly acclaimed as Human Revolution was in revitalising the series for the Xbox 360 generation, Deus Ex has always had an Underwhelming Sequel problem. It remains to be seen if Adam Jensen's story will continue, or if the series will go through a third reboot.
As Alex points out in the video, Cyberpunk 2077 could have a crystallising moment for cyberpunk themes games: had it been the enormous hit we all expected it to be (and had it not completely skidded into a wheelie bin at launch, taking a further 18 months to fulfil its promise), Cyberpunk 2077 could have inspired a gold rush as every publisher with something vaguely future-tech-dystopia-ish in the cupboard went on a dusting frenzy – in much the same way that Uncharted being a huge hit led to a revitalised Tomb Raider.
That still might happen, of course. Cyberpunk 2077 is no longer seen as a miss. Those long months since paunch have been spent adding the polish and sparkle that it should have launched with, and the new next-gen only expansion, Phantom Liberty, has the potential to fully realise CD Projekt RED's vision, unhindered by having to cater for creaking old hardware. Whose users they, frankly, should have treated better, but that's another article entirely.
With Embracer Group on a spending spree, and making a lot of noises about investment in their newly acquired properties, it's very likely that we'll see a new Legacy of Kain at some point too (a welcome prospect) as well as, er, a standalone Gandalf film (a less welcome one). So, it's – cautiously – a good time to be a liker of old stuff. Middle-aged gamers rejoice!




Source link
https://colab.research.google.com/drive/1r3Z6b4-tiZbsba7mNX985tFF1YZYg7Eg
https://colab.research.google.com/drive/1Gx1efEMLb0n6ahW6POyH8kYAkHiwIkZQ
https://colab.research.google.com/drive/18QejxKI8hbUNq2wFLUtLFAeg3DeaOIGW
https://colab.research.google.com/drive/1m3hJHrw3H_Luw6Tg582k5b6Iiryp7f1S
https://colab.research.google.com/drive/1N9BdLfdiQ3PrCfNXe2EZgzyihfLLl4s-
https://colab.research.google.com/drive/1TIS4EdFC0ZCfbp8S9yaupJx0I_ZIcg5F
https://colab.research.google.com/drive/1ZQAi8Bi3rCmlzpra1P1cR9XKG-sNtZW1
https://colab.research.google.com/drive/1-ayLsOaZZRR_evFdOGhokIrQueINh6ql
https://colab.research.google.com/drive/16F5F8NblfCwdN6D31yo1iReu07-CUKsa
https://colab.research.google.com/drive/1GJvN0A-KrCKIUsX5YKmJ_7DjIDdtx-uC
https://colab.research.google.com/drive/1oM-OqWVYhO7RgD_TInkrOQpxZndkiXAp
https://colab.research.google.com/drive/1V7445LERYtRbmXZ514Spq8US4A4rnmJs
https://colab.research.google.com/drive/1LPGWhTcI3ugtNUgufYkdJ2AIHWUgkYAe
https://colab.research.google.com/drive/1odqee8Ce9A3LfMbTPW72AtbD7ttVERXO
https://colab.research.google.com/drive/1JAIGiKXfUQ3Bft7PiTusZOOTe6u9Fyw4
https://colab.research.google.com/drive/1m_wJa8AdHkoGpoSx_MICM7daOrqRilaO
https://colab.research.google.com/drive/1vTtEdpoS9By7iHlKeke8ROQrI7xi3nOE
https://colab.research.google.com/drive/1AFWDrWRT0BOo3A8udbOh9tlf4H1a1NR0
https://colab.research.google.com/drive/1j8rmbMr9ijdJkKaM4-ix0-boVJdjydU7
https://colab.research.google.com/drive/137WK3XZ6aPd89u9I8bCBCCdIM7x7nXy6
https://colab.research.google.com/drive/1bdYmix5qwd4hgSWjLBgawrw_Jk8NEzuA
https://colab.research.google.com/drive/163vmpvVg61kix1P0iHiEp9Z8EZSxTEuV
https://colab.research.google.com/drive/158IpgbUIY_mtdNsL5LnwtdLkcjKVJbLd
https://colab.research.google.com/drive/1F2A-olchCeWei9xAHHJnqNwp7wzPraez
https://colab.research.google.com/drive/1uELwbDF0QOOGuSkxcK30jLOIows9jPMU
https://colab.research.google.com/drive/1LEc_rgSxgYZVfU-pXj9bjGqKP75V99i_
https://colab.research.google.com/drive/1oKu52hdeF9yMyS4cbO-A7BeWaeOxiJBi
https://colab.research.google.com/drive/1t7E5eTvb_A4vo6lOEbxczd-tdCDVfn2d
https://colab.research.google.com/drive/1yuYTnEceO9kR-jelL4pGhyjkb2B5ncMi
https://colab.research.google.com/drive/16sOzlnf7yZNoHKZRHL-iYuqZkNLA1Uzc
https://colab.research.google.com/drive/1HshdynnCKP8GotQW5ierlLG-COI0hqnD
https://colab.research.google.com/drive/1Vi7BmkANmoz7jT3OYVi7hC2sreoYSb82
https://colab.research.google.com/drive/1A0MA7kKUYZS4Wx9TmZjXjDkjUXdhvBHZ
https://colab.research.google.com/drive/1Q6L1JKKOlnjyqsjqba_y9qcmgt-qP_Yj
https://colab.research.google.com/drive/1MMqsQsMecAM8oNkRTAJYjOSfpsK1jm7T
https://colab.research.google.com/drive/1pddM-wYiMfPZeiQMWSiZOfK3e9n9F-oc
https://colab.research.google.com/drive/1YwWT24CQ5QPZMhh6wtx-iwoYop4M6Duc
https://colab.research.google.com/drive/176e31VZcmZ2wyDIRskoTAcWqzW1bzdlK
https://colab.research.google.com/drive/1HGPl2Z23o0WOhz9mFPtBTPdR3jOzbV_Q
https://colab.research.google.com/drive/1AD7mTilA4HtJNcn7P12In-3g5i7fQk4b
https://colab.research.google.com/drive/18JWpoM3SZosGDpX09esGUf0Bqj0b3FU-
https://colab.research.google.com/drive/1ngeyFUGylsL6YaZDWx1Z2qdahOgWfbG6
https://colab.research.google.com/drive/1btj006KQmnc4fLTGCqCm4jnSkSNiX2JZ
https://colab.research.google.com/drive/10iy_kOmEkCyRbmJKHNdRXMfz-RFZN4J2
https://colab.research.google.com/drive/18mgBOln_TukjyqXWKcDS2_9-SDRbfyrL
https://colab.research.google.com/drive/1MHSRVgX7kxe0Gd_ijeWjd-p1OojZU677
https://colab.research.google.com/drive/1GmeFGfrc-xkMyJnzQh0AJrUQpmE95FgE
https://colab.research.google.com/drive/1vfFZavrTrhA5qgk5EcXEE3Q_KhTcGtkb
https://colab.research.google.com/drive/1I3QIX8kbVrzZ_q1ivka5nsSimhqQyGlx
https://colab.research.google.com/drive/1toQkVz2n4iL2BYP8Sk8bAmXfzRxyRbdH
https://colab.research.google.com/drive/1cIkxik0sUjUmQJ-65Hzo5hGQNFAOKRZl
https://colab.research.google.com/drive/19cDuHJOfeSJg_tFOCzHLPnSLv2LmmGXg
https://colab.research.google.com/drive/13Tmexb5d_Rw5lavxsZ5Z4UosbGA-Ne6E
https://colab.research.google.com/drive/1pVBZjQFsV8EBOISiWb0ZgU2M7KcF6AoI
https://colab.research.google.com/drive/1po3_FIjqnm_kQvrI4pRxfufRjRKcXAzr
https://colab.research.google.com/drive/1zlUWYtWj8PKbsPqpBivHPAoI0Hsm9UyE
https://colab.research.google.com/drive/1H-BZImO1EsVATWDnB0HvWQcVG6_9y08-
https://colab.research.google.com/drive/13UCr2ke9-dvZAk05Jgw3cXaisGVq2ywb
https://colab.research.google.com/drive/1F94IpqnX0Bx15ZVF7o3JyHp8WVjWWGsT
https://colab.research.google.com/drive/15TgBSU_5diB6WqcLxLykwi72jCWSbOcf
https://colab.research.google.com/drive/1TdsEsczfZDT8kQ14iK_CwpzzSv_cpZOB
https://colab.research.google.com/drive/1KfGg7YylsQ0_G9SBkn5ufqa50_JKReAb
https://colab.research.google.com/drive/1VGB59KT8Rlhkx1s9Q0J7IfMwIrZQpzbr
https://colab.research.google.com/drive/1ijkt0jw_i5GlLibWo9yuia5umKQL_vxd
https://colab.research.google.com/drive/17f2PXqYay1r7L3aNeqU40wqGuAbaO0DY
https://colab.research.google.com/drive/1swrQfTu90lwHpsRs1mvuipmMzwhKVKtE
https://colab.research.google.com/drive/1e79K_OKGuYP60j62VybXHm6VX94J_YYr
https://colab.research.google.com/drive/1Zo739g11l9T-XRv-4a5affsv60jsE007
https://colab.research.google.com/drive/1fdbwo1R6h3uR5mA5wc-5PF6YVSwoMP75
https://colab.research.google.com/drive/16NdLQXrcc5VmT8ZBLa96TDaAXxJhIjzZ
https://colab.research.google.com/drive/1bhcgPBTBAIC04aYQbHUUjOgMmrPRaNvD
https://colab.research.google.com/drive/1bAQIvaG9250sd3Dvifa4U2SnU9gAK4pQ
https://colab.research.google.com/drive/1a9StAR-hXWEOY0_6f6KOGb4GZ0–3PFQ
https://colab.research.google.com/drive/1e6p3x-k5H5s1nZUYfP0ePyp0kUWPQwXo
https://colab.research.google.com/drive/1WzKh913QvJd6gDc7VEkfo6A0rpP_ELnS
https://colab.research.google.com/drive/16hgYqlQ5B_W6a_wY5QYicwSgSz5ADOyn
https://colab.research.google.com/drive/1Sk8Psrk9GVvGKUXSqY15uRUx6tb7KFHl
https://colab.research.google.com/drive/1iQ_pPaD7nGgM-rRna1LsClzH1zQKVx6r
https://colab.research.google.com/drive/1g67iyaDbiIXnACK-E4KYDpPecfP_5PWy
https://colab.research.google.com/drive/14hyyM8WTH-IybKjhO7FpxWLm8kBU6RSi
https://colab.research.google.com/drive/18WzkoiF6X2Vy-vNfSf1Osnfx2oxidrP8
https://colab.research.google.com/drive/1rYonl7S-FCBLlO1K8ApeMG79f7gb6PZk
https://colab.research.google.com/drive/1qrYcIf2sq29Tp_HB-RPBgNndyoe2hcs8
https://colab.research.google.com/drive/1tqJQTKBHRShiokjIEaHbzlt8o2WW-aGx
https://colab.research.google.com/drive/1T7Qm_KJ5ymx84TgmHqgZDQy4qxFd29fs
https://colab.research.google.com/drive/1Gn-r0dy4uDSE6nYD3qqNtgUW-ksOTYRN
https://colab.research.google.com/drive/1VbAXjHfLdvWfDG0JFw0J2kVAXZNHY6h-
https://colab.research.google.com/drive/1ujLZvNFdBbz5E90KNoscoZzomlTfWOcd
https://colab.research.google.com/drive/1RpAp6o8yElpGBi6cKtNHVXgjaRXsWoO7
https://colab.research.google.com/drive/1LHGM9PYBSJQeUwtJfb0KzFTlmbRvjFI4
https://colab.research.google.com/drive/16NeODXuf0EAD8v-Qf4iWX2Fusag2LK-p
https://colab.research.google.com/drive/1zHixip-ZAbiq153b2vcsL7HRLhjX_KdW
https://colab.research.google.com/drive/1v6k7C38d26V2jwNM4FGjVg5giIUUJFYL
https://colab.research.google.com/drive/1iJUk3JSx6b9XEof5GHsz7nyueTRphTK1
https://colab.research.google.com/drive/1MFmCPVOBNgn-gho7mJOgizELE9P-_-Un
https://colab.research.google.com/drive/1VZin9kfagnDOpznutri-vgoyUTWan9yY
https://colab.research.google.com/drive/1RSXp3azX7p5TQAoQSrtqTtaYZ54sULbU
https://colab.research.google.com/drive/13EzCylJB1-ocjOqc5tJYNuuMGgiq0DBL
https://colab.research.google.com/drive/1rt5Z6zPJ0XGtAp48s64NP-Rsi9VZ2FmT
https://colab.research.google.com/drive/1k1DUnkCW5lPnw4c3YtNV6jUHlEMaPIpw
https://colab.research.google.com/drive/14I9cXRcpGQpMd5FXR_QnofubRHRAD4Di
https://colab.research.google.com/drive/15RMIRifRq4MMn8-qBanK65hh46IjzS48
https://colab.research.google.com/drive/1b_oML-WFMZ9snFl0w-d_WUO67vry6kJt
https://colab.research.google.com/drive/19_Xp0EahOJnMDovWLtOypwRXPRj6zC-n
https://colab.research.google.com/drive/1e36VuHy6oLkt7_Gv-ua-aRZAQgIKi43b
https://colab.research.google.com/drive/1yANwD8rzDZe_kgKBy4R3GIBzkvhjNCGw
https://colab.research.google.com/drive/16IgreeMtAmNIT3kh2lYvRDWINtuMW5uq
https://colab.research.google.com/drive/1DvwEf0_LS2XHDNu0OWhb3_qnxLp1lJjR
https://colab.research.google.com/drive/1z6uUsij1BVWj_U1F3MV0Frh7Z1JwO1xg
https://colab.research.google.com/drive/1T4EBn_cXv6Qm09Z18aIdKwVkIcF7qsF-
https://colab.research.google.com/drive/1ARPJQxrsBqhPfsKCNg5XnbQV8c1tp1G8
https://colab.research.google.com/drive/1_Ox8lZhuyjbhCE8xE_uchHoJkTBwfrqV
https://colab.research.google.com/drive/1fyUxwto3y2QWv5KjzBrtbHhhAFCBMtbh
https://colab.research.google.com/drive/11dGgYmDj36iqC91OKBqJopZs5e6y_pFf
https://colab.research.google.com/drive/160gQD8NCVDtGdtDTiGRlBnJu9tIXp-PC
https://colab.research.google.com/drive/1MaqSGN-7TZ83Bi36AUbVdXdnh-kpqol1