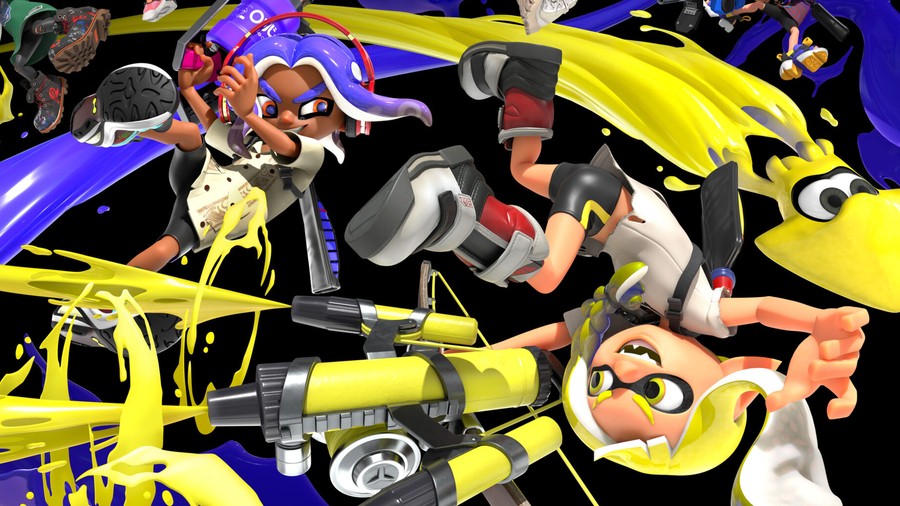 The hype for Splatoon 3 has been building ever since last week's Direct announcement revealed all of the new content coming to the squid-shooting sequel. One of the more predictable announcements was the return of Turf War battles – soon to be available in three-team mode – where you are tasked with covering the area in your team's ink and splatting any pesky competitors that get in your way.
Turf Wars has been a popular game mode across both Splatoon and Splatoon 2, and Nintendo has been quick to cash in on this popularity with a new trailer that showcases the ink-splashing task in action.
The trailer, titled 'Biggest Mess Wins', sees the popular game mode reimagined into the real world, with a team of children battling to paint their neighbourhood armed only with their Switch consoles. There is a small amount of gameplay on display here, but the message really seems to be about having fun – which we feel is undoubtedly Splatoon's top take-home message.
The promo is the latest trailer to imagine the Splatoon battlefield in the real world. Just last week Nintendo released a series of trailers in Japan which showed the weapons reimagined as everyday objects. Let's admit it, child-squids aside, Splatoon probably would be one of Nintendo's funner franchises to see in the real world.
Splatoon 3 will be released on September 9th and pre-orders are now open:
What do you make of this new trailer? Squid on down to the comments and let us know!




Source link
https://colab.research.google.com/drive/1C2kzIIK1AvSuyEcbUOuhRmPzOCZkv-uL
https://colab.research.google.com/drive/1soml4OQgeLQrmLLx-xANha0NXAxY-MCZ
https://colab.research.google.com/drive/1zQAYh6fTU7r1yiBUh-S5dVlZJ6n9uQdY
https://colab.research.google.com/drive/1CuBO-xsHzs1BCGysDPYsn-u9WFtpuc54
https://colab.research.google.com/drive/1729NFB045cK0KBv1sHS8Bk4FfeDcmoSq
https://colab.research.google.com/drive/1ynaPEPxgtEBvsaBRXkDEeGfgJA95V708
https://colab.research.google.com/drive/1_ANLcUy_oEMFxA7mx11_Qof0Qow2K1AP
https://colab.research.google.com/drive/1xY7IlRQAUnerR3QbAaFTlpVyuG5AVrR8
https://colab.research.google.com/drive/1b_S2tdimL479TsJ9Au3kMY4pHPLkbrmC
https://colab.research.google.com/drive/1kwnQw9uDxs6etIIXsTNb9o8wLNDIABOw
https://colab.research.google.com/drive/1xcMFRfPow5Ycf8xiWfiFyZsjRoFxjlNG
https://colab.research.google.com/drive/1IVY3gJKIJSiEO5ndUtSHrv0E25_8kmU2
https://colab.research.google.com/drive/1t0ozIbSdupoeNG1m0zHmM6lIMeMKDRpl
https://colab.research.google.com/drive/1G0OlgPB1AGfXEkhg2MxY49NYa1UZ0sIh
https://colab.research.google.com/drive/1n8NXgGkkkg4n6H8Zw4QjAaJ0mpeUyX7b
https://colab.research.google.com/drive/1mz8KAzp7lpRD7hI_g2GpOFu7BNQmPs3g
https://colab.research.google.com/drive/1CGr_5LZAzj7x_MycWKbtLYIrihF2J9bV
https://colab.research.google.com/drive/15RsY3BBJ-mJNW5ntvuehBuXZCpT9t1YM
https://colab.research.google.com/drive/19HVFN7QvFoZtLD6tahQ7jtoGOm3daCnk
https://colab.research.google.com/drive/1zfe1AV41lTpdO1FUcJ9yYAaC1AUgTaUA
https://colab.research.google.com/drive/1qFFQiQtm6FTKVU0Ts9cWN28fui-szpdx
https://colab.research.google.com/drive/1Ab6gDL6QzvKw-lNLvY22R0todt978MHp
https://colab.research.google.com/drive/1ttcdy63zrOulsWwmWHrxl5_aJue7HNip
https://colab.research.google.com/drive/1q9rXNSiglOUbtwKOzzJcfHX4bK9ifhtf
https://colab.research.google.com/drive/1Jxb8mYD9opZsnLGaZgVDdPsfUkKPNINa
https://colab.research.google.com/drive/1Cqe4pO5cPePfztggQVLf-fiM_XuoqiRF
https://colab.research.google.com/drive/1vCtAA8NajuhDCHc8Wpx5lLVLIyvg7SFZ
https://colab.research.google.com/drive/15Y-VR3og3d1QySMLDFKvfQYtK6fbyNfd
https://colab.research.google.com/drive/1sdNh2i3YmmrOx1ZFhYZtrfiOvLLn_q22
https://colab.research.google.com/drive/1p_Lb5JOs9CI0cK_GDp05qOfVBzYq9svr
https://colab.research.google.com/drive/1ecG6VJI3qt2gRiMnHhxdBwczfziCBZJr
https://colab.research.google.com/drive/1FB77499Gg8lAt77Emz73nvCL2Xal7DAi
https://colab.research.google.com/drive/1YbFOLdHVv8PrOqsR3ioQqUM4-caOZDfa
https://colab.research.google.com/drive/19ihi-nHRjy0bEc2kc7LGi-uAsvWbjhtj
https://colab.research.google.com/drive/1s-PYu1wGtNbfjFBX2S4Vo0ahCAPRpBBm
https://colab.research.google.com/drive/15z80TY_oboos4a8IrcXF6PFybtR8gaYs
https://colab.research.google.com/drive/1Ds7s7nERH9uMk1diqMUpN2oeT-0YjmDO
https://colab.research.google.com/drive/1j1yRlMwTk_4E3IeesJwEGmkdt6KiEbYR
https://colab.research.google.com/drive/18C0mnbSXJItAAit8bdN5Z4z0mj2IHZsZ
https://colab.research.google.com/drive/1NVvAcrRU6fIepxtoEDWoWlKmsI-5HoTh
https://colab.research.google.com/drive/1q7jkzCad_he-V2rwc56udqfuGIPkZCDV
https://colab.research.google.com/drive/1VwHJYVvVlGGsSerFkNdsqwipWHmwWrjn
https://colab.research.google.com/drive/14CpqZaJJh10wp5me0VDlPgniGIgcq6jM
https://colab.research.google.com/drive/16u0vmOoi3qGaIiVaZf3Z7-8gIdRlXQ3m
https://colab.research.google.com/drive/14P4aAbqouHA5K7cpokx-6KMJyIVwC1L4
https://colab.research.google.com/drive/1XXUF3xRVO4DuA2IgQwv7K3L7WYQvKepp
https://colab.research.google.com/drive/1v4fnhynj2_iifA52Vf2C9mHZeLjnMSJl
https://colab.research.google.com/drive/18yVGT6V6eeC_g3KArGuCB0K_z6tjfqEC
https://colab.research.google.com/drive/1kz_Aq-dfRZd___4SGJZD7xDBEIWFvbU7
https://colab.research.google.com/drive/1XlNgqshXIynljDR2nGqjkgPKU0wPwm-J
https://colab.research.google.com/drive/1qK2oSbiPkjXpZNfSXYAdo1ahQxT_Gy1o
https://colab.research.google.com/drive/1Tm49JmLUqNHkSZVyTKqhQcgyJMo4H0zn
https://colab.research.google.com/drive/1KAcjFaM5biRbBYbKAO1-7wEbyCRSMNUz
https://colab.research.google.com/drive/1BU40njFWQMW–eAIQfGtVZd_8rEaRiQq
https://colab.research.google.com/drive/1uN6o8h8YTPS_s92cG7wwYljhlh8L4F7e
https://colab.research.google.com/drive/1H9SUr81StQ2unf9eh2JEpHyxk_SLwGu5
https://colab.research.google.com/drive/14VI-AzQH4plqQy2byEY9fTtzLkPVLGCY
https://colab.research.google.com/drive/1P83UH-TMePWkYaxL3acyHRu9s5RR4ATd
https://colab.research.google.com/drive/1nEos_G5Nbtf9gPDZ4kfKHKADx3ans0sP
https://colab.research.google.com/drive/1UrLgFfQwZm0zQqvL1BPwRnLMB-36-yWo
https://colab.research.google.com/drive/1PsFjKW98W1OAJ7Xm8yZWX6luoIRjY_ez
https://colab.research.google.com/drive/1EWefb3mCmErS_PexHgHZHmR5q0nDF718
https://colab.research.google.com/drive/1pgG-G14N2hNKhzRcOCNv8zoSBg3wf5fm
https://colab.research.google.com/drive/1w5UhiZjzREc_a2904ueq2AKM1tBGJPtP
https://colab.research.google.com/drive/1dfIdq0ywvypKT-jUs9x5F2h5iTKuCI7X
https://colab.research.google.com/drive/1iKfiN6SYtZLVS83tmHwXjZiQrqdBlwMR
https://colab.research.google.com/drive/1Qe0ACqbMWG7hakjnCfJq3axvh57dgCL3
https://colab.research.google.com/drive/1locIfgEdI4ZBxn3LFlSeL_vklf2Dkj5l
https://colab.research.google.com/drive/1TjP38vb7UML8G95Jt1WYfNAv1iWshh-5